Division 1 champions Meath have been rewarded with seven spots in the 2022 Lidl Ladies National Football League Team of the Year after the selections for the four divisions were revealed.
The Royal County, who claimed a stunning first All-Ireland title in 2021, followed it up with a first-ever Division One title following a 2-08 to 1-09 win over Donegal in April's final.
Goalkeeper Monica McGuirk joined on the team by Mary Kate Lynch, captain Shauna Ennis, Emma Troy, Orlagh Lally, Vikki Wall and Emma Duggan.
Tir Chonaill duo Evelyn McGinley and Karen Guthrie are back having been included in the 2021 Division 1 team with fellow Donegal players Nicole McLaughlin and team captain Niamh McLaughlin also in the side.
Semi-finalists Dublin have three players included, Hannah Tyrrell, Leah Caffrey and Orlagh Nolan, while Mayo are represented by Lisa Cafferky.
The Division 2 team is dominated by champions Kerry and finalists Armagh who each have half a dozen players included.
Kerry players Kayleigh Cronin, Cáit Lynch, Aishling O'Connell, Lorraine Scanlon, captain Anna Galvin and free-scoring forward Louise Ní Mhuircheartaigh are all there.
Armagh have goalkeeper Anna Carr, Grace Ferguson, Lauren McConville, Catherine Marley and the Mackin sisters, Bláithín and Aimee, included.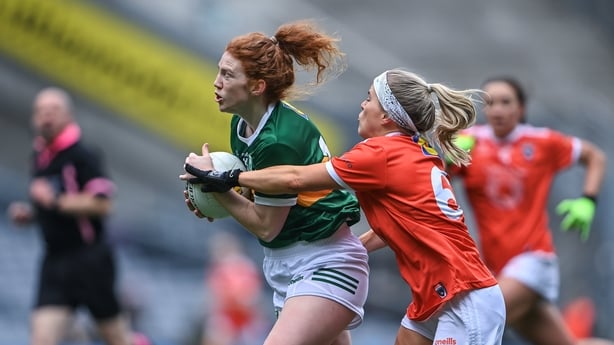 Monaghan are represented by Rosemary Courtney and Muireann Atkinson, while Laois forward Mo Nerney also makes the cut.
Players from champions Roscommon, runners-up Wexford, Down and Kildare are included in the Division 3 team.
The Rossies have six players named, including captain Laura Fleming, and there are four Wexford players in the selection.
Kildare, beaten semi-finalists, have three players selected, while Down, who also reached the last four, have two players in the team.
The Division 4 team includes six players from champions Offaly, including Player of the Match in the final, Elle McEvoy.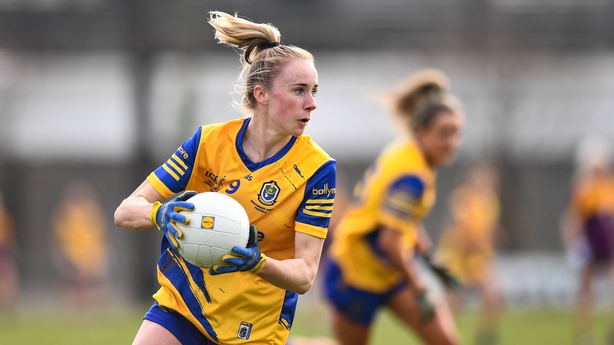 Runners-up Limerick have four players on the team while beaten semi-finalists Fermanagh have three players included.
Leitrim, who also lost out in the last four, have two players included.
The players will receive their awards at Croke Park on Friday, 6 May.
Division 1 Team of the League
Monica McGuirk (Meath)
Evelyn McGinley (Donegal)
Mary Kate Lynch (Meath)
Leah Caffrey (Dublin)
Shauna Ennis (Meath)
Emma Troy (Meath)
Orlagh Nolan (Dublin)
Nicole McLaughlin (Donegal)
Orlagh Lally (Meath)
Vikki Wall (Meath)
Niamh McLaughlin (Donegal)
Emma Duggan (Meath)
Hannah Tyrrell (Dublin)
Karen Guthrie (Donegal)
Lisa Cafferky (Mayo)
Division 2 Team of the League
Anna Carr (Armagh)
Grace Ferguson (Armagh)
Kayleigh Cronin (Kerry)
Cáit Lynch (Kerry)
Aishling O'Connell (Kerry)
Lauren McConville (Armagh)
Rosemary Courtney (Monaghan)
Lorraine Scanlon (Kerry)
Bláithín Mackin (Armagh)
Catherine Marley (Armagh)
Muireann Atkinson (Monaghan)
Anna Galvin (Kerry)
Mo Nerney (Laois)
Aimee Mackin (Armagh)
Louise Ní Mhuircheartaigh (Kerry)
Division 3 Team of the League
Helena Cummins (Roscommon)
Sinéad Kenny (Roscommon)
Aisling Halligan (Wexford)
Laoise Lenehan (Kildare)
Orlagh Kehoe (Wexford)
Róisín Murphy (Wexford)
Niamh Feeney (Roscommon)
Grace Clifford (Kildare)
Laura Fleming (Roscommon)
Jennifer Higgins (Roscommon)
Caitriona Murray (Wexford)
Jessica Foy (Down)
Aisling Hanly (Roscommon)
Natasha Ferris (Down)
Neasa Dooley (Kildare)
Division 4 Team of the League
Sophie Hennessy (Limerick)
Nicole Buckley (Offaly)
Molly McGloin (Fermanagh)
Becky Bryant (Offaly)
Annie Kehoe (Offaly)
Clare Owens (Leitrim)
Róisín Ennis (Offaly)
Amy Gavin Mangan (Offaly)
Róisín Ambrose (Limerick)
Cathy Mee (Limerick)
Michelle Guckian (Leitrim)
Bláithín Bogue (Fermanagh)
Eimear Smyth (Fermanagh)
Ellee McEvoy (Offaly)
Iris Kennelly (Limerick)