Leitrim needed an injury-time goal by Ryan O'Rourke to finally settle the Connacht Football Championship quarter-final against London in Ruislip this afternoon.
The visitors led throughout the game in England but failed to put the opposition away and goals from Sean Hickey and Fergal McMahon brought them back to within a point in the final seconds.
Evan Sweeney was sent from the field to reduce Leitrim to 14 men to make it an even more grave situation until O'Rourke sealed a 3-12 to 2-11 victory by hitting the net.
The hosts have been slow starters this season and took a while to get going in this Connacht Quarter-Final Clash. Leitrim on the other hand started in first gear when Darragh Rooney opened their account before Ryan O'Rouke joined him on the scorer's list.
Leitrim would soon be five points up when a dangerous ball wasn't dealt with properly by the London defence which led to a Leitrim attacker being dragged down and the referee had no choice but to give a penalty. O'Rouke stepped up and got Leitirm's first goal of the game with a cool penalty.
Alarm bells were ringing for those of a London persuasion and London soon kicked into gear when Henry Walsh got the hosts up and running and Chris Farley, who has been solid with his free-taking, scored two in succession to reduce the gap between the sides to two.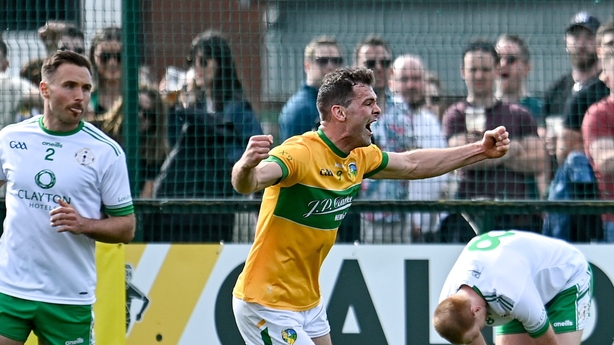 Leitrim continued to keep their side of the scoreboard ticking along to stay in control of the match.
But by the end of the first-half they were lucky to be still leading as London found some momentum and Walsh and Gavaghan scored the pick of the points as the hosts went into the break trailing by just a point.
Just like the first-half Leitrim came out of the blocks flying as they looked to kill off any London hopes of a first Connacht Championship win since 2013.
The visitors went five points ahead once more and it looked at that stage as if they had the game wrapped up when Jack Heslin played in Donal Wrynn who finished to get their second goal.
But London weren't dead and buried.
Sean Hickey finished off a fine move to get their opening goal and the comeback was well and truly on when Fearghal McMahon scored a beauty after the ball fell to him. Leitrim keeper Darren Maxwell couldn't get back to his line on time and there were two between the teams.
James Hynes would make it a one-point game and London had the numerical advantage when Evan Sweeney was black carded just before the board went up to show a mammoth six minutes of injury time.
The crowd roared on their side in search of an equaliser to force extra-time but London seemed to be hell-bent on grabbing a third goal. The resilient Leitrim defence shut down every promising attack but London didn't help themselves when a few attempts for an equalising point dropped short.
And they were made to pay for not taking their chances when O'Rourke grabbed a third Leitrim goal on the stroke of the referee's whistle leaving London deflated and lamenting what could have been as the nine-year wait for a Connacht Championship victory goes on.
London: Noel Maher; Eoin Walsh, Matt Moynihan, Nahthan McElwaine, Ronan Sloan, Cahir Healy, Evan Wynne, Stephen Dornan (0-1), Thomas Lenihan (0-1), Conal Gallagher, Matthew Walsh, Liam Gallagher, Chris Farley 0-2, 0-2 frees), Liam Gavaghan (Captain) (0-4, 0-4 frees), Henry Walsh (0-2)
Subs: E McCormick for C Farley (28), James Gallagher for Henry Walsh (44), James Hynes (0-1) for Thomas Lenihan (47), Fearghal McMahon (1-0) for Enda McCormick (53), Sean Hickey (1-0) for Cahir Healy (57)
Leitrim: Darren Maxwell; Mark Diffley, Donal Casey, Paddy Maguire, James Rooney, Shane Quinn, David Bruen, Pearce Dolan (0-3), Donal Wrynn (1-3, 0-1 45'), Domhnaill Flynn, Mark Plunkett, Conor Dolan (0-1), Ryan O'Rourke (2-2), Shane Moran, Darragh Rooney (0-2, 0-1 frees)
Subs: Evan Sweeney (0-1) for Shane Moran (49), Jack Heslin for Conor Dolan (55), Conor Reynolds for Paddy Maguire (62), Riordan O'Rourke for Darragh Rooney (65), Emlyn Mulligan for Domhnaill Flynn (72)
Referee: Martin McNally (Monaghan)