Meath manager Eamonn Murray said his team again showed their character again after they secured the Lidl National Football League Division 1 title for the first time ever.
The Royals looked in trouble when Donegal took the lead early in the second half at Croke Park, but they kept their composure and doubled down on their All-Ireland win from last September.
Niamh McLaughlin scored Donegal's goal from a penalty before half-time but green flags from Kelsey Nesbitt and Niamh O'Sullivan were enough to win the title.
"I'd never worry about momentum with this bunch," said Murray.
"They always have something left in them. There's always a different hero every day. It was someone else's turn today to stand up.
"If you knew this bunch of girls, you could give them 50 sprints to do and they'll ask for 50. They're still young, so they won't burn out. There's no problem, they'd train seven nights a week if you asked them.
"They are a very close bunch, they'll enjoy tonight and probably tomorrow but after that it will be back to training."
Meath had been on a fairytale journey over the last few years, where they claimed the Division 2 and 3 league crowns, along with an All-Ireland intermediate title before their greatest of all triumphs, when they beat Dublin on 5 September last.
And they began like champions, running into a 0-05 to 0-01 lead in the 11th minute when Emma Duggan scored her second point. They held a 0-05 to 0-02 lead at the first water break.
Meath were 1-06 to 1-05 ahead at half-time but they could have been much better off had Donegal not fired an unanswered 1-03 at the end of the half, with Geraldine McLaughlin's point leaving just the minimum between the sides.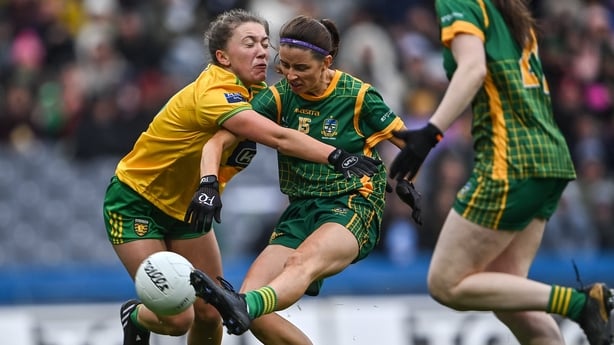 Donegal scored twice on the restart too but O'Sullivan's brilliant turn and shot finished in the top corner of Roisín McCafferty's net in the 41st minute.
Meath were 2-07 to 1-08 ahead at the final water break and held on despite the waves of Donegal attacks late in the game.
"We have the potential to cut teams open when it happens, it probably just happens a little too infrequently," said Donegal manager Maxi Curran.
"There was a period there, probably ten minutes before and after half-time, where we were in a really good place and going well. That's the time we should have tagged on a couple of more scores.
"We had a chance when we were a point up, to go four up. That would have made the thing very interesting, but it wasn't to be.
"Hats off to the girls for a serious effort, they put a massive shift in. They never stopped trying towards the end. They're to be commended for that."