For all of my adult inter-county playing life, which ended in June 2020 in the heart of a pandemic, I never once had to worry about tickets for games, or helping my friends and family out.
The reality is you are able to get your hands on quite a few tickets and ensure that everyone close to you is happy.
Outside of that, what other people did to get tickets, or how they got them was none of my concern. Why? Because you're in that bubble with the blinkers on, and you can't start worrying about what people are doing to get tickets. You have family and friends sorted so you are happy.
When I retired in 2020, and into 2021, for obvious reasons tickets were not an issue.
Welcome 2022.
On Tuesday, at 11am, all tickets, for all inter-county games became available to buy online. Welcome carnage.
So I'll give you a bit of perspective. I am involved in a number of Centra stores in the heart of Limerick City, with one of them an allocated store to sell matchday tickets. At 11am, the shop was bedlam. Queues going all around the back of the shop.
So what happened then? The system crashed. Twenty minutes later we got it going again. We got five customers served before it crashed again. And this was the trend for four hours.
One elderly gentleman was in the queue for well over an hour, and when he got to me I had to give him the bad news that there was no tickets left on the system in the stand for the Limerick and Cork game.
The poor man was devastated as he wasn't in a fit condition to go to the terrace.
Then you had people coming up looking to get tickets for all four games, with specific requirements. And we were glad to help them, and all within their rights, but the queue times for people were bonkers.
Do the GAA not actually see this? Straight up, I didn't, until this year but I can tell you it was a total farce. In this day and age, is there no better way to distribute tickets for games? Why was there a need to put all games, for all counties up on the system at the same time?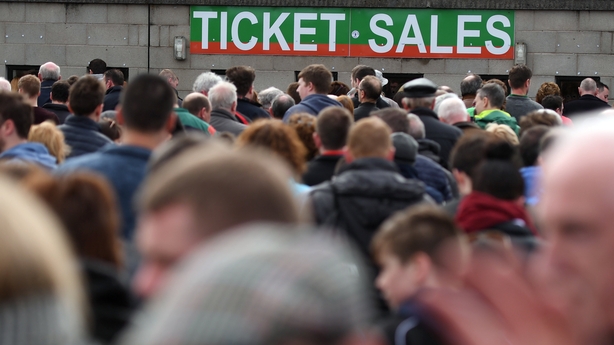 What about the man or woman living out in the countryside who can't get to the shop to try get tickets and are not technology-savvy enough to get them online?
Now, not that I am great at maths, but I do know 60,000 does not go into 50,000. So if the demand is greater than the capacity of course people are going to be disappointed.
However, should it be the case that every full member of a GAA club is entitled to a ticket?
The argument there is Limerick have approximately 20,000 members and wouldn't be able to sort everyone. Fair. But then start going from the longest member and work your way down. I think there are loads of little ways of ensuring fairness, but within that you have to consider that not everyone can access these systems as quickly as other people, and then they lose out.
I always feel for them.
From Ticketmaster's point of view, if they can't allow for the demand that was always going to be the case on Tuesday morning last, then do it a different way.
Mikey is Bevans-sent for Déise
Last Saturday evening saw Waterford win the league final. It came as no surprise to me whatsoever to see Waterford play the way that they did. I really am a huge fan of Mikey Bevans and I don't even know the guy.
Why? Because it is so evident the way he has trained this bunch of players. Small things - such as ensuring that all balls being struck for goal are going down low. If it happens once maybe a coincidence, maybe twice, but when you see it four times you know that has been drilled into them.
Their tackling - the way they approach it, not diving in, then tackling in numbers, the swarming. Even on both sets of puck-outs the intent of the Waterford players to get in the right positions for the breaking ball.
Again, if it happens sporadically it's hard to know, but they do this every single time. The big thing for Waterford now is to try and not get too carried away. Trust me, a hard thing to do and I know people get excited when they have been starved of national honours, but their card is marked now and every game they play going forward they will be favourites bar one.
One week out from championship and there is a serious buzz around. The reason why is because after Limerick's league campaign the perception is that the gap from the top, to numbers six and seven is quite close, or at least a lot closer than what people expected.
Maybe they are right maybe they are wrong. The exciting thing is we don't have too long to wait to find out.