A Division Two league final isn't the usual place to make your season debut but for Armagh's Kelly Mallon this weekend could be the case as she looks set to return from a lengthy spell on the sidelines when they face Kerry on Sunday afternoon.
"I am available, yeah," the Orchard County captain confirmed. "I'll be togging out but whether I'm used or not is outside of my control."
The dual star broke her fibula back in October playing a camogie club championship game and a long-term issue with her Achilles has meant that she's had to watch her team progress to the Division 2 final from the dugouts.
"It was very frustrating because I'd just got myself back with the fibula break and I was starting to make progress there and then just on that return the Achilles flared up.
"I had a couple of weeks of a really low time, I was definitely very frustrated with it but I'm feeling much more positive now because I'm on the way back again."
Although Mallon admitted that this latest injury marks the end of her camogie career, the Armagh Harps player isn't solely dedicating her focus to football. She's the most decorated female bowler in the history of road bowls and hopes to win her 10th All-Ireland medal this year.
It's a niche sport that Mallon admits has a large following in Armagh and Cork particularly, but credits her father for introducing her to it.
"Daddy, his brother would have taken him along to it. Then daddy just got into it and loved it and all of our family would have participated.
"Our local area, our local road, they have weekly competitions. It's something he sort of pushed me into and I've stayed at it," she said speaking at a captains' media afternoon yesterday in Croke Park.
"I've won the Europeans, God, I can't remember the year. Dad would be cross with me! But I have won the Europeans, yeah. Sometimes I just don't have the time to prepare for those competitions. I've only won it once."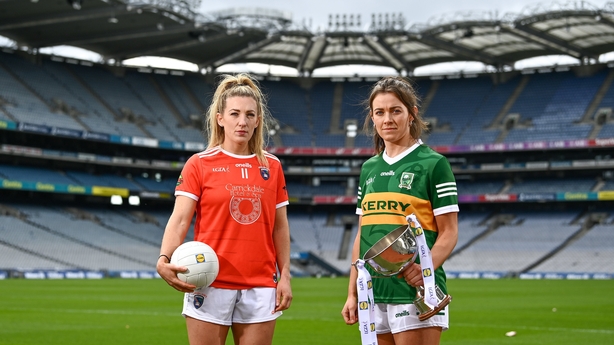 As an individual sport, road bowls has taught Mallon about responsibility and her success is evident. Now, as Armagh captain she relishes the chance to provide the same level of responsibility and success this weekend with a National League title on the line.
"I do enjoy that sole responsibility, it's me and the rest of the team, my dad and whoever else is showing the road and stuff, but it's on me and I do enjoy that element of it. But definitely, the team environment, there's nothing like the buzz of being in a changing room.
"[Football is] my first sport, my first love. So to win something, especially as captain, that would probably mean a little bit more."
It's been seven years since Armagh won the Division 2 title and Mallon is chomping at the bit to follow in the footsteps of Meath who climbed the ranks from Division 2 to eventual All-Ireland senior champions last year within three months of each other.
"It was fresh to see them win. I think everybody in Ireland, apart from Dublin, enjoyed that victory," she said.
"Obviously Meath play a very defensive style of football but their counter-attack is so fast that it's just so hard to break them down. Certainly they're inspiring other counties who are maybe off the mark just a little bit, they're inspiring them to, you know, if you put the work in you'll reap the rewards. It's really refreshing."
Although the current Ulster champion admires the achievement of that historic Meath team, their quarter-final defeat to them last summer is still a motivating factor with one eye on the championship in a couple of weeks.
"We did know that Meath were an up and coming team. We knew the threats that they posed so it wasn't a shock defeat, the way that it was sort of portrayed to be," she said.
"Certainly we know what we're capable of and how competitive we are. I think we've got a wee bit more consistent in our play as well, which will hopefully show on Sunday and throughout the championship.
"Some people talk about the lack of competition in provincial championships but in Ulster it's pretty strong. Donegal, I feel like Donegal are probably a wee bit better this year than they were last year so...Monaghan as well, they're quite young but definitely an up and coming team.
"So it will be interesting to see. We obviously play Monaghan in the semis. Donegal play Cavan (in the other). So we'd be hoping to push on and win three in a row."
Armagh take on Kerry in the Lidl National League Division 2 final on Sunday at 2pm live on TG4.