Derby delight for Tyrone contrasted starkly with Armagh anguish as the Red Hands lifted the NHL Division 3A title in a thrilling decider at Owenbeg.
Damian Casey's 1-10 tally steered Michael McShane's side to a three-point victory and promotion to Division 2B as his side completed an unbeaten league run in style.
Goals from Casey and former Antrim attacker CJ McGourty were the vital scores in a contest that saw Armagh come from ten points behind to trim the deficit to two.
And Armagh had a chance to earn a dramatic win right at the death, but it wasn't to be for Terence McNaughton's side.
Tyrone's flying start laid solid foundations, with McGourty hitting the net early on, following a strong Conor Grogan run.
With a slight breeze in their favour, they continued to press, and Tiernan Murphy, Grogan and Chris Kearns all fired over points.
But Armagh got their game going to craft scores for Nathan Curry, Fionntan Donnelly and Dean Gaffney.
Casey went through for a brilliantly executed goal, and the Red Hands appeared to be very much in control, even when Donnelly sent over a volley of frees to narrow the gap to six.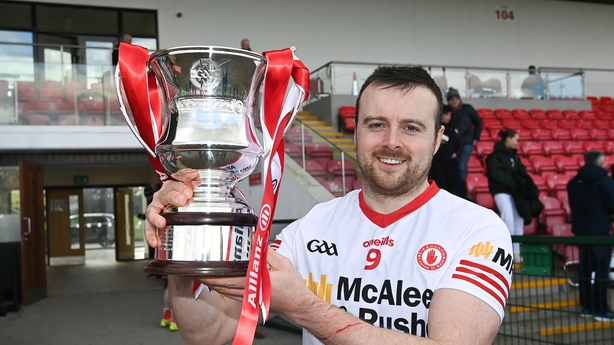 And the Orchard men got themselves very much into contention with a goal just before half time, with Dean Gaffney's dropping effort from distance going straight to the net.
Tyrone still held a handsome seven-point advantage at the break, 2-12 to 1-08, and all seemed to be going to plan when Ruairi Slane, Casey and Lorcan Devlin added scores.
But Armagh stepped up the tempo, with Shaun Toal, Donnelly and Gaffney leading the way.
Nathan Curry and Shea Harvey steered over scores, and their second goal really made a game of it.
It was 12 minutes into the second half that Nathan Curry rifled his shot to the net to breathe new life into the Orchard challenge, and the contest was in the melting pot.
But the Red Hands weathered the storm, with Casey hitting the target from frees and play.
There was still hope for Armagh as Harvey, Gaffney and Stephen Reneghan all sent over points to narrow the gap to just two.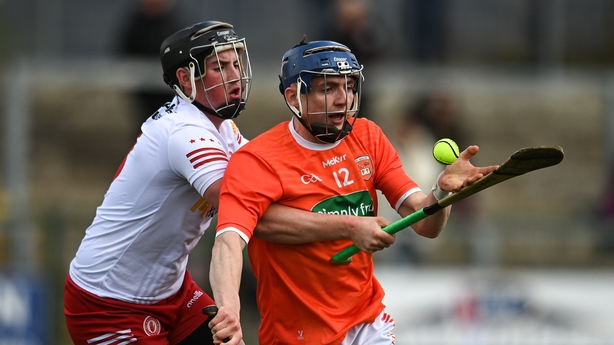 Tyrone needed solid defending from Ruairi Devlin, Dermot Begley and Dean Rafferty, and in the closing stages, McGourty and Casey traded scores with Garvey and Reneghan.
And when Gaffney went for goal from a late free, the Tyrone line held firm and the shot was blocked as Tyrone held out for the title and promotion.
Tyrone: C McElhatton, O McKee, L Devlin (0-01), C McNally, R Devlin (0-01), C Kearns (0-01), D Begley (0-01), A Crossan, C Grogan (0-01), B McGurk, D Casey (1-10, 0-9fs), R Weir, T Murphy (0-04), R Slane (0-01), CJ McGourty (1-01).
Subs: D Rafferty for Crossan, T Morgan for Weir, S Og Grogan for C Grogan, SP McKernan for Begley.
Armagh: S Doherty, C Rice, T Nevin, P Quinn, P Lappin, S Gaffney, K McKernan, F Donnelly (0-05, 0-04fs), P McBride (0-01), S Toal (0-01), J Shortt, D Gaffney (1-04, 0-02fs), D Magee, N Curry (1-03), S Harvey (0-03).
Subs: R Gaffney for Shortt, S Renaghan (0-02) for Donnelly, T O'Neill for Lappin.
Referee: C Flynn (Westmeath).