Roscommon captain Laura Fleming says new manager Ollie Lennon has helped her team believe they can be winners at last.
The Rossies take on Wexford in the Lidl National Football League Division 3 final at St Brendan's Park in Birr on Sunday.
Roscommon suffered a heart-breaking defeat in the semi-finals last year before an unsuccessful TG4 All-Ireland Intermediate Championship campaign, where they just avoided a relegation play-off after victory over Longford.
Former manager Diane O'Hora has since parted ways and in his first season in charge of his native county, Lennon has helped Roscommon realise their potential.
"It has been great, him and the rest of the lads that we have, they are probably the most passionate people that we've had involved with Roscommon Ladies," said Fleming.
"They love it and genuinely just want the best for us, whether it's on or off the pitch. When you know how much it means to them and you can see that at every training session, it is going to push you on as a player. To do it for yourself but for them as well because they have so much invested in it.
""They want us to believe in ourselves. They want to build our confidence. They try to get that across in every training session, that we have that confidence and that we do back ourselves. And it's not just here and there that they show that, they show it at every session. And they trust us, they trust us as players and people which is very important.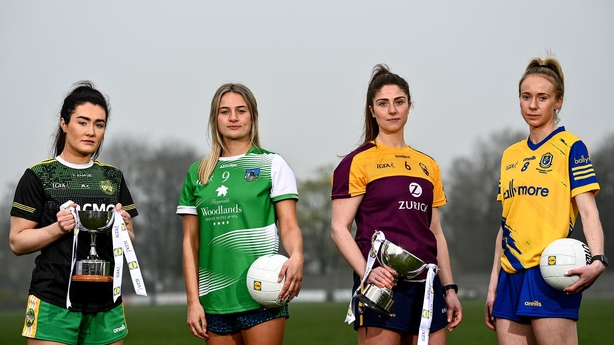 "They told us when we started back that we would be in the League final and we found it hard to believe. But when they gave that to us at every training session and built on that confidence, they were right. It's great to be in the Final."
Roscommon have been knocking on the door towards the latter stages of the TG4 Intermediate Championship in recent seasons but but winning silverware on Sunday would be a huge step in the right direction for this team.
Their opponents, Wexford, made it to Croke Park last September before suffering a heavy defeat to Westmeath in the Intermediate decider.
"We know that Wexford are an extremely good side," Fleming added.
"They were in the All-Ireland Final last year and that doesn't happen by luck, that happens because of the ability they have.
"They didn't perform to their potential in the Final and I'm sure that is something that will be at the back of their minds going into another Final. They had a very positive and impressive display against Down in the semi-final in the League.
"They are an extremely good side. They will be a very good challenge for us but we will take the challenge that they put in front of us.
"We played them two years ago in the round robin of the championship. We just got over the line that day which was actually a huge success. In the years previous to that, they would have always beaten us."