Mayo marched back into the Allianz League Division 1 final on the day that Kildare were relegated back to the second division next season.
They were the main outcomes after this afternoon's pulsating match at a sun-splashed Avant Garde Pairc Seán MacDiarmada in Carrick-on-Shannon.
But there was so much more to a rip-roaring match that was ultimately decided by a goal in each half from Ryan O'Donoghue and Jordan Flynn that saw Mayo qualify for next weekend's decider against Kerry.
Mayo manager James Horan wasn't there to see his team qualify for their second league decider in four seasons as he was attending a family confirmation.
However, while his team turned on the style in the last quarter to pull away and win comfortably, first half injuries to Brendan Harrison and Diarmuid O'Connor will be a cause for concern.
Harrison was stretchered off after just two minutes when he seemed to fall awkwardly when challenging a Kildare forward, while O'Connor walked off in the 24th minute with what looked like a recurrence of his recent hamstring issue.
Glenn Ryan, meanwhile, was left to reflect on a disappointing end to a league campaign that saw his team lose all four of their away matches this season.
A large crowd of around 10,000 people turned out and they certainly got their money's worth.
Mayo led at the end of a breathless first half by 1-10 to 0-12. Ryan O'Donoghue's goal on 12 minutes put the Westerners in front for the first time and they didn't trail from there to the half-time break.
Both teams had come flying out of the blocks with Paddy Woodgate (free) and Ben McCormack trading points with the aforementioned O'Donoghue and Jason Doherty — who finished the game with five scores from play.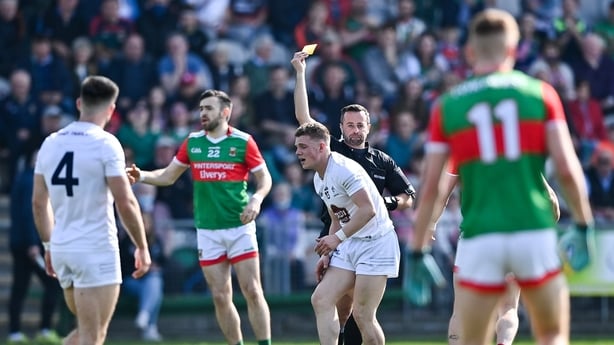 Mayo's running game then paid dividends as Aidan O'Shea and Oisin Mullin both joined the attack before O'Donoghue finished smartly past Kildare 'keeper Mark Donnellan from close-range.
Kildare's response was as impressive as it was emphatic, and they shot a string of brilliant points from play to stay in contention all the way to half-time.
Ben McCormack led the line superbly for Kildare and kicked four points from play in that opening period, while Paul Cribbin (2), Darragh Kirwan, Kevin Flynn and Jimmy Hyland (a free and a mark) also hit the target.
Glenn Ryan's charges didn't register a single wide until the 29th minute. Mayo's forwardline was also humming in the good conditions, with O'Donoghue hitting 1-03 during that frantic opening half while Jason Doherty (2), James Carr, Padraig O'Hora and Mattie Ruane also got on the scoresheet.
The teams were level on four occasions during that opening half and the game was finely balanced at the interval. The pace was equally as relentless in the third quarter, and things were just as tight, but Jordan Flynn's goal in the 49th minute blew the game wide open and propelled the Connacht champions ahead by 2-14 to 0-16.
By that stage Glenn Ryan had sprung Daniel Flynn from the bench but his namesake's goal for Mayo seemed to knock the wind out of the Lilywhites. They were outscored in the last 25 minutes by 0-06 to 0-02 and seemed to run out of ideas.
Kildare's only scores during that time came from Darragh Kirwan and substitute Brian McLoughlin as Jimmy Hyland was held scoreless from open play by the former Footballer of the Year, Lee Keegan.
Mayo had no such scoring issues at the other end as Jason Doherty (2) and Jack Carney (2) rounded off their good day's work before Jordan Flynn and Michael Plunkett applied the gloss to a comfortable victory in the end.
Mayo: R Byrne; L Keegan, D McBrien, B Harrison; M Plunkett (0-02), O Mullin, R Brickenden; J Flynn (1-02), M Ruane (0-01); D O'Connor, A O'Shea, J Carney (0-03); J Carr (0-02, 1m), J Doherty (0-05), R O'Donoghue (1-03, 1m).
Subs: P O'Hora (0-02) for Harrison (inj, 2 mins); K McLoughlin for D O'Connor (inj, 24m); E Hession for McBrien (HT); A Orme for Carr (48); S Coen for Doherty (64).
Kildare: M Donnellan (0-01, 1f); M O'Grady, S Ryan, R Houlihan; T Archbold, J Murray, D Ryan; K Feely, K Flynn (0-01); K O'Callaghan, B McCormack (0-04), P Cribbin (0-02); P Woodgate (0-02, 2fs), D Kirwan (0-03), J Hyland (0-04, 3fs, 1 mark).
Subs: D Malone for Houlihan (inj, 30m); D Flynn for O'Callaghan (45); A Beirne for Woodgate; B McLoughlin (0-01) for McCormack (49); P McDermott for D Ryan (63).
Referee: D Gough (Meath).