Lee Keegan's days of roaming forward and pitching in with a crucial score aren't over, but the five-time All-Star acknowledges that his role has changed in the last 24 months.
The Westport man scored some iconic goals in big games for the Green and Red over the years, perhaps most memorably in All-Ireland finals against Dublin.
When he smashed one into the Hill 16 goal mid-way through the second half of the 2017 decider there was a feeling in the ground that finally it was going to be Mayo's day on the biggest of them all. Alas, for Keegan and his team mates, it wasn't to be.
With his 33rd birthday ahead of him this October, Keegan is mindful of what he can still do, and what is beyond him, and a switch into the full-back line means he can manage his work-rate more in matches.
"It's definitely a new perspective on Gaelic," he says at the launch of the John West Féile 2022.
"It's a good challenge, I enjoy it. It shows James has a lot of trust in me still to mark some of the top guys out there. It's interesting, at times.
"But I do enjoy it. If I look at my career over 10, 12 years I've gone from an out-and-out attacking half-back to being solely a corner or full-back with the option of sometimes going out to the half-back line. So I'm gone from a freelance scorer to whatever I am at the moment."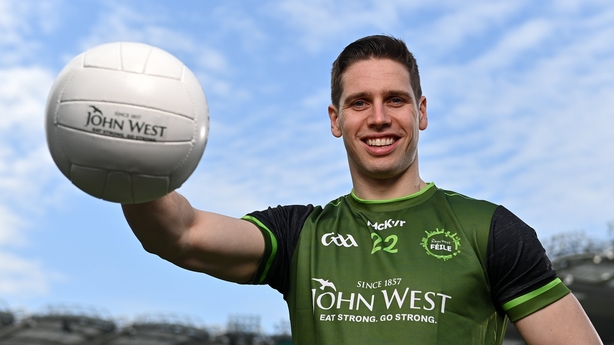 So are the days of Keegan majors a thing of the past?
"James still gives me licence to get forward as best I can" he points out.
"I'm probably just a bit smarter in how I do it. I can't do what I did when I was 23, 24 and make 15 runs a half. I have to be a bit smarter with how I use my runs and energy. It has definitely changed. It's a challenge and I'm enjoying it."
Keegan's man-marking is one of his many strengths and it's still something that's as important as ever to his game now.
But the full-back role is less forgiving. As Keegan puts it, "You're on the last line of defence so if you've one slip or fall or make a bad judgement it's nearly a goal chance straight away.
"When you're a half-back you probably have that more of a fail safe. So if you do slip you've a guy who can help you or you'll make up the ground yourself. That was the biggest difference I found initially going back there full-time a few years ago. Get used to your man either getting a couple of scores or getting on the ball.
"There are going to be times where you're going to struggle or slip and be in a position where you can't do anything about it. That's where you have to get comfortable with that. Whereas before, if I made a mistake on the half-back I know potentially I'm going to get away with it.
"When you're coming up against the Cliffords of this world, or Dean Rock, they're high quality forwards. They're going to score. That's just the nature of their game so it's about trying to negate their influence as best as possible.
"Whereas before you'd get obsessed with your man not even touching the ball but that's just not where the game is anymore. Your man is going to get the ball, he could get a score, it's how you deal with it and get on with the next play straight away."
One other thing is clear from Keegan though; he's not considering retirement any time soon.
"I'm a spring lamb," he jokes. "There's no talk of that, unless the wife or kids tell me otherwise."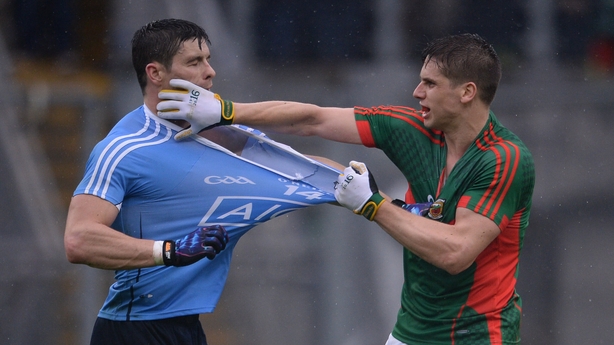 It's not only his role on the field that has changed. Keegan's entire preparation for games has changed.
While he started his lockdown running 10ks on the road outside his house, he has now devised a training regime that sees the Mayo management allow him to take a back step when he needs to.
"I enjoy it more than I ever have," he says of inter-county football.
"I've a lot of mileage done so it's all about body management. I'm lucky that Conor Finn (S&C) and James Horan understand that. They know what I've done in the past and am currently doing as well.
"So it's just about managing myself. If there's heavy loads coming, and there's days I might need to take back a little bit, we can do that too. So there's a lot of flexibility in terms of what I'm able to do and able to give.
"For myself, I'm trying to go full hog all the time. I still think I'm 21 sometimes. I probably tailor it more to how I feel and just be smarter all around about how the season is going to progress. I'd say this year because it's a shorter season, any injury is going to put you off so it's just about minding yourself as much as possible."
And that leads us nicely into this year's Allianz League campaign. Mayo head into Sunday's clash with Kildare knowing a victory will see them in the final against Kerry. It'll be a first meeting between the counties since 'Newbridge or nowhere', but this time it's Avantcard Páirc Seán Mac Diarmada.
At the same time, there's less than a month to go until their Connacht SFC quarter final with Galway and ultimately, while a second league title in four years is not to be sniffed at, the unfinished business for some of Mayo's senior players is to finally end their All-Ireland famine.
"Absolutely," he says when asked if they actually want to get to the league final.
"It would be rude for any team to say that they don't want to get to a national final and go to win it. That's the target for everyone. You want to win as much silverware as you can.
"There's not a lot of opportunities - national, Connacht and All-Ireland - three occasions to win silverware. For us that's obviously the goal but we've a massive game on Sunday to achieve that against Kildare.
"We're not taking that game for granted after a team scoring 0-24 the week - they definitely need to be looked at. That's some serious intent. So to answer your question, yeah, absolutely."