At last month's Congress, the motion for every club to appoint a coaching officer was met with widespread approval.
The motion came from the GAA's Games Development Committee seeking the creation of such a role in every club.
While several units already have such an officer in place, it was not considered an official role within the guide until it got approval from last month's gathering.
The passing of this motion was one of the key proposals from a recent landmark survey undertaken by the GAA, LGFA and Camogie Association involving over 10,400 coaches. The role will essentially be an unpaid Director of Coaching appointment and will differ from Games Development Administrators (GDAs).The
The role of this officer will be to oversee a pathway for coaches right through the age groups and ensure coaches have the correct qualifications.
It will drive inclusivity and diversity in what remains a male-dominated area, aiming to identify fun ways to keep children involved in GAA for as long as possible.
The 'fun' element is something that can fade once a player progresses through the ranks.
Anyone in attendance at last Thursday's Hogan Cup final between St Brendan's, Killarney and Naas CBS will have left HQ absolutely heartened.
On the Naas side, breathtaking goals from Kevin Cummins and monstrous but strategic kick-outs from David McPartlin enthralled us. Equally, dancing footwork from Kevin Shine as well as basketball skills from Luke Crowley brought the crowd to its feet on more than one occasion.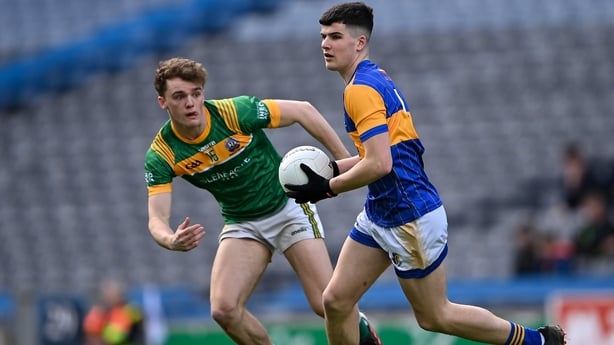 The game was man to man, wide open, end to end and involved a healthy mix of foot and hand-passing. Ultimately Naas got through after an enthralling battle, only decided in the closing minutes.
One spectator remarked on the way out of the ground, "when will the joy be coached out of them?"
This week, in soccer, the German FA sought to reshape the way they approach kids and youth training. Their new plan involves lots of games, touches, goals and dribbling – and with minimal adult interference.
From 2024 onwards clubs and regions must say goodbye to traditional leagues and matches for children under 11.
Under-6s and under-7s will play only 2v2 or 3v3 games. Pitches will be small with four mini-goals. This will involve each team defending two goals. There is no place for goalkeepers or referees, and there will be a maximum of two subs each team.
Following each goal, both teams substitute in and someone out.
Following 10 minutes of play there is a rotation. The winners advance forward and the losing team goes back a pitch. Over the course of a day there will be a 'festival of football'. Games will be evenly contested as each side finds its own level.
At under-8 and under-9 all games will be 3v3, still without keepers and then 5v5 with one 'keeper apiece.
After 12 minutes again teams again advance or retreat a pitch.
Up to under-11 it fluctuates between 5v5 and 7v7 over two 12-minute halves.
The key fundamentals are small-sided games, short playing times, players regularly rotated, with everyone involved. There will be no referees and minimal involvement from coaches and parents. Game 'afternoons' and festivals will replace formal matches and leagues and heading is practically eliminated.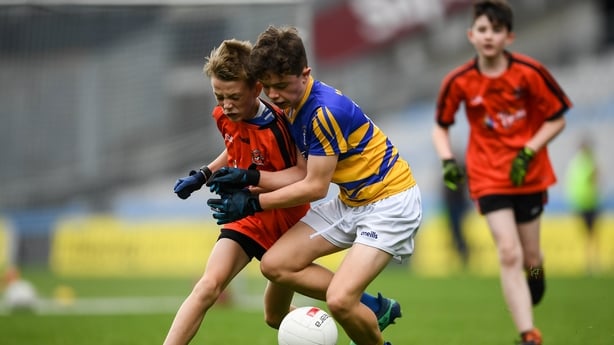 The recent survey conducted by the GAA and other Gaelic organisations provoked 10,500 responses in total and shows that the association is also carefully monitoring the best practices for kids and juveniles.
There were over four million data points incorporated with responses from all over Ireland and overseas with several focus groups for coaches of children, teenagers, adults, clubs, schools, inter-county, male, female, and so on.
The findings showed that coaches in Gaelic Games tend to be very active, very committed to their games, very committed to their teams.
They also tend to coach multiple times per week, and they commit a significant amount of time every week to coaching and games related activities.
The coaches tend to be well-educated. Over 91% of the GAA's coaches have some form of coaching qualification, and a huge number have more than five years of experience.
But coaches would also like more support and to build greater coaching capacity in their club.
The GAA's Go Games ethos continues to encourage teams with smaller numbers to play for fun. Small-sided games will lead to more touches, shots, higher player confidence and perceived efficacy. It has been said, however, amongst GAA coaches, that going too small with games is difficult to organise.
In training, at Go Games level, however, coaches are starting to see the benefits of breaking sessions into five a side or even less.
At this level the GAA looks to have their finger very much on the pulse and will monitor trends from abroad, such as the template put forward in Germany this week.
It should ensure that future Hogan Cup and schools and colleges finals could at least be as exciting and as refreshing as the one seen last week between Naas CBS and St Brendan's.
It was a breath of fresh air. A reminder of the fun element that can be forgotten once teams progress through the levels.
Listen to the RTÉ GAA Podcast at Apple Podcasts, Soundcloud, Spotify, or wherever you get your podcasts.
We need your consent to load this rte-player contentWe use rte-player to manage extra content that can set cookies on your device and collect data about your activity. Please review their details and accept them to load the content.Manage Preferences