Mickey Harte has extended his term as Louth senior football manager by another two years.
Harte took the Louth job in the winter of 2020 and if his side manages at least a point away to Wicklow on Sunday will have secured a second Allianz Football League promotion in successive seasons.
Harte and coach Gavin Devlin initially signed up for a three-year term, but they recently sat down with the Louth board and extended that by another two seasons.
It means that both men will stay at the helm of the Wee County until 2025.
"Mickey came in on a three-year term, but we (the county board) met him lately and told him we were fully behind him and that we were not looking for a short-term fix," Louth chairman Peter Fitzpatrick told RTÉ Sport.
"The result of that chat was that Mickey and Gavin agreed to stay an extra two years with us. So, it will be a five-year term with Louth in total.
"We want to have a steady train of improvement; we do not want to be up and down the divisions or tiers. We wanted to show Mickey that we were giving a full commitment ourselves and we have done. He has been exceptional for us too. Gavin's coaching is top-class. I have been involved 40 years with Louth GAA and I never seen the buzz that is there now.
"The players are delighted that we had the balls to go and get someone like Mickey Harte in the first place. In turn, he has assembled a very young side and worked really hard with them. Things are motoring well, and we are thinking long term here.
"We didn't win a game in the O'Byrne Cup at the start of the year, but I remember coming away from that series not one bit worried. Instead, I was thinking that 17 young fellas had been blooded. That's more important than winning the O'Byrne Cup. There is improvement for all to see.
"Last weekend against Antrim, we were down six first-team players, and a lot of those young fellas came in and did great. The point is that Mickey has a system of play in there and the boys knew what they had to do when they got the chance. Everyone has bought into what he is doing."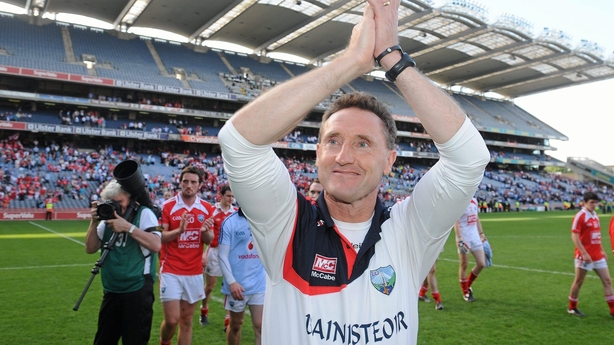 Fitzpatrick says that keeping communication lines open with Harte, the players and the county board management committee has been significant in the two years they have worked together.
"Everyone knows the job they have to do and there are no false promises made by anyone. Mickey and Gavin are a team and bounce off each other, and the players have really improved in all aspects of the game. I asked Mickey to do extra work as well and he is involved with our development squads too," he revealed.
"Himself and Gavin meet our coaches on a regular basis, and we are now trying to ensure they use the same system as our senior team does.
"We need work in that area. Our under-17s played Dublin 17s last week and (they) beat us very well. But we are working hard on all aspects of our development, and we will leave nothing to chance.
"I also sat in the stand for last Sunday's game against Antrim and you could see what the team wanted do. Antrim are an excellent team but the boys are playing with a huge belief. They have worked hard on their strength and conditioning and all other areas.
"We as a county had it bad for a number of years. We could either sit on our laurels or try to do something right."
As well as Harte's extension, the board is also working hard on the development of a new €12m, 4,000-seater stadium.
"What's the point in having a stadium if we do not have a football team?" Fitzpatrick asks.
"So, we have been focusing hard on both matters – on and off the field. Everyone has bought into what we are doing. The buzz here is fantastic."
Harte's men are well set for Division 2 football in 2023 and Sam Maguire action this season as they top Division 3 with nine points. They need only a draw against relegation-threatened Wicklow to go up.
"Going to Wicklow to get a result has never been easy," Fitzpatrick cautions. "And it will not be easy this time around either. But we have to trust ourselves. It's one step at a time.
"It's only two years ago that we didn't win a game in Division 3 or that year's championship and a lot of players were not available for the county.
"Since then, we have tried to make it attractive to play for our county. I have been there as a player, manager and now county board chairman and I understand the system.
"All the players have responded well. But playing Wicklow in Wicklow, we just can't get complacent. Everyone knows how hard it will be. We just have to believe in ourselves."
Listen to the RTÉ GAA Podcast at Apple Podcasts, Soundcloud, Spotify, or wherever you get your podcasts.
We need your consent to load this rte-player contentWe use rte-player to manage extra content that can set cookies on your device and collect data about your activity. Please review their details and accept them to load the content.Manage Preferences