A moment after the final whistle in Nowlan Park on Sunday said a lot about the significance of this year's Allianz Hurling League.
Liam Cahill had just seen his Waterford side team finish a man down and two goals behind Kilkenny but he happily strolled over to share a laugh and a fist bump with counterpart Brian Cody.
And why wouldn't he? Waterford knew coming in that there would have to be an improbable 54-point swing between that game and Dublin's win over Laois to keep them out of the semi-finals. It was a chance to give a few lads a run.
"We have a group of players working extremely hard behind the scenes," Cahill said afterwards.

"They put their hand up to be given an opportunity. That's what they train for, to play in big matches like this one today in Nowlan Park."
And that south-east derby - apart from Offaly's shot to nothing against Limerick - was the most significant game of the final round of Division1 Allianz Hurling League fixtures.
As we noted before the start of the competition, the round-robin provincial championship format means that there are now effectively two leagues in hurling and this one is not the priority.
The change in format to two weighted divisions of six teams that was introduced in 2020 means the threat of relegation that previously sharpened the appetite has all but disappeared for the more established counties.
Newcomers Offaly were always likely to be the whipping boys in 1A, which meant the other teams had to win just one game to avoid even the possibility of relegation as Limerick, with eyes and schedules on bigger prizes, duly did.
Laois and Antrim's 1B meeting in round four was effectively a relegation semi-final. Fourth-placed Tipperary finished four points and +86 ahead of the O'Moore men.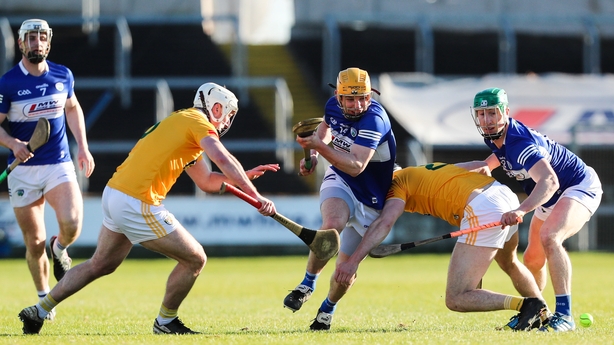 Of course, we do still have Division 1 semi-finals this weekend, in line with the GAA's dogged determination to make leagues into knock-out tournaments and vice-versa but, less than four weeks out from championship, Cork, Wexford, Kilkenny and Waterford could be as concerned about avoiding injuries as making the decider.
League has always been the low-sugar alternative to championship but it's only now, after two Covid-disrupted seasons, that we can really critique the revised recipe.
In 2011, there was an eight-team top flight, just like in football. In 2012, that become 1A and 1B. In theory, it was a merit-based system, with promotion and relegation between A and B. But the winners of B also got into semi-finals.
From 2014, that bloated to also include quarter-finals, which left us in the slightly ridiculous situation where every team in A or B was either in the last eight or a relegation play-off.
But there were very few dead rubbers. That year, Tipperary, Dublin and Waterford all finished with four points from their five games in 1A. Dublin beat Waterford in the relegation play-off while Tipp got to the final, where they lost to Kilkenny.
Probably the biggest flaw in the format was the farce that the team finishing fifth in A could be relegated - as Galway were in 2016 by a Cork side that had lost all five regular games - while fourth in B (10th best in the country) could win the competition outright.
It was the desire to avoid the drop that motivated 1A teams as much as silverware, while Galway (2017, not promoted) and Limerick (2018, promoted) both used 1B as a springboard to All-Ireland glory.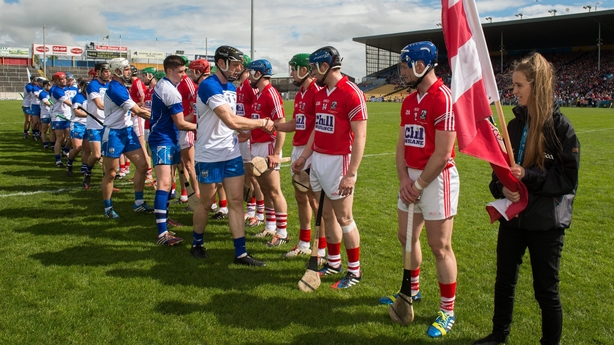 "When I was manager of Waterford, I championed for the current format. When you're a manager you're thinking of yourself," Derek McGrath told the RTÉ GAA podcast last week.
"As a manager I would welcome the current format, but as a viewer and spectator, it's definitely lacking a bit of cut.
"We were relegated twice under my tenure, in 2014 and '18, and the consequences in terms of dissipation of confidence is significant. Particularly if you haven't won an All-Ireland.
"There's a safety net for the top five teams in each division (now). They nearly know they're not going to be relegated.
"It's definitely less cut-throat but putting a management hat on, it's an opportunity to time it.
"Cork, Wexford, Waterford, I think they'll want to win the league and I don't see their progress in championship being stalled by winning it. But nor do I see Limerick being hindered by not winning four games."
Ironically, part of the motivation in redrawing the divisions was to accommodate the new reality of the championship format and to give the sides moving between the Joe McDonagh and Liam MacCarthy tiers more games against top opposition.
They have been competitive at times - Antrim beat Clare in last year's league - but if the consistent reality for three counties is a series of beatings and one winnable tie then you would wonder what benefit that is either.
Admittedly, it is hard to know if an ideal format even exists when you currently have only nine teams with realistic provincial ambitions, and then a significant gap to the next six or seven.
Maybe eight-team divisions are worth another whirl? We could also try six-team divisions again, but without the B teams getting into knock out stages, if we need those at all. We could even go nuts and call them Divisions 1 and 2.
Under the current system, the league now more than ever appears to be a series of glorified challenge matches and an exercise in finding players/improving fitness in a tighter inter-county calendar.
It is reasonable to suggest that this is a perfectly acceptable situation, and at least preferable to football, where the league is compelling but half the championship is meaningless instead.
However, whether fans are happy to keep buying tickets and tuning in is something the GAA will want to keep a close eye on.
We need your consent to load this YouTube contentWe use YouTube to manage extra content that can set cookies on your device and collect data about your activity. Please review their details and accept them to load the content.Manage Preferences