After another busy weekend of Allianz Football League action, the picture has become a little bit clearer for some counties.
Kerry are into the Division 1 final, while Galway will be back in the top flight next season after guaranteeing themselves a top-two finish in Division 2.
Down, meanwhile are heading for Tailteann Cup this summer, unless they can reach the Ulster final, after their relegation to Division 3 was confirmed.
So, with one weekend of action remaining, what's the state of play in each of the divisions, and what does each county need to do?
Division 1
Donegal v Armagh, Letterkenny
Kerry v Tyrone, Killarney
Mayo v Kildare, Carrick-on-Shannon
Monaghan v Dublin, Clones
Kerry will have to wait to find out who they play in the final and they're certain to finish top of the table. One of Mayo or Armagh are likely to join them.
The Green and Red are set to take on Kildare at Avantcard Páirc Seán Mac Diarmada, where they likely need to avoid defeat to keep their chances of a place in the decider alive. If Mayo win they're into the final owing to their head-to-head record against Armagh.
The Orchard County have to go to Letterkenny where they'll face Donegal. If they can better Mayo's result, then they will advance to the final.
If both Mayo and Armagh lose, then we'll end up with four counties on seven points and then scoring difference will come into play. At this remove, Armagh have the slight advantage in those stakes.
Kildare must win to have any chance of reaching a first NFL final since 1990-91, but, having been relegated in 2014 and 2018, the Lilywhites might be happy to simply retain their place in the top flight, something a victory or a draw would guarantee. A defeat could see them fall through the trap door.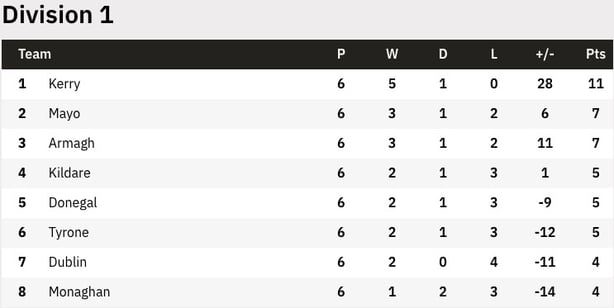 It's similar for Donegal, who need to win or draw to be absolutely certain of their safety, while a defeat against Armagh could see them in the relegation mix.
Tyrone are up against Kerry. Will the Kingdom put out a more experimental team with their final spot secure, or will the chance to potentially relegate the All-Ireland champions, and the team that knocked them out of last year's All-Ireland race, be strong enough to see Jack O'Connor's side go full tilt?
The Red Hand are slightly different to Kildare and Donegal; win and they're safe, fail to do so and they could be in trouble because they have the worst scoring difference of the three counties going into the weekend on five points.
The bottom two in Division 1 - Monaghan and Dublin - meet at Clones knowing that victory is realistically the only way to potentially avoid the drop. If there is a winner at St Tiernach's Park they could still go down if Donegal, Tyrone and Kildare all win too.
There's also the potential for two counties to finish on six points, thus bringing head-to-heads into it, or even for three counties to finish on six points, which will mean scoring difference will be critical. For any of these circumstances to occur we need a winner at Clones, and at least one of Kildare, Donegal and Tyrone to draw.
There's also the outside chance that Monaghan and Dublin draw, and any or all of Kildare, Tyrone and Donegal lose, thus leaving up to five counties on five points. That's when scoring difference will come into things.
---
Division 2
Down v Clare, Newry
Meath v Derry, Navan
Offaly v Cork, Tullamore
Roscommon v Galway, Roscommon
Galway are waiting to find out their opponents in the final after Sunday's impressive victory over Derry.
Roscommon are in pole position to be that team, with the counties meeting at the Hyde. Might we be facing back-to-back meetings of the Connacht rivals? A draw could also be enough for the Rossies to reach the decider, as they currently enjoy a scoring advantage over Derry of +5.
If the Tribesmen were to beat Roscommon, then Derry would reach the final with a victory over Meath in Navan. A draw would also be enough if Galway won by six or more against Roscommon.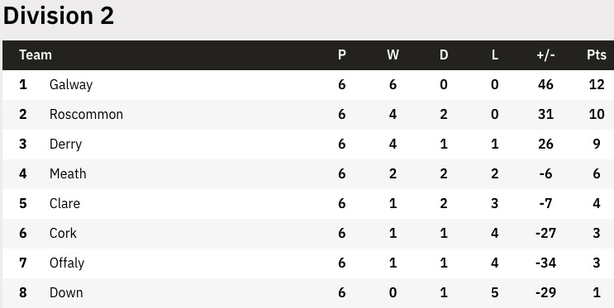 Meath are heading into a weekend where there's nothing on the line; they can't reach the final, but they also can't be relegated.
Clare are in a similar position and could only face the drop if there was a draw at Tullamore, and they were beaten by Down by a cricket score at Newry.
Offaly versus Cork is a shootout to decide who stays in Division 2 for 2023, and who guarantees themselves a spot in the Sam Maguire race for 2022. A draw would be enough for the Rebels owing to their superior scoring difference.
Down have already been relegated after Sunday's loss to Cork.
---
Division 3
Antrim v Westmeath, Antrim
Laois v Longford, Portlaoise
Limerick v Fermanagh, Limerick
Wicklow v Louth, Aughrim
Louth are pole position to secure a place in the Division 3 final, and the qualification for the Sam Maguire race that goes with it. If they can avoid defeat against Wicklow then they will have achieved their goal.
Were they to lose at Aughrim then they could be passed out, in theory, if Limerick were to draw with Fermanagh, and there was to be a winner between Antrim and Westmeath. That would leave three counties on nine points, thus leaving placings in the lap of the scoring difference gods.
The Wee County beat the Saffrons and the Lake County already, so they will only be passed out by them in that circumstance. That is to say, if they end up losing, and Limerick either win or lose as well, then they will finish in the top two.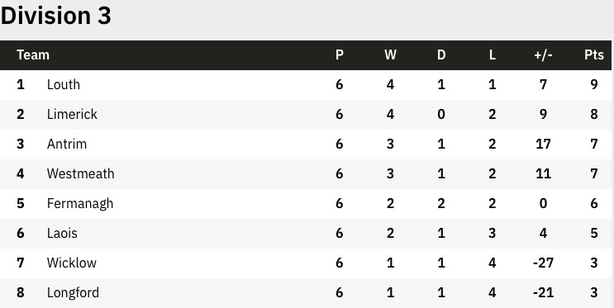 Limerick beat Antrim but lost to Westmeath earlier in the campaign, so that will be relevant if teams end up on the same points. It's simple for the Treaty men; win against Fermanagh and you're in the final, any other result leaves them open to being pipped.
If there's a winner between Antrim and Westmeath then they will be depending on Limerick to lose to reach the final. As above, were Limerick to draw, and Louth to lose, the winner at Corrigan Park could qualify for the final on scoring difference.
A draw between the Saffrons and the Lake County, coupled with a Limerick defeat to Fermanagh would leave four counties on eight points, in which case Westmeath could steal second place.
Fermanagh have to win to have any chance of reaching the final, but their scoring difference leaves them with one hand tied behind their back somewhat. The Ernesiders at least know that they can't be relegated.
One thing is for sure, two Leinster counties are dropping down to the bottom division for 2023.
First and foremost, if Laois avoid defeat against Longford, they're safe.
If Laois lose to Longford, and Wicklow beat Louth, then all three counties will end up on five points. The O'Moore men have a big advantage when it comes to scoring difference; don't be surprised if that saves them come Sunday evening.
The Garden County can only avoid relegation with a big victory in Aughrim, coupled with a heavy defeat for Laois at O'Moore Park - we're talking a 31-point swing here.
Longford followers need their team to beat Laois, and then for Wicklow to fail to win against Louth. If that was to happen, then Longford's head-to-head record against Laois would see them saved.
But if Wicklow were also to win, then Longford's poor scoring difference would see them down, barring a 13-point victory at Portlaoise.
---
Division 4
Carlow v Wexford, Carlow
Cavan v Waterford, Cavan
Sligo v Leitrim, Sligo
Tipperary v London, Thurles
Cavan have one foot in the final, and will confirm their place in it if they avoid defeat
If they were to lose their final game against Waterford however they could end up outside the top two.
For this to happen Tipperary would have to draw with London and either Sligo or Leitrim would have to win. This would leave three teams on 10 points, which means score difference would then apply and a six-point defeat at home to Waterford would see Cavan miss out, in that unlikely scenario.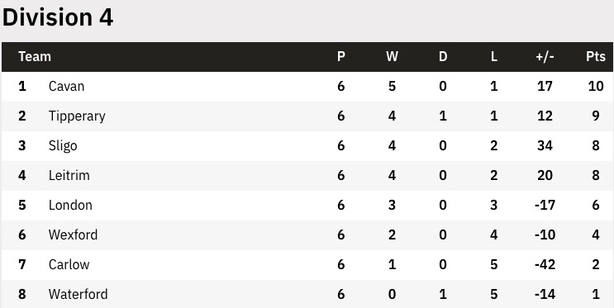 Tipperary will guarantee themselves both a place in the final, and promotion to Division 3, with a victory over London on Saturday evening. That result would turn Sunday into a day of dead rubbers in Division 4, with Cavan having already beaten both Sligo and Leitrim so far in the league.
A draw would also be enough for the Premier if we don't get a winner at Markievicz Park.
If Tipp lose, then either Sligo or Leitrim, who are up against one another, could finish ahead of them with a victory or a draw.
As above, Cavan beat both Sligo and Leitrim earlier in the campaign, so a victory for either of the latter two might not be enough to see them into the final if Tipperary win
At this stage we can say that London, Wexford, Carlow and Waterford have nothing to play for this weekend except positions. That is to say that they're out of the running for promotion, and we don't yet have a Division 5 in the NFL.