SATURDAY MARCH 19
LIDL NFL Division 1 semi-finals
Dublin v Donegal; St Tiernach's Park, Clones, 1pm – Live on TG4; Mayo v Meath; St Tiernach's Park, Clones, 3pm – Live on TG4.
Dublin's bid for back-to-back LIDL NFL Division 1 titles pits them with Donegal at the semi-final stage.
The sides meet for the first time in a competitive clash since the 2021 TG4 All-Ireland Senior quarter-final, which Dublin won by five points.
Dublin claimed three victories from three outings in the group stages – including a psychological success over Meath last time out in an enthralling game.
Donegal won their opening two games but lost out to Mayo and finished second in their pool.
Victory for Dublin would send them through to a third League final in four seasons (the 2020 campaign was not concluded), while Donegal are aiming for a first Final slot since 2017.
Donegal fell at the semi-final stage to Cork last year and will hope to avoid a similar fate.
Boss Maxi Curran has named All Star Geraldine McLaughlin in his team, while Dublin have drafted captain Niamh Collins and Martha Byrne into their backline.
Dublin: C Trant; J Tobin, N Collins (capt.), L Caffrey; A Kane, M Byrne, O Nolan; J Dunne, K McDaid; C O'Connor, N Owens, S Woods; H Tyrrell, N Hetherton, K Sullivan.
Donegal: R McCafferty; S McFadden, E McGinley, N Boyle; N Carr, F McManamon, T Hegarty; Nicole McLaughlin, R Rodgers; S White, Niamh McLaughlin (capt.), S Twohig; B McLaughlin, K Guthrie, G McLaughlin.
An interesting semi-final lies in store when Meath, the All-Ireland senior champions, take on an evolving Mayo.
The Royals lost by just a point to Dublin last time out but will have taken real encouragement from that one against the hungry Sky Blues, who were out for a measure of revenge following last year's All-Ireland Final loss.
Mayo have been motoring quite nicely this year and claimed three wins from three in the group stages, to top the pool.
Facing off against Meath may be a dubious reward but this fixture will give Moyles and his players a real indicator of exactly where they stand with championship fast approaching.
Mayo lost to Dublin in the 2021 semi-final and will hope to go one better here, while Meath go in search of a first Division 1 Final slot since 2006.
All Star forward Emma Duggan is back in the Meath starting line-up and that's one of four changes in personnel from the Dublin game, as Mayo make two changes, including the recall of Aisling Tarpey between the sticks.
Mayo: A Tarpey; É Ronayne, R Flynn, D Caldwell; C Needham, F McHale, K Sullivan (capt.); S Cafferky, A Geraghty; S Howley, S Walsh, S Mulvihill; L Cafferky, C Whyte, H Reape.
Meath: M McGuirk; K Newe, MK Lynch, O Duff; A Ennis (capt.), E Troy, A Cleary; M O'Shaughnessy, O Lally; M Thynne, A Leahy, E Duggan; V Wall, S Grimes, N O'Sullivan.
LIDL NFL Division 2 semi-final
Armagh v Laois; O'Raghallaighs, Drogheda, Louth, 2pm.
Armagh have made huge inroads as a senior force in recent years but gaining promotion to Division 1 of the LIDL NFL is a key goal.
The Orchard County will feel that they need to pitting their wits against top-flight opposition on a regular basis to make further progress – and they're just two steps away from achieving their goal.
To not make the semi-finals last year was a disappointment but Armagh sailed through this year, with three wins from three.
They now face a Laois side that has made an incredible impact since winning Division 3 last year to gain promotion.
Consolidation in Division 2 would have been the primary aim for Laois but they've surpassed those expectations and now find themselves in the last four.
Armagh: A Carr; S Grey, C McCambridge, G Ferguson; T Grimes, L McConville, C Towe; N Marley, B Mackin; C Marley, F McKenna, N Coleman; A Mackin (capt.), A McCoy, N Reel.
Laois: E Barry; C Dunne, A Potts, A Kelly (capt.); R Williams, E Healy, A Healy; J Moore, O Hennessy; E Lawlor, F Dooley, E Fitzpatrick; M Nerney, L.M. Maher, S Havill.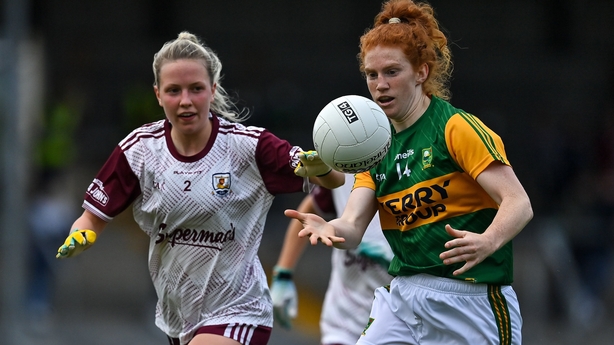 SUNDAY MARCH 20
LIDL NFL Division 2 semi-final
Kerry v Monaghan; Tuam Stadium, 2pm
After losing a number of long-serving players before the start of the 2022 campaign, Monaghan will be delighted with their progress to date.
A win and a draw was good enough to take them through to the semi-finals but now they face an in-form Kerry outfit.
The Kingdom lost the 2021 Division 2 Final to Meath at Croke Park but are now back within touching distance of promotion.
They'll have to do it the hard way against a spirited Monaghan and Armagh or Laois in the Final, but Kerry are determined to go one better this time.
Evergreen forward Louise Ní Mhuircheartaigh has been in superb attacking form for the Kingdom once again this year, while captain Muireann Atkinson will bring real purpose from the centre forward position.
Kerry: C Butler; C O'Brien, K Cronin, J O'Sullivan; A O'Connell, E Costello, C Murphy; N Carmody, A Galvin (capt.); K Brosnan, C Evans, M Johnston; N Ní Chonchúir, F Houlihan, L Ní Mhuircheartaigh.
Monaghan: O Kelly; M Monaghan, J Duffy, L Garland; A McCarey, R Courtney, K Maguire; J McQuillan, J Drury; A Garland, M Atkinson (capt.), L Jones; C Treanor, A Burns, E Clerkin.
LIDL NFL Division 3 semi-finals
Kildare v Roscommon; Parnell Park, 1pm; Down v Wexford; Parnell Park, 3pm.
Beaten Finalists last year, Kildare topped Division 3B to make the last four again.
Two wins a draw were good enough to head the pool ahead of Wexford, who made it through to the semi-finals as results went their way during the final round of group fixtures.
Roscommon won two and drew one in Division 3A to make it through and last year's beaten semi-finalists will hope to avoid a similar fate.
The Rossies lost out to Laois in 2021 at the penultimate stage to dash their promotion hopes.
Kildare: D McGinn; M Doherty, L Lenehan, F Troute; L Murtagh, L Gilbert, H McLoughlin; A Rattigan, G Clifford (capt.); R Forde, L Curran, C Sullivan; N Dooley, O Sullivan, C Wheeler.
Roscommon: H Cummins; S Kenny, R Fitzmaurice, M Kelly; R Wynne, R Brady, E Irwin; K Nolan, L Fleming (capt.); J Higgins, L Shanagher, C Conway; A Hanly, R Lennon, N Feeney.
Down are undefeated and in confident mood ahead of their Division 3 semi-final on Sunday.
The Mourne County won two games and drew one to finish on top of Division 3A, and they'll face Wexford in the last four.
A win for Down would see them into a League Final for the first time since 2013, when they clinched the Division 3 title, as Wexford go in search of their first Final appearance since the 2018 Division 3 Final win against Meath.
Wexford's victory over Longford in Round 3 saw them through to the last four – and last year's TG4 All-Ireland Intermediate Finalists will aim to make a big impact.
Down: C Kennedy; O Kelly, C Byrne, O Duffy; A McAlea, C McArdle, N McKibben; M Doherty (capt.), A Keown; C Caldwell, J Foy, P Smyth; V McCormack, N Ferris, S Dougherty.
Wexford: D Fox; C Neville, A Halligan, A Walsh; O Kehoe, N Cloke Rochford, A Byrne; R Murphy (capt.), C Banville; S Hamilton, C Murray, E O'Brien; E Tomkins, A Murphy, A Cullen.
LIDL NFL Division 4 semi-finals
Fermanagh v Limerick; Kinnegad, 2pm; Leitrim v Offaly, Kinnegad, 4pm.
Fermanagh were relegated last year but are in the hunt for promotion back to Division 3.
With Eimear Smyth in attack, the Erne County are dangerous opposition for any team but they come up against a Limerick outfit in excellent form.
Well beaten by Leitrim in last year's semi-final, Limerick look a much better outfit this year and they have a number of players who claimed Yoplait HEC third-level All-Ireland winners in the team for Sunday.
Captain Roisin Ambrose was in excellent form for University of Limerick in their march to Yoplait O'Connor Cup glory, and the Shannonsiders will start as favourites for this one.
Fermanagh: C Bogue; E Keenan, M McGloin, A Gordon (capt.); S McCarville, D Curran, S McQuade; B Bannon, C Bogue; N McManus, B Bogue, S Britton; C McElroy, E Smyth, L Grew.
Limerick: S Hennessy, K Reidy, S O'Sullivan, M O'Halloran; M MacNamara, L Coughlan, A Ryan; L Hanley, R Ambrose (capt.); G McKenna, R Delee, C Mee; C Davis, M Kavanagh, I Kennelly.
Last year's runners-up Leitrim booked their place in the semi-final again with an unbeaten run.
The Westerners claimed two wins and a draw in Division 4A and now face off against a Leitrim side that finished second behind Limerick in Division 4B.
The desire to atone for last year's Final loss to Louth will be strong in the Leitrim camp but Offaly have been hugely competitive this year and can't be underestimated.
A win for the Faithful County would see them into a first Division 4 decider in seven years.
Leitrim: N Ryan; R Rooney, S Tighe, S McCartin; C Tyrrell, C Owens (capt.), C Le Guen; A Quinn, N Tighe; L O'Dowd, M Guckian, S Ward; S Reynolds, L Fox, S Quinn.
Offaly: E Evans; N Buckley, E Nally, B Bryant; A Kehoe, I Fleming, R Ennis (capt.); E Maher, A Gavin Mangan; F Dempsey, E Hand, S McGuinness; M Daly, E McEvoy, C Walsh.