Offaly manager John Maughan said they "haven't lost faith" in their ability to remain in Division 2 after an encouraging display in a four-point loss to Galway in Salthill this afternoon.
With Galway boasting an 100% record, while Offaly sit bottom with one point, it was widely assumed that it would be one-way traffic in today's re-fixed Round 3 game in the west.
However, Offaly, with three Under-20s featuring, were highly competitive, keeping the margin to just two points at the break and racking up a scoreline of 3-10 in the finish.
"If I was told we'd score 3-10 against Galway, I'd have felt we'd be in the winners enclosure," Maughan told RTÉ's Sunday Sport afterwards. "It was quite impressive from us in many, many ways.
"Our Achilles heel was our unforced errors, our turnovers. We turned over the ball 11 times and Galway capitalised on that because they're a very formidable outfit with a lot of class and talent on the pitch.
"We were in touching distance at half-time, there was a bounce in our step. Galway are a little bit ahead of us but nonetheless, I'm very proud of the performance today."
---
How they stand: Allianz Football League tables
---
While Offaly shipped heavy losses against Clare and Derry in the opening two weekends, Maughan insists that the evidence is there that his youthful outfit is coming into its own as the weather improves.
"We haven't lost faith. I think as conditions improve, we will get that bit stronger and better. We saw examples of that in the last two performances against Meath and Galway today."
"But it's all about the results. There's no guarantees. But nonetheless, we will go up with a bit of confidence to Newry next weekend. We've Roscommon at home after that, we've three opportunities, the last one against Cork. We're not without a chance."
By contrast, his opposite number Padraic Joyce was unimpressed by his own team's display, in particular their defensive shortcomings, noting that they've conceded 2-17 and 3-10 in successive weekends.
"It was a disappointing performance overall to be honest. We didn't play well," Joyce told RTÉ Sport afterwards.
"We started the game OK but just drifted out of it again and let Offaly into the game.
"Our defensive play has been very good in the first couple of games. But last Saturday night and today, we've conceded 5-27 in two matches, which is an area we've got to look at.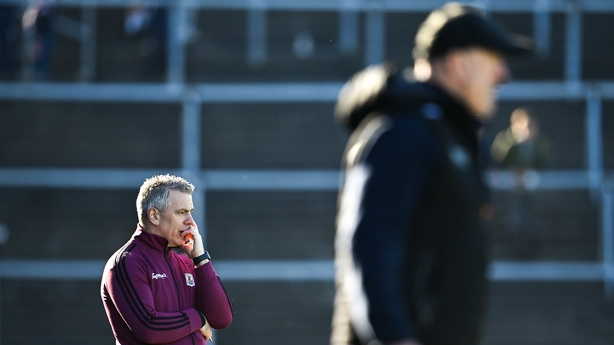 "We got turned over on the ball about 12 times in the first half up around the half forward line, which is not acceptable really.
"It's a huge score to concede. Rarely do you win a game if you concede three goals but luckily enough, we did enough on the far side, we got 2-17. But we're conceding too much.
"We were never in danger of losing the game I thought but at the same time, we never had huge control over it. But at the end of the day, we've eight points after four games. We can't ask for any more."
Galway emerged with some injury concerns with influential raiding defender Sean Kelly, scorer of the second goal, incurring an ankle injury late in the game, but the manager is confident it's nothing too serious.
"I think he was kicking the ball, he got a push in the back and kicked the ground. His foot got stuck in the ground so he's in the middle of a bit of ankle trouble. We'll get it assessed during the week and see. Hopefully, he'll be OK for next week."