With three rounds of the Allianz League completed it is obvious that Gaelic football is undergoing a significant tactical evolution, which will have a major impact on how games are approached this season.
There is a change in attacking style by teams, this observation was sparked while sitting in the Hogan Stand watching the All-Ireland Club Final between Kilcoo and Kilmacud Crokes.
While Kilcoo's attacking in the first half wasn't pretty, overall in the game the athletic prowess and calculated explosive running into open space by both teams was striking.
This change will have many implications for players, team selection and will lead to the game being more exciting for spectators.
In soccer, coaches regularly reference that the game can be broken down into distinct parts; when we have the ball, when they have the ball, when we lose the ball, when we win the ball back and set-pieces.
For any invasion game such as basketball, hurling and football these parts are consistent.
Teams have changed how they apply themselves when they win the ball back and tweaked slightly their approach to kick-out defence.
Speed of Transition to attack
Just to clarify, 'transition' is a term used to describe when a team changes from attack to defence or changes from defence to attack.
Don't be confused with the over-used term to describe a team that is in a building phase and may not be ready to compete to its potential just yet.
It has been obvious by the way teams set up over the last few years that coaches have spent a great deal of time coaching players to transition quickly into good defensive positions when they lose the ball.
In every game you can see half-forward lines and midfielders working hard to get back to defend with clear roles; to mark and track men, sweep, double up, mark space or press the carrier.
Teams are generally set up to have good 'rest defence', to use soccer parlance, with something like a plus one at the back while they attack.
Our present matches would suggest these are all practiced in game situations in training which challenge players' decision making.

In the screenshot above, you can see Tyrone's half-forward line and midfield making their way back to defend, leaving just two forwards inside the Monaghan 65m line.
Regardless of whether it is club or county, teams are being coached to carry out defensive roles when they lose the ball. This year there has been a notable change in that more teams are now getting all 15 players behind the ball.
The screenshot below shows Mayo as they set up to have 15 players behind the ball.

In the past, a barrier or blanket may have been set up around the D or scoring zone, but now teams are pressing and delaying players between the 45m and 65m lines. By pressing these players they don't have time to get their heads up and pick out kick passes into their full-forward lines.
Having 15 players behind the ball may seem like a progression into highly-defensive football, but in practice teams are turning over the opposition and then transitioning to attack and attacking faster than ever before.
Traditionally, teams broke in numbers with runners off the shoulder, but now runners are trying to get ahead of the ball and create a target for kick-passing.
In past seasons, Dublin have been good at this but now Armagh, among others, are thriving on this ploy. Many of these kicks are into 1-v-1 situations close to goal.
As a result of getting many players behind the ball when defending, teams are creating huge space in attack to run or kick into. With more coaching of transitions to attack what will we see?
More heads-up football, more long kicking, more 1-v-1s and consequently more goal chances. In turn this will make the game even more exciting to watch.
For team selection, good athletes are going to be more important than ever but more importantly for quick transition, good kickers will be needed.
Set Piece – Pressing opposition kick-out
Coaches are differentiating their defensive style of play depending on the scenario. The 'Geggenpressing' promoted by Jurgen Klopp at Liverpool (and allegedly Ralf Rangnick at Manchester United) or pressing by Arrigo Sacchi teams at AC Milan may not be possible all over the pitch in football, but is absolutely being followed when teams are defending inside their own half and when pressing opposition kick-outs.
Kick-outs are the main set-piece in the game of football. Kick-out pressing is evolving all the time. There is huge reward for winning an opposition kick-out, possession near the opposition goal when all defenders are set up to get on the ball and attack.
The day of standing beside your man seems to be dead and gone, teams are now closing angles, blocking space and trying to set traps for keepers.
In the screenshot below, you can see Monaghan setting up to restrict Tyrone's options. Most angles are covered trying to force Niall Morgan to kick long, but as he is such a good long kicker Monaghan have not overloaded any one area of the field.

In the screenshot below, we can see a positional change that is becoming more common. This involves pushing up extra players into the forwards. Dublin create the extra forward by pushing Evan Comerford from his goal into the left half-back position and allowing a half-back/midfielder to push into the forwards.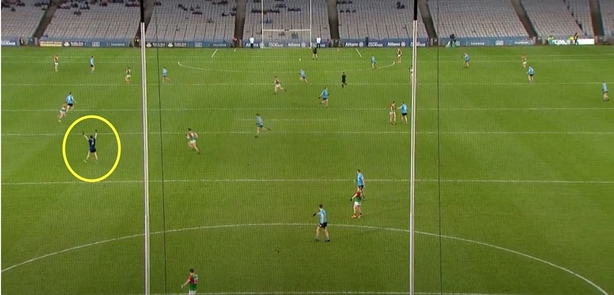 This pressurises the team and forces high risk kicks whether they be short, mid or long. Then it is all about trying to get on the ball, transitioning to attack and getting into the scoring zone as quick as possible.
What does this mean? If keepers persist in kicking short and teams turn them over we will see more goal chances created and if keepers kick long we will see more high fielding.
All in all it is win-win for spectators. Managers and coaches are innovative in their tactics, our wonderful game is evolving all the time.
Only three games in, I look forward to seeing what else evolves over the weeks and months ahead.