London made it three league wins on the trot at a wind swept Connacht Centre of Excellence at Bekan when they battled from behind at the interval to overcome Leitrim in the final quarter of a nip and tuck clash.
Leitrim dominated the exchanges in the first quarter when they held London scoreless. The men from the west coped better with the challenging weather conditions. Keith Beirne whipped over two points for the Leitrim men in the opening seven minutes.
A point from Darragh Rooney and a free conversion by Keith Beirne had the scoreboard reading 0-04 to 0-00 in the Leitrim's favour by the 18th minute mark. But London were put back right back in contention in the space of another minute when Chris Farely spotted Leitrim goalkeeper, Brendan Flynn off his goal line and fired home to an empty net.
Leitrim continued to dominate the exchanges with points by Shane Quinn, Mark Diffley and Keith Beirne by the 32nd minute. Conal Gallagher replied with a London point in the following minute that left Leitrim leading by 0-07 to 1-01 at half-time.
A Keith Beirne point after the restart put Leitrim into a double scores advantage. However London soon adapted better to the stormy weather conditions and put Leitrim on the back foot for most of the second-half exchanges.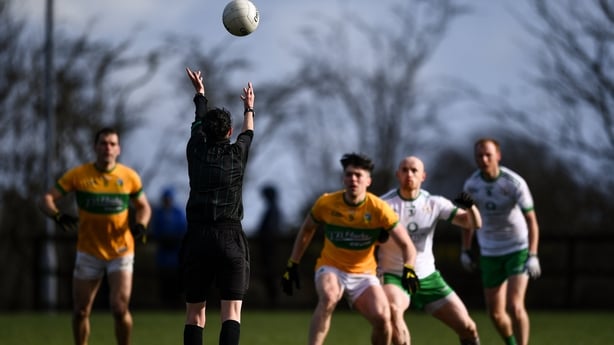 The London forwards exploited quick breaks on the counter attack and forced the Leitrim backs to commit a number of fouls within scorable distance. London goalkeeper Noel Maher punished Leitrim with three frees in succession with the result that the Exiles got within a point of Leitrim by the 52nd minute.
In reply Keith Beirne shot over for Leitrim some five minutes later but this proved to be his side's last score of the afternoon. After James Gallagher slipped his marker he hit a 58th minute goal that put London ahead for the first time in the game.
After that the Exiles ensured a fully-merited victory over Leitrim with a Liam Gavaghan free conversion two minutes later.
London: Noel Maher (0-03 3f); Cathal Long, Matt Moynihan, Nathan McElwaine; Ronan Sloane, Eoin Walsh, Eoin Flanagan; Stephen Dornan, Liam Gavaghan (0-01f); Conal Gallagher (0-01), Liam Gallagher, Evan Wynne; Chris Farley (1-00), James Hynes, James Gallagher (1-00).
Subs: Enda McCormick for Farely, Mathew Walsh for M Gallagher & Geoff Kingston for J Gallagher (42); Henry.Walsh for C Gallagher (66); Alan Kyne for J Gallagher (73)
Leitrim: Brendan Flynn; Paddy Maguire, Mark Diffley (0-01), David Bruen, Shane Quinn (0-01), Donal Casey, James Rooney; Donal Wrynn, Pearce Dolan; Mark Plunkett, Keith Beirne (0-06f), Darragh Rooney (0-01); Ryan O'Rourke, Dean McGovern, Riordan O'Rourke.
Subs: Tom Prior for Plunkett (HT); Domhnaill Flynn for Quinn (49); Jack Heslin for McGovern (61); Paul Keaney for Diffley (67).
Referee: Maggie Farrelly