Former Armagh star Oisin McConville believes the new GAA calendar gives the Orchard County every chance of bringing their brilliant early-season Allianz League form right through to the championship arena.
The Crossmaglen man was speaking on the RTÉ GAA Podcast on Monday, and he thinks that the fact that the 2022 Ulster Championship begins in less than ten weeks' time ahead of a July All-Ireland finish is another reason why Kieran McGeeney's troops should feel invigorated after their brilliant Division 1 wins over Dublin and Tyrone.
"I just think that whatever we have at this moment in time, try and bottle it and run with it," said McConville.
"It was January last week now, it is February now, there's only two games played in the league, but this is a season like no other season.
"This is a season where in two months' time we're going to be in the thick of it as far as championship is concerned.
"I think there is a real possibility of a team like Armagh being able to maintain that momentum or certainly they're conditioned well enough to continue that right through.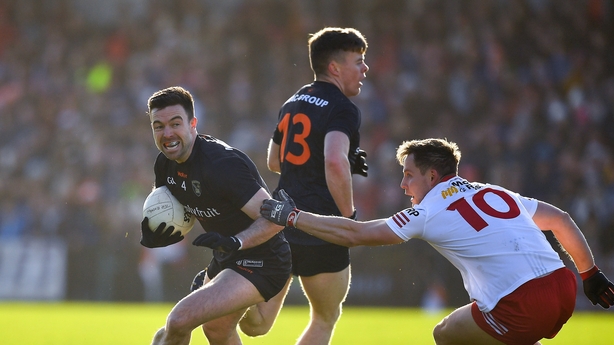 "Our squad seems to run deeper than it has done in a long time."
McConville's positivity was enhanced by the manner of Armagh's 2-14 to 0-14 win over the Red Hands at the Athletic Grounds on Sunday.
In round one, McGeeney's side had been able to play their preferred kicking style in an impressive five-point win over Dublin at Croke Park.
Tyrone's backline was much more crowded - something Armagh have struggled to deal with in recent seasons - but there were no such issues against their rivals as they raced into an 11-point interval lead, and had six points to spare at the finish after the Red Hands had four players dismissed late on while Armagh lost Greg McCabe.
"A lot of people will say 'let's not get carried away, let's keep our feet [on the ground].' What's wrong with a bit of momentum? What's wrong with a bit of optimism?
---
Listen to the RTÉ GAA Podcast at Apple Podcasts, Soundcloud, Spotify, or wherever you get your podcasts.
We need your consent to load this YouTube contentWe use YouTube to manage extra content that can set cookies on your device and collect data about your activity. Please review their details and accept them to load the content.Manage Preferences
---
"I said last week that it felt different, that it felt that we have properly arrived. Yesterday just backed that up again.
"One thing that I really like about this team right now, and let's talk about right now, let's not talk about further down the line, right now I like the athleticism of the team, I like the decision-making.
"I also like the fact that we beat the Dubs. I don't know if there is any make or shape to the Dubs right now, but they will certainly give you an opportunity to get at them and probably have done down through the years. Maybe just not as much as they do now.
"We were able to play against a team like that and we were able to mix it up [v Tyrone].
"The one thing we identified straight away yesterday was that we're not going to be able to kick the ball in the same fashion or in the same way as we did the last day.
"The thing I like now, and thing that fills me with even more optimism, even though people are scared of it, is that we have beaten two teams that play in a different style.
"We struggled, and have struggled for a long, long time, with defensive shape and breaking packed defences down.
"We were able to do that yesterday and we were able to do it with plenty of style, we were able to do it with a multitude of players. We weren't relying on one player to break the Tyrone defence down."