Tipperary great Pádraic Maher has announced his retirement from hurling due to medical advice, with manager Colm Bonnar admitting the news came as a shock to both the player and his team.
Maher, who turns 33 next week, said in January he still felt he "had something to offer" but has now made the "heart-breaking" decision to retire from both club and county due to medical advice regarding a neck injury.
The three-time All-Ireland winner informed the Tipperary county board of his decision last night.
"It is not the end I would have wished for, but the time has come for me to announce my retirement from hurling," Maher wrote in his retirement statement.
"Unfortunately, I recently received medical advice regarding a neck injury, and I have been advised to step away from contact sport. It is heart-breaking to have to make this decision, but it's the most important one for me and my health moving forward."
Speaking to RTÉ Sport, first-year boss Bonnar said the veteran defender had been rehabbing an ankle injury but was firmly in his plans until receiving the diagnosis on his neck in recent days.
"It was a complete shock to him and to us," said the manager. "We only found out lately over the weekend that this could be happening.
"It's heart-breaking for him, he had more to offer. We had seen him in the club championships and he was still a towering strength in terms of the backline for Thurles Sarsfields.
"A lot of players he put in his pocket throughout that campaign and he still had so much to offer and knew that himself and that's why it's so heart-breaking to him he has to step away at this stage.
"He has been such a leader, a warrior, he always stood up. He was a colossal man in terms of being under the high ball. Tommy Walsh was another for pulling balls out of the air but Paudie Maher was just as good.
"He loved every moment of it, that's the impression he gave, and that's what's going to be missing in that dressing-room, that experience. We were all hoping he'd get back in but it's not to be.
"If you look back over 13 years, it's just been so unbelievable for him. He's had a great hurling life that he'll be so proud of. I just wish him all the best in his retirement."
Maher had been a stalwart for the county since he appeared on the scene winning All-Ireland Minor Hurling medals as a full-back in 2006 and 2007.
Renowned for his fielding, ability to break a tackle, distribution and occasional long-range scores, the towering defender was a permanent fixture at senior for over a decade and a key presence on the Tipperary team that stopped Kilkenny's drive for five in 2010. He was again to the fore when Tipp beat the Cats in the 2016 and 2019 All-Ireland finals.
He also won an U21 All-Ireland title with Tipperary, captaining the side to glory in 2010, a week after claiming his first senior title.
Maher was on the losing side in the 2009, 2011 and 2014 deciders against Kilkenny.
Six All-Star awards, in 2009 (full-back), 2011 (wing-back), 2014 (centre-back), 2016 (wing-back), 2017 (wing-back) and 2019 (wing-back), made him Tipperary's joint-record winner alongside Nicky English and Eoin Kelly.
He also was nominated for Hurler of the Year in 2011 and 2016. An often inspirational figure on the field, he captained his county in the 2017 and 2018 seasons.
Following the retirement of namesake Brendan Maher last August, only Seamus Callanan, Noel McGrath and Patrick Maher now remain of the Tipperary class of 2010.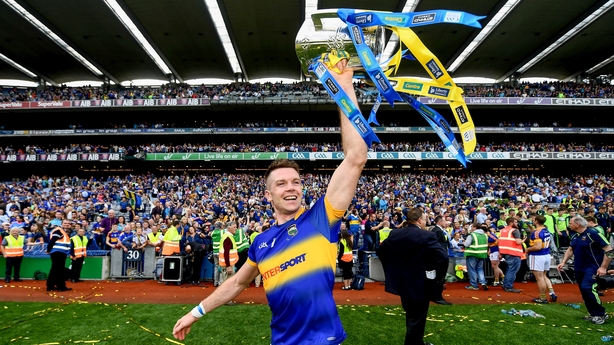 "Representing Tipperary has been my lifelong dream and I am truly honoured and privileged to have played for Tipperary for 13 seasons," Maher wrote.
"I have made some truly great friends and met some great people. I have made memories that will stick with me for the rest of my days. While I truly wished this could have lasted a bit longer, I am glad that I can look back and know that I gave everything I had for the blue and gold jersey.
"I want to thank all the Tipperary players I played with over the years, some of whom are the greatest to ever represent this county. To all the management teams, backroom personnel, doctors, and physios, there is no doubt we were in great hands with you all involved. I am truly grateful for all you have done for me. The Tipperary County Board, the Tipperary Supporters Club, and the various sponsors, have never left us wanting for anything and I want to thank you all sincerely for your support.
Maher also paid tribute to his club Thurles Sarsfields, with whom he won seven Tipperary titles throughout his career.
"What you have all done for my career is unbelievable. The support I received, the great years on the field and the memories we have, I will cherish for the rest of my days. While I might not get to put on that famous blue jersey anymore, I will never be too far away from 'The Outside Field'.
"Finally, to the Tipperary team, I wish you all the best for the year ahead and I look forward to following you all over the country in what I hope will be a successful one for you all. I'll be your biggest supporter."
Tipperary Chairman Joe Kennedy said the news would be greeted with great disappointment by all followers of the county.
"Padraic has been one of Tipperary's most consistent performers over many years and has been a true leader of Tipperary Senior hurlers with many inspiring performances. He was always a man for the big day and often gave his best performance for both club and county in championship finals.
"On the field he displayed tremendous courage and tenacity and was never found wanting in the heat of battle. He will be remembered as one of the greatest Tipperary hurlers and on behalf of all Tipperary followers I wish him well in his retirement."
Additional reporting: Conor Neville and Damian Lawlor