From Rory Beggan kicking a point from play to Rob Hennelly saving a penalty and kicking the equalising free, the opening weekend of the Allianz League gave more examples of the evolving role of the Gaelic football goalkeeper.
And former Clare football custodian Joe Hayes says he fully expects the role of the modern goalkeeper to continue to evolve.
Hayes first linked up with the Clare panel in 2001 before re-joining the squad in 2005, enjoying a stellar career with his county, reaching an All-Ireland quarter final and enjoying league success along the way.
The Lissycasey man spent the last two seasons as goalkeeping coach with the Tipperary footballers, playing a part in their historic 2020 Munster title win.
"I watched three games on Saturday and went to see Clare and Offaly on Sunday and I can see it developing all the time," said Hayes, speaking to RTE Sport.
"Some years ago, the first noticeable tactic was goalies coming up to take frees but now they are all at it, kicking from long range, off the ground.
"Then we had the kick-out where the restart would happen, and the goalkeeper would immediately get back the ball from a team-mate. That stayed in place until the GAA took that rule away about passing backwards from a kick-out.
"Next it moved to goalkeepers coming out the field to fill space on the opposition kick-out, narrowing the options for their opposite number.
"And now they are making themselves available for more forwards passes, they are frequently joining the attack and they are scoring from play too. Beggan scored from play at the weekend, and Niall Morgan has done so in the past and I only expect we will see more of that as the season goes on."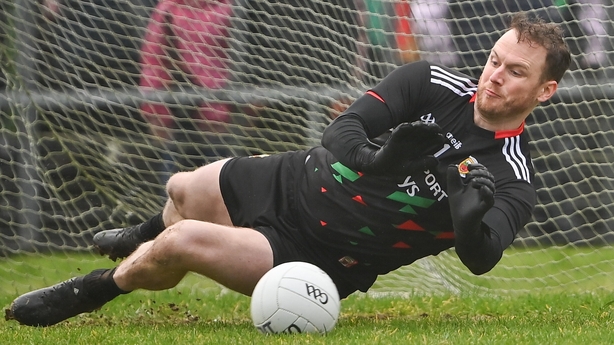 From a neutral point of view there is huge excitement when goalkeepers go walkabout, however, from a coaching perspective there are massive risks.
"There are risks," said Hayes. "The first thing is if you are out the field to fill a space you better be clean on your heels and running back to the posts when the ball breaks around the middle.
"I saw in the McKenna Cup game between Armagh and Cavan where the Cavan keeper didn't get back quick enough, and Armagh had an easy goal. In the Tyrone and Monaghan Ulster final last season there were a few hairy moments too.
"But even watching Offaly and Clare on Sunday teams are happy to take that risk. The Offaly keeper Paddy Dunican was even up the field, almost punching Stephen Ryan's kick-outs back to him up a few times, or at least in the direction of the Offaly forwards!
"It comes down to preparation and helping the team block space and offering something in possession or even attack. Restarts, free-taking, filling the opposition space when you can and always being available for a pass – they are key traits of the goalkeeper now."
With different skillsets and variations now defining the role, the art of actual shot-stopping is probably taken for granted.
"While Beggan and Morgan are kings of the position, they are excellent stoppers too. Going forward in general all goalkeepers have to have that blocking instinct, but they need to be comfortable with teams pushing up and make them go long.
"They need to be easy with hitting short ones – for example, the Kilcoo goalkeeper [Niall Kane] went short with all his kick-outs and had 100% retention. He was clipping the ball out to the left and then using his left leg to clip it out to the right.
"It all depends on the team. Tyrone went long a lot last year and Morgan said the basis was that, while they might lose a few ones, they would win some too and it would be easier to create scoring chances than trying to work the ball the length of field the whole time.
"The flip side of that is opposing teams will want the ball in the air as much as possible and any midfield will think they have a 50-50 chance of winning it or the breaks.
"And then you had a scenario where Tyrone of a few years back went through a phase of backing off and conceding kick-outs. So it depends on the manager and his team, and the goalkeeper has to be able to deal with a variety of tactical requirements."
With so much quality coaching now on offer, and games played in blocks and down channels, has spontaneity suffered?
"I don't know," said Hayes. "A lot of supporters in the Clare crowd yesterday were frustrated because the lads were not kicking at various times – but how would they when Offaly had 15 men back at various times, including the likes of Niall McNamee? The question I'd ask is where should they kick it?
"Yes, the game can be frustrating for neutrals at times. You are constantly looking to find gaps and break the line and you need patience and craft to grab a few metres here and there or grab a free. Teams also need a seriously high level of fitness like what Armagh have. They will turn you over and they are gone with a kick to their own attack."
With some games taking on predictable playing patterns and plenty of lateral and backward passing, does Hayes envisage the GAA invoking certain rules in the future to help speed the game up or make it more progressive?
"They could do so I guess, there has been a lot of tinkering with rules over the years and maybe they could come up with having to keep four players in the attacking half at all times – but I can never see that.
"A lot of the games are enjoyable at the moment, standards are exceptionally high, there is a lot of coaching and tactics, and space is at a premium with everyone hunting for it. Maybe we just have to accept what is happening and where we are right now. As I say, it's looking fairly exciting for the year ahead."