Kildare manager Glenn Ryan insisted that departed boss Jack O'Connor had left the Lilywhites "in a very good position" following his two years in charge, stressing that his own players had no interest in any "sideshows" ahead of Sunday's drawn league encounter in Newbridge.
Returning to Newbridge in his first competitive game as Kerry manager since quitting Kildare for his native county last August, O'Connor received a tasty reception from the bumper home crowd, the match delayed by 15 minutes to allow St Conleth's Park cater for the sizable attendance.
Adopting a relatively pragmatic and defensive approach, Kerry established a four-point lead at half-time, Killian Spillane helping them to a 1-07 to 0-06 advantage at the break.
However, they mustered just three points thereafter, Kildare grabbing the final four points of the game, with Jimmy Hyland landing the final two scores to ensure a draw game.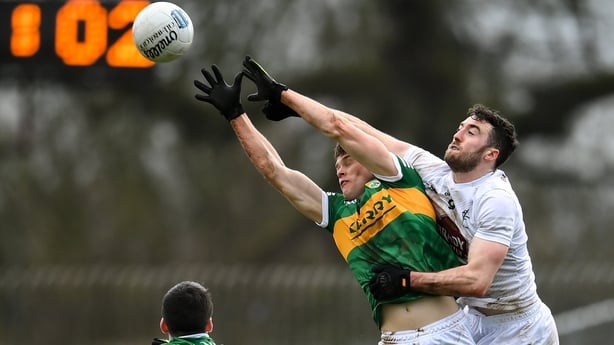 While much of the pre-match discussion focused on the reception O'Connor might receive from the Kildare support, sore at the abrupt manner of his departure in the autumn, Ryan said his players had little time for this narrative and indicated that the now Kerry boss had left Kildare better than he found them.
"The manner in which Jack left, he left Kildare in a very good position," Ryan told RTÉ Sport after the game.
"There was no sideshows that we were concerned with in relation to that. If that's the only reason we're here to play football, we'll have very little to play for the next day. I was very happy with the players during the week, there was mention of any of those kind of sideshows.
"Their only determination was to try and get a performance and put a huge effort in. And they did that."
Little fancied at the outset against the pre-competition favourites, the result was an impressive one for Kildare, who registered zero points on their last visit to Division 1 in 2018.
Ryan, whose backroom team comprises a who's who of Kildare football, said his hope for the league was that people stop fixating on the management and instead focus on the current players.
"I don't know about proud, I'd be happy with the efforts," the Kildare boss said of the performance. "We improved as we went along. Still, a lot of work to do before Donegal but it's a point on the board.
"We probably left a couple of scores behind us, to be honest. When we go home tonight and reflect on it, I don't know whether we'll be as happy about it as we are at the moment.
"My hopes for the league is that people start to focus on the team and not on fellas on the sideline who can do very little about what's going on in the pitch. There is huge pride in this county for football.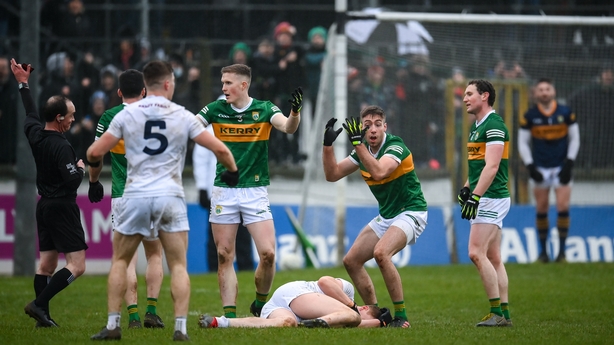 "There's a huge hunger and desire to see our players play well. All we're going to do is try to improve them. Everything else revolves around the fellas who are out on the pitch. What we'll try and do is to facilitate those fellas, doing the best they can and being as good players as they hope to be."
Asked afterwards whether he considered the result a point lost for Kerry, O'Connor demurred.
"I'm not too sure about that. Kildare played very well in the second half and we didn't play well - didn't play well at all really from 15 minutes into the second half," the Kerry manager told RTÉ's Sunday Sport.
"We were too lateral, we weren't penetrating in the middle third of the pitch. Any ball that went inside didn't seem to stick.
"We'd have to consider ourselves very lucky to get out with a point."
As for why the Kerry forwards misfired, O'Connor acknowledged the conditions suited defenders on either side but still insisted that his attackers had to cope better than they managed in Newbridge.
"I suppose it was a defenders' day. Because of the tightness of the pitch, Kildare were well up for the game and the fact that it rained beforehand so the ball was a bit slippy.
"But look, we know ourselves and the forwards inside know that we can play better than that."