There's a reason the All-Ireland club championships are often romanticised as the jewels in the GAA calendar.
Perhaps it's a case of, you don't know what you've got until it's gone.
Or perhaps it's because of stories like Knockmore taking the kingpins Carnacon out of the running after a 21-year winning streak in Mayo ladies football.
There's also the novel prospect of the All-Ireland Intermediate hurling title resting in either Kerry or Kildare, neither a traditional hurling stronghold.
And then of course there's the excitement of the looming All-Ireland senior ladies football final between Mourneabbey and Kilkerrin-Clonberne, a repeat of the 2019 decider.
The 2020 calendar was without an All-Ireland ladies football championship and for Laura Fitzgerald of Cork's Mourneabbey, the desire to potentially clinch a third title in a row this weekend has been burning for a while.
"I think there's just a relentless amount of hunger," she said ahead of the 2021 currentaccount.ie All-Ireland Ladies football club decider.
"Every year we just want to better what we did the year previous. I think it's a testament to the underage teams and the work that goes in, not just with the senior team. There's younger girls coming in and pushing for places and that gives us senior players motivated to hold our own and keep our positions.
"When new players come onto the panel you want to give them the experience that we've had for the past couple of years winning counties and going on to win Munster and then competing in the All-Ireland stages.
"I don't know how we get it or where we get it, but there's just an unbelievable amount of hunger that's constantly there."
"Our main focus for every game is ourselves. We try to control what we can."
Fitzgerald doesn't just talk the talk. In her last three appearances for Shane Ronayne's side she has managed to rattle the opposition's net a total of ten times.
"I'm just very fortunate for the position I play in and the players I have around me," the two-time All-Ireland winner said.
"I'm just one of 15 that's on the field at any given time. To be at the end of any move that the girls create from the back line all the way up, I'm in a very lucky position. If the opportunities keep coming I'm going to hopefully keep delivering.
"I have a job to do in the inside forward line that's predominantly to keep the scoreboard ticking over so if the opportunities keep coming, I'll hopefully keep delivering for my team-mates."
It's clear that from 1 to 15, each player on the Leeside team is fully tuned into their individual roles. Fitzgerald along with the likes of Doireann O'Sullivan, continues to cause havoc in attack, while at the other end of the field, their defensive set-up is watertight with Bríd O'Sullivan managing to keep the 2021 LGFA Player of the Year Vikki Wall scoreless in their semi-final clash against Dunboyne.
"Our main focus for every game is ourselves. We try to control what we can.
"Emma [Duggan] and Vikki had outstanding years with their counties and what they were doing with their club as well was equally as successful but, like, you would be a small bit worried about them. In the media and stuff like that they were building them up to be as good a players as they were but what we had to do was focus on ourselves and these things you can't control so we had to make sure that the players that were playing were right and that we had our game plan right."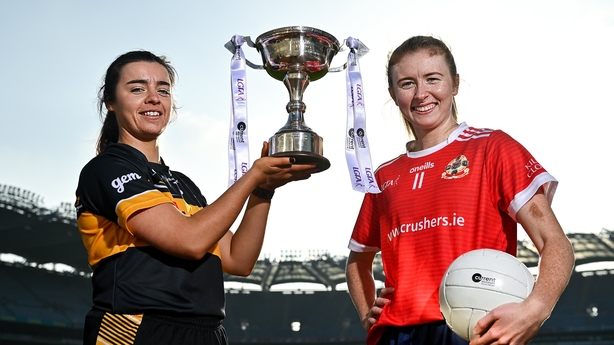 Mourneabbey and Kilkerrin-Clonberne met in a dramatic battle two years ago in Limerick where the Munster champions eked out a one-point win. There's no doubt that that game has laid the foundation for both side's plans heading into the final this weekend.
"[I remember] their fitness levels," recalled Fitzgerald.
"They were a serious outfit, they had 15 very good players on the pitch at all times. I know Nicola [Ward] went off injured but you wouldn't have known with the replacement that came on.
"They were relentless and the fact that it went down to the last 20 or 30 seconds kind of shows that.
"I don't think we were 100% ourselves and we've reflected on that. We know we weren't at our very best that day but still fought to win. We're definitely going to have to bring our A game on Saturday or else it's going to be game over."
Ronayne was at the helm that year when they were crowned back-to-back All-Ireland champions, a huge achievement given their defeats in 2014, 2015 and 2017 at that level.
He was a part of Eamonn Ryan's backroom team when Cork won the Brendan Martin cup in 2014 and since then he's gone on to manage the Tipperary ladies Footballers, Waterford men's Footballers. Last year he was announced as the new Cork senior ladies football manager.
His passion for the game is evident, as is his ability to achieve.
"He was the final ingredient we needed to start winning counties and push on further," said Fitzgerald.
"I remember when he started, he brought an element of professionalism. Some knew him from the college football set-up but when he came in, he just changed our mind-set, even the training we put in.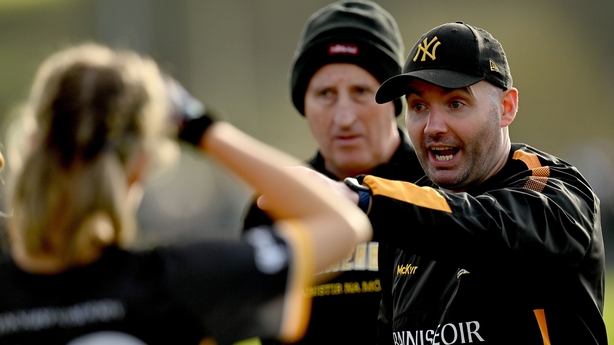 "He had everything structured from minute to minute what we were doing in training. He has been the same for years and we are well used to him."
Despite finding himself at the helm of his native inter-county set up heading into the New Year as well as preparing for a senior club All-Ireland title, vice-captain Fitzgerald emphasised his commitment and dedication to every player he's over, no matter the level.
"It is a job he more than deserves. He is just very, very good at what he does and he can relate to every player on the team, every player on the panel, everyone is included from 1 to whoever is there.
"He is a pure professional in what he does and he is so passionate about it as well and he gives everything he has to the team he is in charge of. I know he has had more teams than Mourneabbey on the go but we wouldn't have known it such is the level of dedication he gives to us. He is very good in what he does."