St Finbarrs (Cork) 2-9 Austin Stacks (Kerry) 1-10
St Finbarr's are Munster Club champions for the first time since 1986 after a dramatic two-point win over Austin Stacks in a pulsating provincial final that was decided on goals from the Cork champions in the first and 59th minutes of a superb contest under winter sunshine in Semple Stadium.
It is St Finbarr's fifth Munster Club title in all, and sets them up for an All-Ireland semi-final against the Ulster champions in a fortnight. Before all that, though, they will need to decompress after a gripping battle with an old adversary in Stacks, the Tralee club with whom they had some history with back in the 70s and 80s.
Enda Dennehy's 59th minute goal put St Finbarr's 2-8 to 0-9 ahead and looked to have put the contest to bed, but Stacks are nothing if not a courageous team, and when Sean Quilter crashed a shot past John Kerins to make it 1-10 to 2-8 in the 63rd minute there was still a glimmer of redemption for the Rockies from Tralee.
The Barrs won the follow up kick-out, Michael Shields won a cute free, Steven Sherlock converted it, and the title was on its way back to Cork city.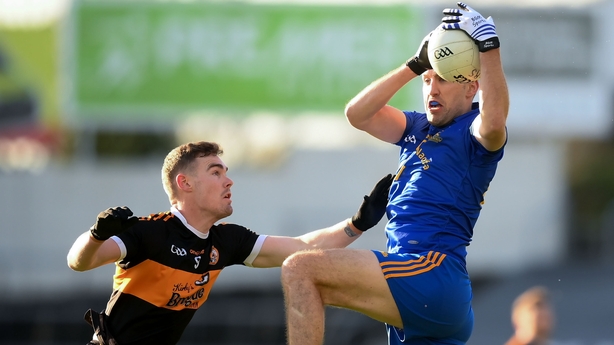 The received wisdom is that if your team is going to concede a goal then do it early enough so that you've time to absorb it and recover from it. Well, Austin Stacks could hardly have coughed up the game's first score – a goal – to St Finbarr's much quicker than the twenty seconds that had elapsed when Cillian Myers Murray gathered Brian Hayes' flick on and smashed the ball almost through Wayne Guthrie.
With the whole game still out ahead of them, there was obviously plenty of time for Austin Stacks to steady themselves from that early gut-check, but the reality is that the goal had a two-fold effect. First, it handed St Finbarr's a three-point advantage that always stuck in Stacks' craw, and, second, it gave the Cork side the self-belief to drive on into the game.
At the water break it was 1-1 to 0-1, and by the 20th minute the goal was still the difference, 1-4 to 0-4. Late scores in the half from Myers Murray, Hayes and Sherlock put St Finbarr's 1-7 to 0-4 ahead at the interval and Stacks in lots of trouble.
The third quarter belonged to Stacks. Greg Horan, sub Shane O'Callaghan, Horan again, Fiachna Mangan and a Quilter free brought Stacks back to within a point, 0-9 to 1-7, with the Barrs, for the first time, showing signs of poor composure if not quite panic.
The Cork side's first score of the half didn't arrive until the 51st minute, a fisted point from Brian Hayes, before all the real drama unfolded in the final 13 minutes.
The loss of midfielder Joe O'Connor was a huge blow to Stacks, as was Dennehy's goal, which looked to have sealed the win there and then. It didn't fully, given Quilter's late late lifeline for Stacks, but St Finbarr's held on for the right to play the Ulster champions in a fortnight.
Austin Stacks: Wayne Guthrie, Colin Griffin, Dylan Casey 0-01, Jack O'Shea, Paul O'Sullivan, Conor Jordan, Ronan Shanahan, Joseph O'Connor, Greg Horan 0-02, Michael O'Gara, Fiachna Mangan 0-01, Brendan O'Sullivan, Sean Quilter 1-04 (0-02f, 0-01m), Kieran Donaghy, Darragh O'Brien 0-01.
Subs: Shane O'Callaghan 0-01 for B O'Sullivan (inj, 16), Michael O'Donnell for D O'Brien (ht), Barry Shanahan for P O'Sullivan (ht), Armin Heinrich for J O'Connor (inj, 50), Adam Curran for F Mangan (59)
St Finbarrs: John Kerins, Sam Ryan, Jamie Burns, Colm Scully, Colin Lyons 0-01, Billy Hennessy, Alan O'Connor, Ian Maguire, Eoin Comyns, Denis O'Brien, Brian Hayes 0-03, Eoin McGreevey, Cillian Myers Murray 1-01, Steven Sherlock 0-04 (0-03f), Conor McCrickard.
Subs: Colm Barrett for D O'Brien (42), Enda Dennehy 1-00 for C Myers Murray (42), Michael Shields for C McCrickard (50), Luke Hannigan for E McGreevey (56)
Referee: Chris Maguire (Clare)