Naas, with a population of just over 21,000 as per last census, may be an odd fit for the role of plucky Mullinalaghta-style underdog but their run to the 2021-22 Leinster final has had an improbable, fairytale-like quality.
No one typifies this better than their former county star, Eamonn Callaghan, who, at 39, is enjoying a career swansong to remember.
Kildare's record appearance holder in championship, Callaghan finally called it a day at inter-county level following the 2018 championship (now best remembered as the Newbridge or Nowhere summer) after 16 seasons.
It wasn't until three and a half years later that Callaghan, with his 40th birthday looming close, enjoyed what he terms his greatest moment, when Naas held off Sarsfields to win their first county title since 1990.
At the final whistle, the photographers only had eyes for Callaghan, numerous shots capturing him in a state of wide-eyed ecstasy, rushing to celebrate with teammates.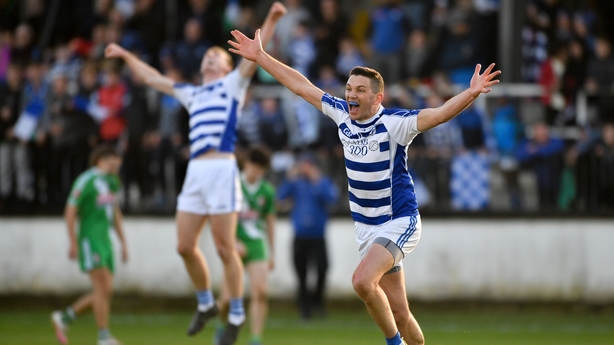 "Ah, it's the top, definitely," Callaghan tells RTÉ Sport ahead of Saturday's Leinster final. "I suppose the timing of it, coming to the end of my career, I never thought I'd be in this position but yeah, it's been a long road.
"Even with Kildare as well, we were close a couple of times but to win that county title for the first time in 31 years, that was a massive thing for me growing up you know.
"To finally do that, to finally get over the line, that was something special."
Having survived the euphoric post-Kildare celebrations, their campaign veered into madcap territory when a freakish goal at the death (literally, right at the end) gave them a one-point win over Tullamore, Darragh Kirwan essentially blocking the ball to the net from an ill-fated defensive clearance.
They then enjoyed a comparatively one-sided victory over Wicklow champions Blessington in the quarter-final, before coming from behind to eke out an extra-time triumph over Wexford's Shelmailers in GAA HQ in the semis last month.
It hasn't been easy on their supporters' nerves, for the most part. "My own family and supporters and people like that, they're telling us that we're not giving them any easy games and I don't think they're too grateful of the last minute stuff!" admits Callaghan.
And now, it's a Leinster title shot, against south Dublin giants Kilmacud Crokes, two-time All-Ireland champions.
"It's just been a mad year. We haven't been competitive with Naas in the last number of years so it was never really a thing I thought would happen. It was more (a case of) hoping.
"But yeah, winning our first one in 31 years, then to go on a bit of a run in Leinster as well, it's hard to explain what it feels like because we're still in the moment, just playing, training. I'm sure at the end of the season, I'll be able to look back on it and I'll be very happy with the year.
"At this stage of my career, I didn't even think I'd be playing football never mind playing in a Leinster final."
Callaghan, uniquely among his team-mates, is old enough to just about remember the hoopla after Naas' last county title success in 1990 - "I don't remember the match but I remember an open-top bus going down through the town. I was seven or eight when we won that" - and you have to go back to the 1930s for their previous county success prior to that.
Kildare football in the 21st century has been dominated by Newbridge, the twin kingpins of Moorefield and Sarsfields winning a combined total of 16 county championships since 2000.
Naas may have been understandably classified as a rugby environment, both Jamie Heaslip and Geordan Murphy grew up there (though to slightly complicate the picture, their rugby alma mater is actually Newbridge College).
Hurling has also come to the fore, though this is a more recent phenomenon. Having completed three-in-a-row in Kildare over the winter, the Naas hurlers are also in a Leinster decider, taking on Wexford's Oylegate-Glenbrien in the intermediate grade. Dual players James Burke and Brian Byrne, both inter-county hurlers for Kildare, are part of both set-ups.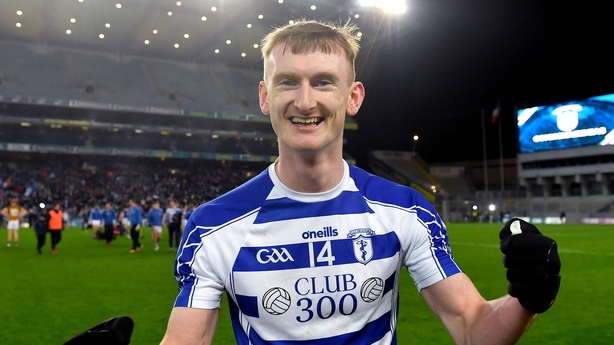 In an interview with the GAA website in 2013, Callaghan himself pondered the town's relative lack of Gaelic football success compared to their neighbours - "Both their clubs (Sarsfields and Moorefield) have won numerous county titles and they both have won Leinsters over the years. With Naas, there's a lot of things going on... From a football point of view, we do lose players to hurling and rugby."
The club wasn't banging too hard on the door either. Not only was November's victory Naas' first county title since 1990, they hadn't even appeared in the final since 1991.
"We were never really competing," Callaghan tells RTÉ. "I've only played in two semi-finals, and that was since 1998!
"So it wasn't like we were underachieving, the expectation wasn't even there to be honest. And a lot of people would have felt, with a big town, a big population and a big club membership, that we should be competing every year and obviously, we should.
"But, for whatever reason, we never really were competitive in Kildare and it was something that was talked about a lot inside and outside our group but we just had to keep on going."
For O'Callaghan, the roots of this success goes back to the club's victory in the 2014 Féile. Though that crop's graduation to senior level has always been smooth, a good number are now part of the Naas senior team's emergence to prominence.
"That was the start of it really, that was the big one winning that Féile. There are a good few of those lads either playing or on the panel now and even after that Féile team, there's been a few more wins at under-16 and minor.
"Listen, that's happened in a lot of clubs, it's happened in our own clubs at different times but we didn't get the benefit of it coming through to senior so in fairness to these young lads, they stuck at it, they kept together and the majority of them now are still playing senior for Naas.
"The underage structures eventually came through and those lads developed into senior players really and that was the difference this year. We always had the numbers but we probably just didn't have the quality in fairness, to be competitive."
Last November, in advance of the county semi-final against Maynooth, the club appeared to have been plunged into turmoil by the abrupt departure of manager Paul Kelly.
From the outside, it seemed a bizarre twist given that Kelly - the Thomas Davis manager during their run to the Dublin decider in 2019 - had presided over four wins from four in the Kildare championship.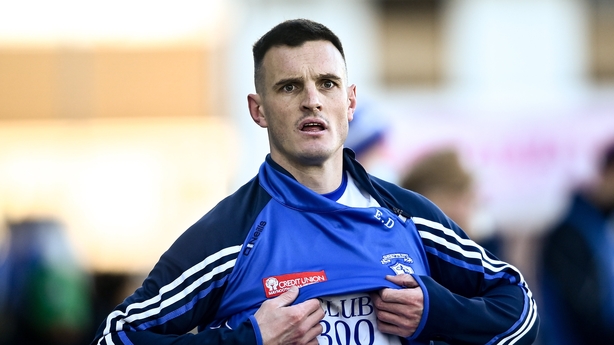 He walked away regardless, amid rumours of unrest, and centre-back Eoin Doyle took on the rather retro role of player-manager, with the veteran Callaghan as captain.
The upheaval, evidently, hasn't put a dent in them.
"I would help out as much as I can but he has really taken the reins on it," O'Callaghan says of the arrangement.
"He has help from a few other lads from the club as well who have been involved, there's three or four of them who have been helping out at the training sessions and on match-day.
"When we went down that route, we thought it would just be a short term gig preparing for a couple of matches but then we won the semi-final and the final.
"We didn't think we'd be still going over Christmas and into the new year but it's great. Eoin has put a huge amount of time into it away from the football pitch to prepare us as professionally as we ever have been and he's an unbelievable character as well.
"He has great respect amongst the players and while I'm sure it's taken a lot out of him, he certainly hasn't shown it on the pitch either."
At 39, Callaghan concedes "I wouldn't say I'm as fit as I've ever been" but stresses that the main thing is he's remained free of injury.
And he admits he never thought he see the inside of Croke Park again as a player, the Leinster Council arranging the use of headquarters an added bonus of their run.
"Definitely not competitively, anyway! I played a game with the guards there two years ago and I thought that would have been my last one up there.
"But yeah, we're delighted to play there, it's a great experience and credit to the GAA and Leinster council for putting that together."
Watch live coverage of the Leinster club football final between Kilmacud Crokes (Dublin) and Naas (Kildare) on Saturday from Croke Park (4.45pm)