Cork football makes another fresh start on Saturday next as new manager Keith Ricken's reign begins with the McGrath Cup contest against Clare in Milltown-Malbay.
In his address to the GAA's National Games Development Conference in 2020, Ricken began his talk entitled 'A Player-Centred Approach to Coaching' by totting up his record in senior championship as a coach over three decades.
"I'm involved in coaching for over 30 odd years," Ricken told his audience. "I was calculating it when coming up the road last night. 52 senior championship campaigns I have been involved in in hurling and football since then. And have won none of them. And I'm still here talking - and ye're some f*****g eejits for coming."
Over the course of his hour long talk, during which the poor bleep machine operator was worked to the bone, Ricken, amongst other things, outed himself as someone who had weaned himself off an addiction to laying out cones in training - "Before that, I genuinely could have organised D-Day with cones, if cones were needed for landing on D-Day beaches, I was the man... I was like a ninja with cones" - and spoke about how he'd taken up the troublesome habit of reading - "it's a very dangerous thing when an uneducated fella starts reading..."
He also revealed himself as a champion of free expression rather than a dogmatic believer in regimental systems.
"When I hear managers saying 'look we have a system of play, everybody knows what they're going to be doing, everyone knows where we have to go, we create shape, we work hard for each other'. B******s (*or some other indistinct, bleeped out curse word) You don't know what's going to happen in a match!"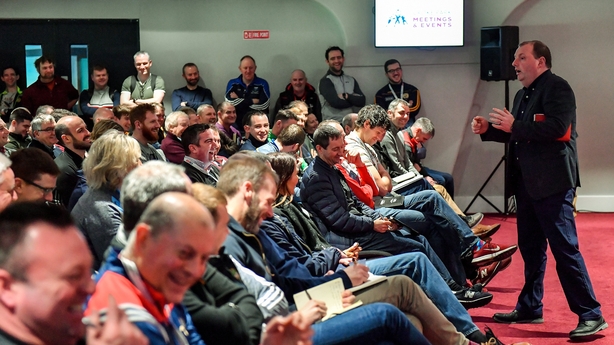 Above all, he outlined an enlightened and invigorating man-management philosophy, his belief in trusting players to make decisions and his faith in the resilience of young people.
"I have realised one thing - when a match starts, every player on that pitch, in the first three minutes, will have made more decisions in the first three minutes, will have made more decisions than I will have made in that whole week in relation to that team.
"So, if I hold the power of decision-making, then we're f****d as a team. It's about the players, they make all the decisions."
Ricken's 53rd senior championship campaign as a coach will be comfortably his most high-profile assignment to date.
Ronan McCarthy, who'd toiled away as senior manager for four years, stepped away following the demoralising loss in Killarney in July. Ricken was subsequently parachuted into the Cork senior role on a wave of goodwill last October.
The new boss received acclaim for the humanistic philosophy espoused in his viral post-match interview with TG4 after his Cork U20 team had beaten Kerry in last year's Munster semi-final.
The then Cork U20 boss struck out against the prevailing tendency to play down big victories, saying he'd no interest in bringing his players "back down to earth", instead saying he wished for them "to keep flying and keep motoring."
Online, it was billed as "the greatest post-match interview ever" and he was hailed as an antidote to the archetypal modern inter-county boss, always platitudinous and inscrutable in front of the cameras and preaching monkish self-control at all times.
In his 2020 lecture, Ricken was at great pains to deride his own CV - "I'm standing here in front of ye as the most unsuccessful coach of all times... And I'm one of the happiest men in Ireland because I have journeyed with so many people" - though the then reigning All-Ireland winning U20 manager may have been engaging in some exaggerated humility. Even prior to his highly successful three-year stint as U20 boss, he had led CIT to their first and only Sigerson Cup title in 2009.
Interpreting too much from Cork success at U20 level has proven a foolhardy move in the past. It's an age-grade in which Cork have traditionally prospered. They still sit top of the All-Ireland roll of honour, their haul of 12 titles nudging two clear of their illustrious neighbours to the west. They held the whip hand over Kerry at U21 level (as it was then), winning five Munster titles in six years between 2011 and 2016. This spate of successes has, for whatever reason, counted for little at senior level in the modern era.
A long road has been travelled since Cork were the last team standing at the end of an unusually anarchic championship in 2010. That side had been rapping hard at the door for a few years, reaching All-Ireland finals in 2007 and 2009, both of which ended with galling losses to Kerry. Conor Counihan's team played their most expressive football en route to the '09 final and were often in survivor mode throughout the 2010 summer, battling their way through the qualifiers, eventually grinding out a nervy win against a dangerous Down side in the final.
"They should have won more All-Irelands," observed Dr Con Murphy in an interview with Tomás Ó Sé last year. "But they did well to win the one they did, as it turned out."
It's easy to forget they won four Allianz Leagues in a row between 2009 and 2012, though as Eoin Cadogan noted ruefully in 2017, "there was never much love" for the Cork footballers, even in the good times. Their last serious run at an All-Ireland title ended in a loss to Jim McGuinness' Donegal in the '12 semi and things began to go south shortly afterwards.
Cork football has been mired in nowhere-land for the guts of a decade, without a Munster title at senior level since 2012. This is now Cork's longest spell without a Munster senior title since their 15-year famine between 1928 and 1943. Even during the Kerry golden years, Tadhg Murphy's late goal in 1983 meant they only ever went nine years without getting their hands on the Munster Cup.
There have been some ghastly lows, including a descent into Division 3 of the Allianz League and a large number of frightful beatings at the hands of Kerry, the most lurid of those coming last summer. They probably bottomed out in 2018, when battered by 17 points by Kerry in Páirc Uí Chaoimh in Munster final, before a 16-point mauling by Tyrone in a qualifier in Portlaoise, several players appearing to lose interest in the closing stages of the latter game.
There was the brief emotional high of their seismic win over Kerry in the 2020 winter championship but this was followed by the loss to Tipperary in the subsequent Munster decider, possibly the least surprising surprise of recent times.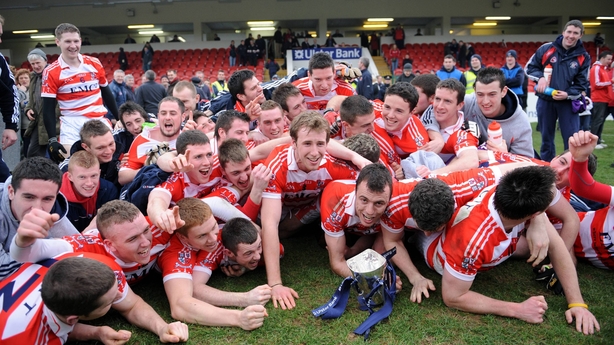 As it stands, Cork are a long way from the established top-four in Gaelic football, namely last year's semi-finalists. Indeed, they can't even be grouped among those in the rung below - Donegal, Galway, Monaghan and Armagh - a couple of whom are thought to be underachieving themselves.
Establishing Cork as a top-ten side at least should be the target for 2022. Paul Kerrigan, 2010 All-Ireland winner and a member of Ricken's victorious CIT side from 2009, warns that the new manager isn't all uplifting speeches - he is capable of some ruthless tongue-lashing when required.
Returning to his joyous 2020 oration, Ricken naturally hit on a favoured theme of his, identity. At the launch of the 'One Cork' investment drive in November, Ricken returned to the notion, telling the Examiner he hoped that in a few years, if one was "watching Cork play in black and white, you'd recognise it was Cork."
From the outside, Cork football has seemed a depressive environment for a long time now. Ricken's enthusiasm, motivational powers and grasp of the bigger picture could be just the catalyst for Cork to start properly exploiting the resources available to them.