"It would be nice to report that the last hurrah of the great Kerry team sent the mountains ringing. Sadly, all we heard at Fitzgerald Stadium, in Killarney yesterday, was a hoarse whisper, and an undefiant one at that." - Sean Kilfeather, Irish Times, 3 August 1987
The relevance of the comparison between Kerry's golden years and Dublin's recent ones has often been disputed but the manner of their ultimate disintegration carried similar echoes.
In the Munster final replay in 1987, an aged Kerry team, 88 All-Ireland medals among them, found they had nothing left to give. It took them until the 33rd minute to get their first score and a fleetingly brief third-quarter rally didn't come close to rescuing the situation. Once down, they stayed down for a decade.
Dublin's implosion in 2021 was similarly jarring, although the loss itself followed a slightly different pattern. All appeared to be going well in the first 35. They had banished the early summer gremlins from their system and were toying with a new-look Mayo team like they were Leinster cannon-fodder.
This return to the pre-2021 shape of things proved a mirage. When Mayo cranked up the intensity, Dublin suddenly floundered. They started liberally tossing in the kind of errors that were thought the preserve of other, less advanced teams. Their disquieting Leinster championship form hadn't been misleading after all.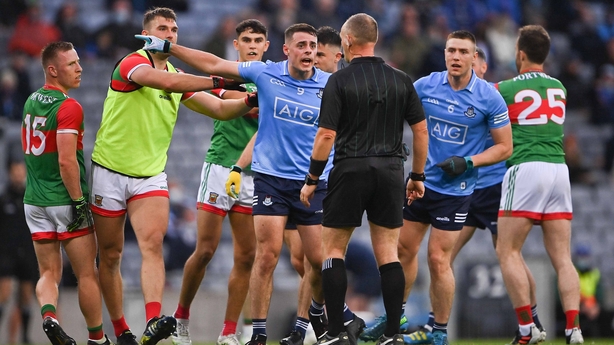 Retrospectively, everyone decided it had been coming and there were certainly straws in the wind that the boys in blue were on the wane. Dublin's Leinster championship whipping boys were, for the first time in years, finishing games against the champions with their morale not entirely shot to pieces.
Time was moving on. Jim Gavin had departed for the pro-am circuit. Paul Mannion joined Jack McCaffrey as a Hall of Fame opt-out. It was easy to conclude that their brightest stars were deciding there was more to life than slaving away in the hopes of adding more silverware to an already bloated pile. A glance at their subs bench no longer made opponents shudder.
Stephen Cluxton's exile/ presumed retirement created more confusion. The great man opted not to report for duty this year and manager Dessie Farrell gave the impression he knew less about his player's plans than the man of the street. 39 years of age struck people as a bit late in the day to take a career sabbatical. David Brady went on radio to pronounce Cluxton retired. Perhaps unwilling to allow Brady be right in his hunch, Ciarán Kilkenny then went on radio to insist Clucko was back training and raring to go.
Alas, the feeling in DB's water proved more reliable than Kilkenny's allegedly first-hand information and the Parnells' legend stayed gone. "They made me look like a gob****e," Brady told Off the Ball ruefully, after his belated vindication. The seven-time All-Ireland winning captain's retirement has yet to be confirmed by anyone, though he did turn 40 this month.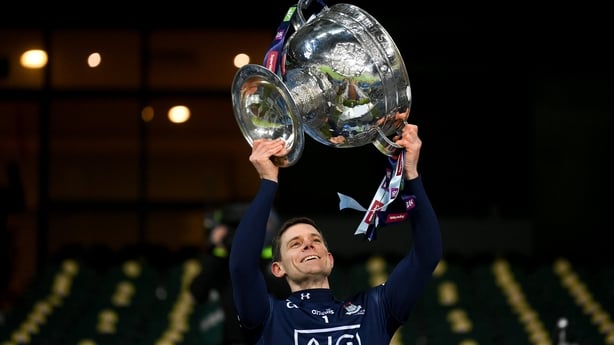 On top of everything was the bad feeling generated by Dublin's clandestine training session prior to the lifting of restrictions. Whether it will trump speeding past a 1950s funeral in the bad karma stakes remains to be seen.
The drip-feed of opt-outs and retirements encouraged the narrative that the end of the empire was nigh - Kerry had already gone shorter odds for the All-Ireland after the provincial championships wound up. Still many pundits hesitated, adopting an I'll-believe-it-when-I-see-it-approach.
More than anything, it was the abjectness of their surrender that left people puzzled.
"It was probably more the manner in which they got caught," says Ciarán Whelan, reflecting on the year with RTÉ Sport. "They looked like a fatigued side, they got very little impact off the bench. The run they'd been on over the previous five or six years had just come to an end.
"You always had a little doubt in the back of your mind that the changeover in the management over a couple of years, combined with the amount of players that left the set-up... going into the 2021 championship, you were certainly looking at that strength in depth, looking at that bench compared to previous years.
"You would have had a question mark in the back of your head that, if Dublin end up in a dogfight as they have in previous years against Mayo, and if they're brought down the stretch, do they have the ammunition on the bench that they would have had in the past?
"And looking at the players in the (Dublin) club championship over the last couple of months, I think a lot of them looked tired."
Now that they are beaten, and it was to some extent foretold, the great debate is becalmed. It's easy from the current remove to forget how rapidly the narrative has shifted.
It wasn't long before all this that we regularly heard folk from other Leinster counties - Leinster being the province where despondency at Dublin's domination was most acute - expressing the hope that Dublin would pummel everyone in the All-Ireland series so that it might precipitate reform (aka, the split, or something almost as radical).
2020 was possibly the most routine, the easiest of all Dublin's All-Ireland victories, the humdrum vibe which accompanied it obviously heightened by the empty stadium. The narrative in the aftermath was still one of despair over perpetual Dublin dominance.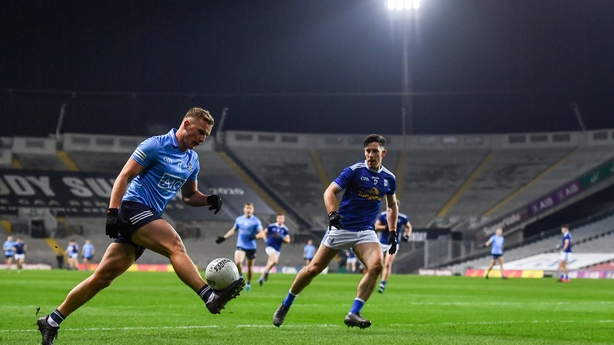 Dublin fans, you might have noticed, were fairly browned off with this narrative, being at great pains to suggest that they knew this run "wouldn't last forever", lest the competition lose heart.
This grand debate has dragged on for some time and has been hugely multi-faceted - finance, demographics, migration, commuting times, why-do-Dublin-get-to-play-at-home-the-whole-bloody-time? Now that the run has ended, the rural dwellers can afford to be magnanimous. Taking the long historical view, we might even point out that this kind of alarmism has often greeted bursts of Dublin success.
When the Dubs were buried under a hail of Bomber Liston goals in 1978, Tony Hanahoe scoffed to Magill that the performance didn't say much for "Dublin's supposed professionalism" adding that "professionalism is a tag I have come to resent. It has usually been used in a derogatory sense, to imply that our achievements have been easily bought rather than being the product of honest endeavour, skill and a little know-how."
After Dublin's fourth successive All-Ireland victory in 2018, The Irish Times' Sean Moran did observe that "there's an elemental fear there that's not unreasonable, that if Dublin ever got their act together - in other words, if they started to exploit their resources - then would there be any stopping them?" It might take more than one year without an All-Ireland title for these fears to ease properly.
Where are we now? Is it just a one-off gap year or the dawn of a new era? Are we looking at Kerry '87 or Kerry '83?
"There's no doubt that Dublin are still going to be very, very competitive in 2022," says Whelan. "They weren't that far off the mark in 2021, even with that fatigue and flatness. I think there are still significant challenges in terms of the depth of the panel.
"Dessie Farrell has really stayed with the tried and trusted since he's come in. He probably has to invest in a few new players, to try and develop them in the league campaign."
And what about the conveyor belt?
Those few iconoclasts in Kerry who dared to quibble with Mick O'Dwyer's achievements - off the record usually - said he was too busy hoovering up silverware with the golden crop to blood a few kids and prime the next generation. In fairness to Micko, this kind of advanced future-proofing wasn't so much in vogue back in the 80s. In this telling, Kerry's miserable barren stretch during the Charlton era had its roots back in the glory days.
In contrast, Dublin - like Kilkenny before them - with their deep pool of resources were thought to have it sussed. Whereas nine of the Kerry players who started the 1978 All-Ireland final also started the '86 final, only four Dublin players started both the 2013 and 2020 deciders.
Gavin thought little of relegating a beloved superstar or Hill 16 darling to the bench, comfortable in the knowledge that there was plenty more where that came from. The transition from one team early in Gavin's reign to the very different XV by the time he left was so smooth and seamless as to be barely noticeable.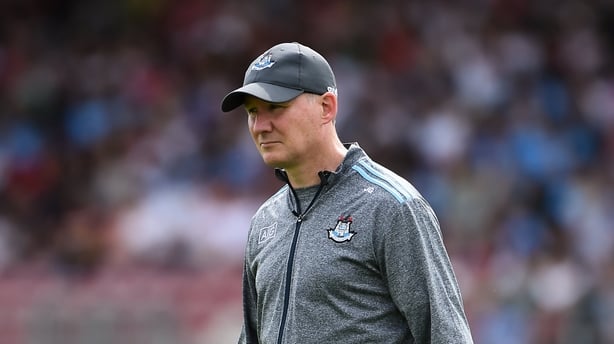 But what's this we hear? Is - to borrow a phrase - the production line finished in Dublin?
That might be pushing it a bit far but Whelan argues that Dublin's underage grades, famously the focus of so much investment over the past decade and a half, could be in need of a bit of attention.
At minor level, Dublin have even stopped winning Leinster recently (imagine that), with no provincial crown at the grade since 2017 (the caveat here is that it has never been a grade in which Dublin have been particularly dominant). While their performances have held up somewhat better at U20 grade, they were stunned by eventual All-Ireland champions Offaly in this year's Leinster decider.
"It (the last decade) was an exceptional historical period but I think Dublin have a bit of work to do throughout development squads and stuff like that. Maybe when you have such success at senior level, the eye can be taken off the ball sometimes.
"Obviously, Dublin have been strong at U20 level but haven't been competing well at minor level. There's work to be done in Dublin.
"I'll be very honest about it. Dublin, of course, have an advantage in terms of the pick that we have, in terms of numbers. There are a lot of good, quality players in Dublin. But there's just nobody, in the forseeable future, that's going to be as special as Con O'Callaghan or Ciaran Kilkenny or Brian Howard. Now, someone could emerge. And that's probably the hope - that we find one or two over the next couple of years."
Whatever happens from now on, the prospect of a Kerry late 80s/early 90s style fade into the wilderness appears remote. In an era of straight knockout, Kerry were under Cork's thumb for a decade. Also, it was a more democratic era in football.
Dublin's emergence as an oppressively dominant force in Gaelic football occurred at a time when an elite core of counties had broken away from the pack. This roughly coincided with the decision to re-model the Allianz League - previously subject to more tinkering and format tweaks than the Pro14 - into four tiered groups of eight, streamed via quality. A system whereby the best teams played the best teams every spring turned out to benefit the best teams.
The league acquired greater gravitas but from a championship perspective, a host of mid-ranked counties were cut away from the elite, no longer regularly mixing it with the best.
"In making the league 20% better, we made the championship 20% worse," Kieran Shannon observed on the RTÉ GAA podcast in October. The new revolutionary league format was embraced in 2008 - the year Wexford reached the All-Ireland semi-final and pushed Tyrone close, something inconceivable these days.
The exact same quartet have contested the semi-finals in every odd year since 2013 and most have seen a good few even ones as well. No one fancies it being any different next year.
Tyrone, in one of those bursts of consensus that can take hold, have almost been discounted for 2022 on the basis of a series of underwhelming All-Ireland title defences in the noughties.
It was uncomfortably apparent in the chippers and boozers around Croke Park on the night of 12 September that Mayo were finding this All-Ireland loss harder to stomach than previous ones. The anger was directed inwards rather than at the Gods of (mis)fortune. The decider was a reminder they are still a team undergoing 'transition'.
Kerry will probably be favourites again though impatience is growing down there and the same flaws keep appearing at pressure moments.
As for the rest, those in the tier below, Donegal appeared to regress this year and Monaghan are punching above their weight. Galway and Armagh would seem to have the talent - particularly in the attacking department - to mount an assault on the elite but are, in the words of Kevin McStay, "finding it very difficult to launch."
Kildare and Meath, meanwhile... well, people had given up on them but the Dubs' bizarre display of frailty should give them heart for the road ahead.
Either way, Dublin's short-term future looks set to be as merely another member of the elite rather than an overarching dominant force inhabiting a universe of their own.