Dublin GAA chief executive officer, John Costello, believes the prospect of awarding four points for a goal should be explored.
It was a suggestion put forward a few months ago by Anthony Daly on the RTÉ GAA podcast.
"Back in the days of Mackey and Ring, and even DJ and the Dooley's, inter-county hurling teams weren't racking up 30-plus points," said Costello, writing in his annual report.
"More than likely 20 would be a struggle. All that has changed. Now the all-conquering Limerick hurlers are obvious trailblazers when it comes to outrageous point tallies.
"To be clear, this is not meant as a slight in any way on them as they are a marvellous team - we are just using them as an example as the leading county of recent seasons...but even if you exclude their goal tallies, they averaged over 28 points per SHC contest in 2020 and 27 points in the summer just gone.
"Here's the crux: they only scored two goals in five championship games last year, perhaps partly because raising white flags was a more reliable route to victory. They revealed a greater lust for goals this season (eight in four SHC games) but it still begs the question: what if we increased the value of a goal once more?
"Would it encourage more teams to gamble if they knew it was worth, say, four points? The aim is simple - primarily to encourage attacking play and then perhaps, as a by-product, to increase entertainment levels. And that's precisely what goals inject into a hurling point-fest - and equally a game of football."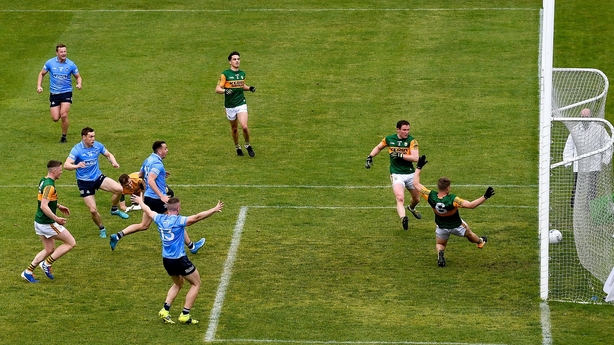 Costello said that the only trouble, in recent years, was that the adrenaline rush of a goal could sometimes evaporate in a matter of minutes, as opponents responded with a necklace of quickfire points. This, he said, could be especially frustrating in a hurling game dominated by multiple frees from all manner of distances, even beyond 100 metres.
In his annual report Costello also references the recent attempt at Special Congress to reform the senior football championship.
"The GAA has a long history of motions initially failing to get the imprimatur of Congress, only for the kernel of that original proposal to be tweaked in a fashion that it eventually earns the support of the grassroots," he writes.
"Invariably, the motion that comes back to Congress has broader appeal - and it frequently proves to be a better version of the original, having ironed out the weaknesses and anomalies.
"You may ask pointed questions about the democracy of an institution that requires a 60% mandate to become law. After all, a simple majority (albeit a wafer-thin one) of Special Congress delegates did come out in support of Proposal B."
However, Costello said it was his belief is that when you are considering issues of such historic importance or ones that involve seismic change – and a new inter-county football season undoubtedly qualifies on both counts – then you are better off bringing a sizeable majority of the room with you.
"Moving forward with a clear and confident vision, rather than having some look back in anger, will make the resultant transition far easier. The most fundamental takeaway from Special Congress was the need to establish a link between the provincial championships and the All-Ireland series".
He pointed out that another consideration was the need to garner more widespread support.
"To blithely ignore the wishes of almost the entirety of Ulster would ultimately prove too divisive," he states.
The Dublin CEO revealed that two interesting points emerged from their club survey on the issue of SFC reform.
Firstly, the scheduling of inter-county games, with provincial championships running practically straight into a league-based All-Ireland series, was considered too match-heavy and with many clubs arguing that it needs tweaking.
Secondly, several clubs in related correspondence with the Dublin County Board at the time of the survey favoured another debate on the previous Congress decision to bring forward the All-Ireland SFC final to July, given the loss of marketing, especially in schools around All-Ireland time.
"Suffice to say, the campaign for change hasn't gone away," he said.