Leading GAA referee David Gough has refuted Fine Gael TD Alan Dillon's assessment that the association "is no different" to soccer when it comes to abuse of referees.
Last month the North Dublin Schoolboys/Schoolgirls Soccer League [NDSL] suspended all matches over concerns about constant, and worsening, abuse being suffered by referees, leaving 13,500 young players without matches.
The FAI will tell an Oireachtas Committee later today that there have been 34 cases of abuse of match officials brought before its Disciplinary Control Unit since 2019, 22 resulting in long-term suspensions ranging from 12-24 months.
Former Mayo football captain Alan Dillon, the deputy chair of the Dáil's Joint Committee on Tourism, Culture, Arts, Sport and Media, has said that the same issues were being experienced in the GAA, "where things boil over where a lot of issues are being swept under the carpet".
Highly experienced inter-county referee Gough disagrees with that viewpoint.
"I can only speak personally, but the level of abuse that has been thrown at me has been quite small," he said on RTÉ's Morning Ireland.
"That's not to say it doesn't happen, but it would be quite small in relation to what is being reported within the FAI.
Gough added he was "surprised" by Dillon's comments.
"It obviously is quite different [to the current situation in underage soccer]. We're not at a stage where we are escalating events to strikes.
"I'd love to know where he got his evidence for that. I'm not aware of any empirical evidence out there to support that statement. I can only speak about anecdotal evidence, and from speaking among my own colleagues, the abuse levels are nowhere near as high as what is being reported by the FAI."
The Meath official conceded that refereeing in full of a front house at Croke Park was likely to be considerably different to a local match
"At those games you will definitely hear what is being said to you. It can be quite different to my experiences at inter-county level."
We're not out here to ruin games, we are only there to help facilitate them and make sure teams have a fair opportunity to win and play the game fairly
Two-thirds of soccer referees quit within two years due to the level of abuse they receive, the FAI will tell an Oireachtas Committee later today.
Gerard Perry, chair of the Football Association of Ireland's Referees Committee, will tell politicians that retention of referees is an issue and "referee abuse" is the main reason for giving up their roles.
"I understand their views," says Gough. "We're not out here to ruin games, we are only there to help facilitate them and make sure teams have a fair opportunity to win and play the game fairly.
"So if it gets to a level of unacceptance among a referee cohort, I would support their escalation to strike and pull away their voluntary time to referee those games, to ensure they are respected in the future and that they can go out and enjoy refereeing those games the way players enjoy playing them."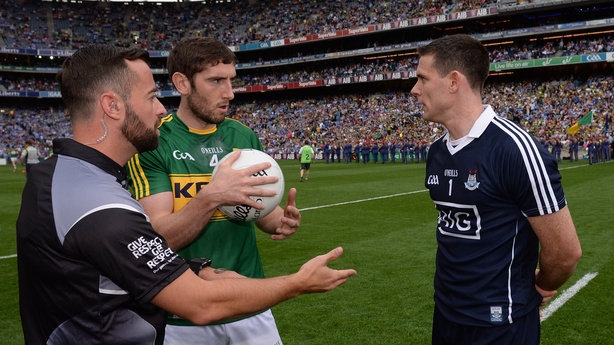 Gough admitted he only felt intimidated as a referee on one occasion, the 2016 All-Ireland semi-final between Dublin and Kerry, where he didn't realise he had made an error until after the game.
"On that particular day, walking off the pitch towards the stand, there was quite a lot of abuse being thrown at me that particular day. That was scary. I didn't understand why there was such language and abuse being thrown at me."