While he was at the Cuan Mhuire rehab centre in Newry, Antrim hurler and dual player Domhnall Nugent wrote in a journal at the end every day.
"Be excited about who you want to become."
It was a simple message but a strong one.
It was 2019 and Nugent spent three months at the centre. He walked into the facility, dishevelled. A nervous wreck. He left with hope that life could still mean something.
Fast forward to the end of 2020 and there's a momentous picture out there of Antrim hurling manager Darren Gleeson on the ground, bear hugging Nugent at the end of their Joe McDonagh Cup final win.
After years of addiction to alcohol and cocaine, Nugent was back on the road to recovery, coming on in that final after 45 minutes, having undergone treatment, shedding the bones of three stone and turning his fortunes onto a different path.
"There were two options," he says. "Go ahead on the road you were on, the one that would kill you, or go get help."
He was drifting. Summers were spent in Boston or the UK, he says he was more or less hiding. Prior to leaving for England, he also left his club, St John's, for their chief rivals Lamh Dhearg, a move you rarely see in the GAA world.
He played for his new club in the 2017 Antrim SFC final, predictably enough against St John's. Padraig, his brother, was in goals for St John's and Lamh Dhearg prevailed to win. For him, personally, that was a messy period to say the least.
"That time of my life is just a blur," he says. "I obviously regret leaving my club. There's still not a day that goes by when I don't think about it," he admits.
He's back with St John's since. "I want to make amends for what happened," he says. "A county title with them is my goal."
In the summer of 2019, he came back from hurling and working in Warwickshire with €20,000 in savings. He went through the money quickly enough and one night after training he was walking home when a St John's team-mate offered him a lift home. Nugent politely declined. The truth was he had no home anymore.
He'd lost his apartment on the Falls Road. Instead he sat with a pint in the Rock Bar in Belfast with nothing left of that money and nowhere to go. When closing time was called, he had nowhere to stay.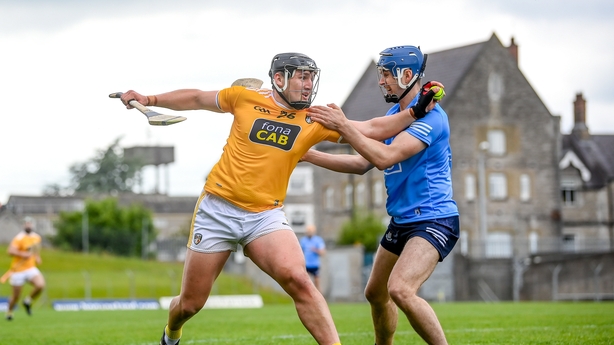 He slept on the porch of his granny's house.
"The next morning, I could see my granny's face and what I had done to her, how worried she was about the state I was in. That was a low moment."
Having had a difficult childhood, he struggled with his parents' marriage break-up and says that GAA was his saving grace. Until he found drink.
"Self-pity was a huge thing," he says. "But I was lucky, I had the GAA and that became my escape. But around 18 I had started drinking and that then became my escape.
"And from there cocaine became another escape. I don't know about anywhere else in the country but it is easier to get cocaine in Belfast than a packet of cigarettes. You don't have to leave the pub because boys bring it to you. They don't even always look for money there and then, you run up a tab and then they knock on the door when you haven't paid up and that brings its own issues. That's the road I was on. I didn't need the GAA anymore because of drink and drugs. At least that's what I thought."
Nugent sought help and found it with those 12 weeks at Cuan Mhuire. When that treatment ended, Nugent realised he still needed people and structures to support him further. He was wary of what lay ahead.
"You were going from a sanctuary back to the big, bad outside world," he remembers. "And I knew I needed more help."
So, he contacted the Gaelic Players Association.
"I had been on the Antrim hurling panel in 2017 but I wasn't even a county panellist anymore when I rang them," he recalls.
"It didn't matter. The GPA arranged a counsellor to come and visit me in Belfast and I met them once a week. I wouldn't have been able to afford the services, but they paid for everything. They were a huge help to me in finding the road back. I went to all my AA meetings on top of that and that support system has helped me recover."
Today, BEO360, the GPA's new approach to supporting the development and looking after the welfare of its members, was launched.
Nugent knows other inter-county players – among many others – are out there struggling with their own issues. He encourages them to be honest.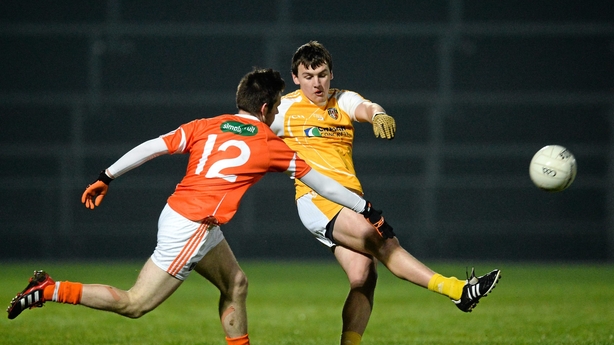 "Take BEO360, that's a service there to help county players with their wellbeing, lives, careers and transition from playing into retirement. That's a huge support structure for players to be able to call upon," he says.
"I would hope that players who are struggling show courage to be honest. Would you be embarrassed about coming out of a bookies' after losing all your money? Would you be embarrassed about rolling out of a pub at 2am off your head? But why would you be embarrassed about going to seek help somewhere?
"This programme will help normalise that it's OK to have issues in your life, that people do struggle, but that something can be done about it.
"I sought help, the GPA helped me, people around me helped me and now I want to take my life to a different place. Don't get me wrong, I still have times where I am uncertain, but life is good now.
"I am back living at my grandparents' house, I have a job at Robert Murphy Motors in Antrim and my goal is to become a first-team player with Antrim again. Darren Gleeson has been a huge support to me, he always looks out for me and he knows I can do a job for Antrim in 2022 again. I know I can too and I am working on that the whole thing."
It's been some journey. But Nugent is finally excited about who he can become again.