St Eunan's 1-11 Naomh Conaill 0-04
St Eunan's bridged a seven-year gap and upset the odds as they were convincing winners over strong favourites Naomh Conaill in the Donegal Senior Football Championship final.
It was cat and mouse with just two points in the opening quarter. Eoin McGeehin broke the deadlock before Shane O'Donnell had a goal chance saved for St Eunan's, with Leo McLoone winning a free for Ciaran Thompson to level on 14 minutes.
The second quarter was significantly better with Shane O'Donnell lofting a good point and on 24 minutes Kieran Tobin won a kick-out for Peter McEniff to hit a defence-splitting pass to McGeehin, who fired to the net.
By half-time the margin was 1-03 to 0-03 with Naomh Conaill midfielders Thompson and Leo McLoone responding to a magnificent strike from Niall O'Donnell for St Eunan's.
St Eunan's dominated the possession for much of the half with Padraig McGettigan denied a goal chance by a great block by Anthony Thompson on 27 minutes.
St Eunan's pushed the lead to five when Shaun Patton landed a '45 and Kieran Tobin weaved his way through to fire over.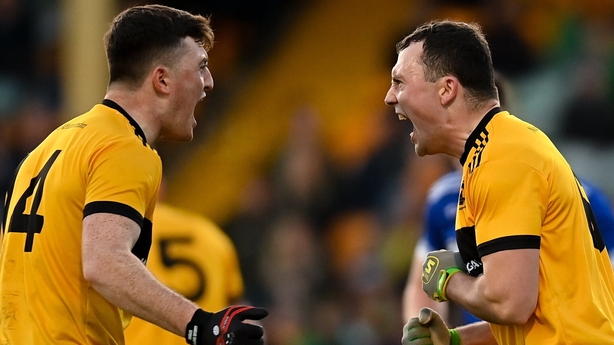 Naomh Conaill were then reduced to 14 when Eunan Doherty picked up a second yellow for a foul on Padraig McGettigan.
Brothers Niall and Conor O'Donnell Snr added points before Padraig McGettigan hit the point of the day to leave St Eunan's 1-08 to 0-03 ahead at the second-half water break.
The O'Donnells combined again after the water break with substitute Conor O'Donnell Jnr setting up Kieran Tobin for a great score.
Naomh Conaill got their first point of the second half on 54 minutes when Ciaran Thompson's first time effort was deflected over by Shaun Patton.
They were immediately reduced to 13 when Charles McGuinness also saw yellow for a second time.
St Eunan's closed out the game with more great points from brothers Shane and Niall O'Donnell.
There was a minute's silence before the game in memory of the late Martin Griffin of Sean MacCumhaill's, who was full-back for Donegal in the 1970s, '80s and '90.
St Eunan's: Shaun Patton (0-01, '45); Peter Devine, Caolan Ward, Aaron Deeney; Kieran Tobin (0-02), Conor O'Donnell Snr (0-01), Peter McEniff; Darragh Mulgrew, Kevin Kealy; Eoin Dowling, Shane O'Donnell (0-02), Sean McVeigh; Padraig McGettigan (0-01), Niall O'Donnell (0-03), Eoin McGeehin (1-01).
Subs: Conor O'Donnell Jnr for McGeehin (48), Eamonn Doherty for Deeney (48), Sean McGettigan for Kealy (53), Anthony Gallagher for P McEniff (57), Ronan McGeehin for P McGettigan (60).
Naomh Conaill: Stephen McGrath; Ultan Doherty, Jason Campbell, Kevin McGettigan; Ethan O'Donnell, Anthony Thompson, Eoin Waide; Leo McLoone (0-01), Ciaran Thompson (0-03, 2f); Eunan Doherty, Odhrán Doherty, Marty Boyle; Jeaic Mac Ceallabhuí, Charles McGuinness, Kieran Gallagher.
Subs: Brendan McDyer for M Boyle (38), Keelin McGill for K Gallagher (38), Dermot Molloy for U Doherty (40), Nathan Byrne for E Waide (46), John O'Malley for O Doherty (60).
Referee: Enda McFeely (St Mary's, Convoy).