Ballyhale Shamrocks 3-19 O'Loughlin Gaels 3-15
Shamrocks Ballyhale turned on the power big time during the second half and roared to a magnificent four in-a-row in the the Kilkenny Senior Hurling Championship final.
After taking a bit of a beating from O'Loughlin's during the opening period, the Shamrocks simply let rip afterwards to claim their 19th title and second four in-a-row to go with the one registered between 2006 and 2009.
"That was the essence of a team performance," beamed winning captain, Colin Fennelly, after a closing half when Shamrocks looked absolutely wonderful.
"O'Loughlin's pushed us all the way and dragged the best out of us," added Fennelly, who claimed his tenth championship medal.
O'Loughlin's were giving as good as they got, or even more, before Joe Cuddihy plundered a goal for Shamrocks in the 36th minute after an O'Loughlin's move broke down to level the match at 1-12 each. The scores were level twice subsequently.
However, Shamrocks found a devastating new gear between the 46th and 53rd minutes when they shot 1-05 without replay to take control of the game (3-19 to 2-14).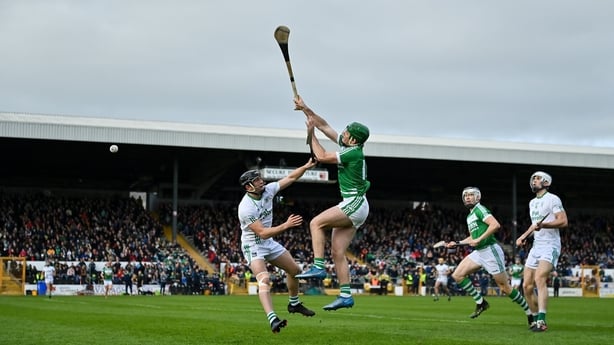 TJ Reid (2), Brian Cody and Eoin Reid all had points to get the golden run going before Ronan Corcoran added to the haul.
Next up Brian Butler, the man with No 4 on his back, somehow got a clear run at the Gaels goal and he didn't make a mistake as he netted to extend the winners' lead to 3-19 to 2-14.
O'Loughlin's were hit hard at one end, but they couldn't get through at the other. Paddy Deegan had a penalty saved by Shamrocks goalkeeper Dean Mason in the 59th minute.
The losers finished with a goal from Paddy Deegan (62nd minute) and a point from Jordan Molloy (65) and they had substitute Danny Loughnane red-carded in 'lost time' too, but the game was well gone on them by then against the powerful play of the likes of TJ Reid, Ronan Corcoran, Darragh Corcoran, Joey Holden and Richie Reid.
Shamrocks may have threatened first after only 90 seconds when Colin Fennelly charged at the opposing goal, but after beating off that attack, O'Loughlin Gaels ripped into the opposition and pushed them all the way.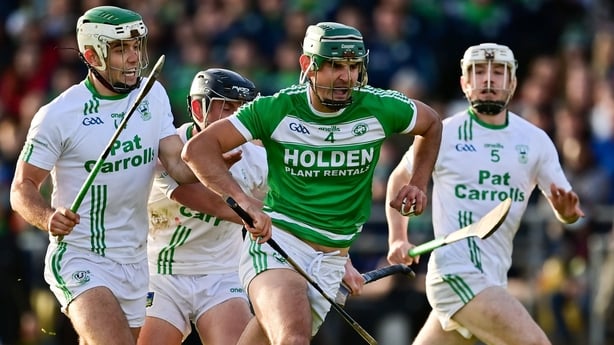 The challengers showed no fear. The scores were level at 0-02 each after six minutes, but within 60 seconds Robbie Buckley cut open the champions defence to make a goal for Owen Wall to shoot O'Loughlin's in front.
The city led all the way until the 36th minute from there. Led by county defender Paddy Deegan, in attack and a superb Huw Lawlor at centre-back, ably assisted by star wingmen Conor Heary and Jordan Molloy, the Gaels simply whipped up a hurling story.
Deegan hit the target three times, Mark Bergin five times, and with two from wing-back Heary the city side were good value for their interval lead of 1-11 to 0-11.
Shamrocks were simply given no time on the ball. They were harassed and often outmuscled off the ball all over the field. Two minutes into lost time at the end of the half Mark Bergin pointed to leave the gap at 1-11 to 0-09.
Under pressure Shamrocks mustered two vital scores per TJ Reid and Darragh Corcoran before the call for the rest. As it turned out, they were only starting.
Ballyhale Shamrocks: D Mason; K Mullen, J Holden, B Butler (1-00); E Shefflin, R Reid (0-01), D Corcoran (0-01); R Corcoran (0-03), B Cody (0-02); A Mullen (1-01), TJ Reid (0-09, 5f, 2 '65), J Cuddihy (1-01); E Reid (0-01), C Fennelly, E Cody.
Subs: C Phelan for Butler (56), E Kenneally for E Reid (60), G Butler for TJ Reid (60).
O'Loughlin Gaels: S Murphy; D Fogarty, T Forristal, M Butler; J Molloy (0-01), H Lawlor, C Heary (0-02); J Nolan, C Loy; M Bergin (0-06, 3f, 1 '65), P Butler, E O'Shea (0-01); O Wall (1-02), P Deegan (2-03), R Buckley.
Subs: D Loughnane for Loy (48), S Bolger for Buckley (54), C Kelly for Nolan (55).
Referee: O Beehan (Fenians).