Traditional powerbrokers Cork are among a growing number of counties to declare their support for Proposal B ahead of Saturday's special congress.
Delegates at a Tuesday county board meeting gave their backing to the new league-based championshipformat, which is the preferred option of the GPA.
Counties like Westmeath and Offaly have already voiced their views in favour of Proposal B, while Clare, Louth, Kildare, Meath, Tipperary and Wexford are also supporting the motion.
in Ulster it has been reported that Down have broken ranks with the perceived preference for retaining the traditional provincial championships in their summer spot, linked to the All-Ireland.
Clare GAA chairman Jack Chaplin confirmed his county's decision to RTÉ Sport.
"We are meeting on Thursday night and we will be instructing our special congress delegates to vote in favour of Proposal B," Chaplin said.
"We have had a series of discussions with our footballers and this is what they want," he said.
"We will listen to their view and we will recommend on Thursday night that our delegates support Proposal B."
A 60% vote by delegates on Saturday is needed to herald a new league championship structure in the summer.
Clare, who have made serious progress in recent seasons under the stewardship of Colm Collins, are now following suit.
They want their players to benefit from a changed championship structure.
In the eight years that Collins has managed Clare, they have played Kerry seven times in the championship without success.
"We have a great management team and a great set of players, and they have worked incredibly hard to make huge progress," Chaplin says.
"But everyone knows that success could be diminished within a few years, especially if people leave that set-up. If there is no change we will find it hard to get players to continue to commit and we could be back in Division 4 before we know it – despite all the strides that have been made."
Chaplin acknowledged there was significant support from provincial councils and counties to maintain the status quo.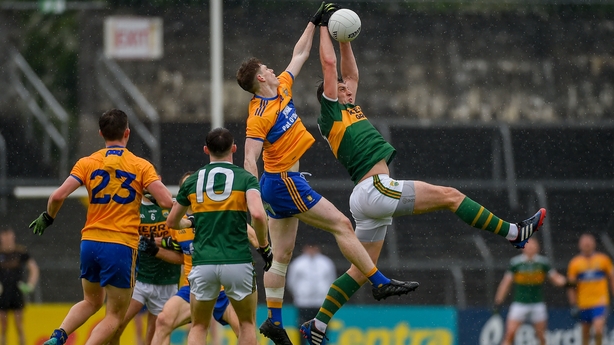 But he stressed that change need not be feared.
"The roof won't fall in because of change," he says.
"We need to try new things. There has not been change in the structure for 50 years.
"We should not be afraid to change and from our perspective in Clare we are listening to our players and voting accordingly."
Chaplin referenced a heavy defeat to Kerry in 1979, known widely as the Milltown Massacre, when Clare played Kerry in Milltown Malbay and lost 9-21 to 1-09.
"Not all the beatings and losses have been anywhere near as bad as that over the years, but the bottom line is that the results still favour the same teams.
"We are backing change in that regard."
Under Proposal B, there would be a league-based championship with each team playing seven games.
Preliminary All-Ireland qualifiers would feature second and third in Division 2 taking on the winners of Division 3 and 4.
Quarter-finals would be the top four teams from Division 1 against the fifth-placed in Division 1, Division 2 winners and winners of the preliminaries.
Teams that don't qualify for the All-Ireland series from Division 3 and 4 would enter the Tailteann Cup.
Provincial championships would be retained, but as spring competitions.