In 2022, Galway, for so long pegged as glamourous underachievers, will make another attempt to gatecrash the modern elite.
Since their apparent breakout year of 2018, when they reached an All-Ireland semi-final and an Allianz League final, the past three seasons have been marked by regression and frustration. At best, results indicate they have been treading water.
At the very outset of Padraic Joyce's reign, they looked to be pulling up trees in early 2020 but then the pandemic intervened, and when action finally resumed, the Tribesmen returned a strangely shrivelled outfit, winning just two from nine games in league and championship since.
2021 saw another bitterly frustrating end. We witnessed enough flashes of their abundant forward talent as they rocketed into a five-point lead against Mayo by half-time of the Connacht final. The second half was a dispiriting no-show, in which they rustled up just three points and the reigning provincial champions ran riot at the other end, winning by a comfortable six in the finish.
The 2021 exit was especially bitter and frustrating for Shane Walsh. Walsh had been in electric form in the first half, rattling home Galway's opening goal after reacting quickest when a point attempt rebounded off the post.
Very soon after he had burned his man on the outside to create Galway's second goal, Walsh came off worst in an off-the-ball tussle with Padraig O'Hora. While the Kilkerrin-Clonberne player stayed on the pitch, he was rendered a virtual passenger until taken off in second half injury-time.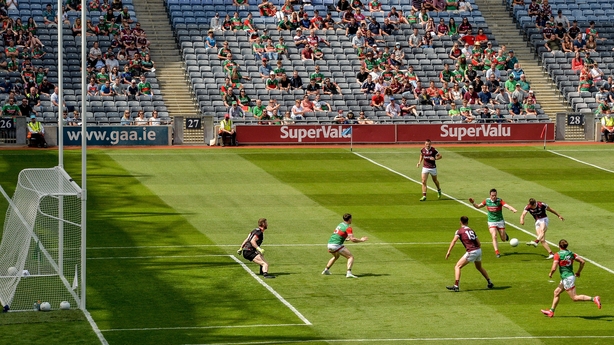 Galway were patently annoyed afterwards, with Padraic Joyce incredulous that the incident hadn't been spotted by any of the officials and keen to point out that Walsh had to receive an injection at half-time after being "dumped on the ground."
Needless to say, the player himself shares that annoyance.
"It's one thing going out and having a muscle injury in a game," Walsh told RTÉ Sport on Tuesday.
"But going out and having the game taken away from you by someone else because of something off the ball, that's the most frustrating thing. Especially the way the championship was played, you had one chance at it.
"For me, I wouldn't have been able to play an All-Ireland semi-final even after that game. I was eight weeks nursing a broken bone in the shoulder and a torn ligament.
"Do I want it to be happening because some player decides he wants to pull me down off the ball? No, that's not how I was coached how to play football. No one was coached how to play football that way.
"That's only one incident. Numerous incidents go on in games. It needs to be cut out."
While the dominant talk of the day is about championship formats - like more or less every player who has spoken publicly, Walsh favours Proposal B - the Galway attacker feels that offering further support to referees is one of the more pressing issues that needs examination.
"We need to adapt to it, and you need to provide supports to the referees. They're not going to see everything that happens. I just believe that could definitely be something that could be looked at, the TMO side of things or something to that effect, where there's an extra eye watching what's going on in the game.
"If something happens in the game, they buzz the referee. If they want a camera on the side of the pitch, but it should be another referee looking after it, saying to the match referee, 'look, I spotted an off-the-ball incident, we're in black card territory. You can look at it if you want, but I'd be saying black card'.
"And then the ref goes and makes that call. Simple as. That way then, if that happens more, it would cut out the kind of stuff that goes on off the ball."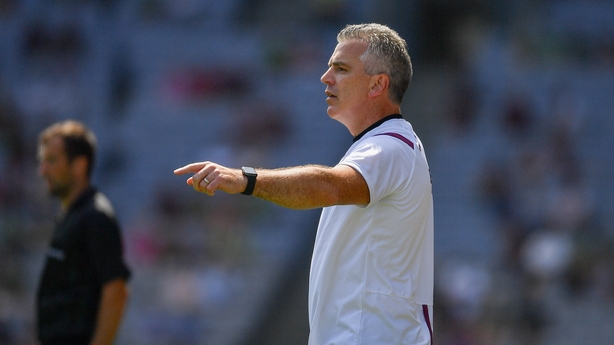 Aside the recriminations from 2021, Walsh - who was speaking at the launch of the John West Féile 50th anniversary celebrations - struck a positive note when looking forward to the 2022 campaign. The Tribesmen find themselves in Division 2 this year, a consequence of a wasteful shooting performance and a late sucker punch in the relegation play-off against Monaghan in Clones in June. However, it's not the end of the world, as their provincial neighbours demonstrated in the year just past.
For Walsh, Galway's biggest challenge is finding a way to survive in games when the momentum is running against them.
"We started off 2020 very well and Covid came along and it's just been very difficult since that to get to that level. It's hard to pinpoint one area to it.
"No more than the likes of James Horan and Mayo, they didn't perform consistently for 70 minutes and yet they were in an All-Ireland Final. It's just about maybe eking out the best of us in our worst moments and then obviously making hay when the sun shines and we are in a good moment."
Galway appeared so close to cracking the code in the early rounds of the 2020 league. Their last two matches before the closedown were a 19-point hammering of Tyrone and a hard-fought win in Meath. Their first game following lockdown saw an alarming 15-point defeat at home to Mayo, mere weeks out from championship.
Likewise, their first league game in 2021 was another jarring lop-sided loss away to Kerry in Killarney. After both lockdown periods, Galway returned in considerably poorer shape than some of their rivals.
"There were a lot of factors," says Walsh. "Covid came into it. The uncertainty over whether the championship was going ahead played its part. Then you'd a club championship. I can only talk personally but I picked up three injuries in the club championship.
"I definitely think we lost out at the time because we didn't train together as a group because of Covid. Whereas other teams evidently did. Looking back, maybe we should have done what other counties did. We said that we would obey the law of the land. And we trained individually.
"You could see there was huge gaps in that at the start of 2021. That made championship very hard for us, because we were probably starting behind the pace."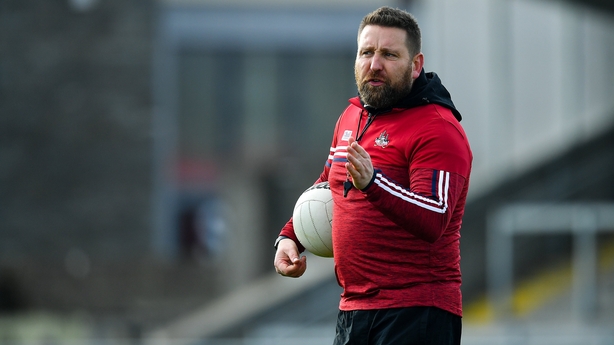 Monday brought news of Cian O'Neill's arrival into the Galway management set-up, the former Kildare boss bringing enormous experience into the role.
"No more than when we had Paddy Tally there as well before, for me I'm trying to learn and the only way you learn by approaching these people and seeing the way they're thinking," remarks Walsh.
"I'll build a relationship now, no doubt, with Cian as we go forward when he gets on board with us. He's been involved in so many teams going back to Tipp with Liam Sheedy, Kerry in 2014 with Eamonn Fitzmaurice, he was obviously over Kildare and we played Kildare numerous times in that period as well, then he was with Cork.
"He's going to bring a vast amount of experience to it. He seems like a really enthusiastic guy as well. So that's huge, to have that come into your dressing-room. Just really looking forward to him coming in."
Whether two Galway exiles in the playing staff - Michael Daly and 2018 All-Star Ian Burke - return to the county set-up remains to be seen.
"Ian is back with Corofin again. Sometimes players need a break from the game as well, the demands are there on players and in some ways nothing to show for it at the end of it," says Walsh.
"In fairness to them they made their decisions in relation to what the wanted to do for 2021. I wouldn't hold it against anyone in relation to that, neither does Padraic or any other player.
"They'd welcome them back in if that's what they want to do. If they want to commit to Galway for 2022 and that could make Galway a better team, well 100%."
As regards the topic on everyone's lips - dare we speak of championship structure reform - Walsh feels that the wildly popular Proposal B is "worth a trial anyway" and doesn't accept the counter-argument that the provincial championships will whither into irrelevance if detached from the All-Ireland championship.
That's certainly not the way of things in Connacht anyway, according to Walsh.
"It's a funny one that people would even think it would lose its precedence. To be honest, if we played Mayo, Roscommon or anyone like that in the middle of the sea for a Connacht championship you'd go hell for leather for it, same if it was a game of tiddlywinks or whatever it is.
"You'd go mad at it. That's the way it is. There's a huge rivalry there, especially if it's Galway-Mayo.
"For us it doesn't matter...like the FBD League game a few years ago we played them and it went all the way to penalties. No-one wants to lose those games.
"I'm not speaking on behalf of Galway, I'm speaking on behalf anyone involved in their province. They're going to be absolutely itching to be at the top of their province because essentially that's where the bragging rights are with Mayo. For us it's about getting the title back again into Galway territory."