Ahead of this month's Special Congress, the GPA has given its backing to Proposal B, the summer league-championship format – which it says will ignite the Gaelic football championship.
"Option B would breathe life into Gaelic football," said GPA CEO Tom Parsons.
"Games develop players, especially in the spring and summer months and a minimum of seven championship games against sides of a similar level would be significant," Parsons.
"We have 80% of our membership in favour of Proposal B, 90% of our GPA representatives and captains support the series. The Tailteann Cup also has huge support from our membership.
"It will allow teams to develop and play at their own level. The potential for brutal mismatches is lessened. This is about fairness."
At a press conference in Santry this morning, Tyrone's Niall Morgan, a member of the GPA's National Executive Committee, described the current format as 'broken'.
"The definition of madness is doing the same thing over and over," he said. "It's great the GAA have come forward with a proposal which the GPA is backing. The players want it."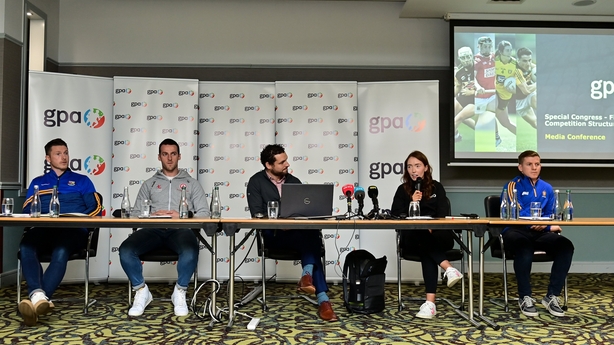 Longford's Mickey Quinn was also on hand to speak on behalf of the GPA. "From year to year we in Longford enter into competitions that have hindered progression for ourselves – losing heavily to Dublin by 27 points and 18 points in respective seasons.
"That's not progression and it has led to more drop out and guys looking at draws in early November and wondering if it is worth committing. It has been difficult to improve as a team."
The options on the table for the restructuring of the football championship at Special Congress include A) the four provincial conferences of eight teams and B) the All-Ireland SFC league based on the current Allianz competition which the GPA back – a format that guarantees a minimum of 11 games.
League-based football championship has "the overwhelming support" of GPA members, according to CEO Tom Parsons #rtenews #rtegaa @LawlorDamian pic.twitter.com/Mk2NXUxtxe

— RTÉ GAA (@RTEgaa) October 7, 2021
Both formats include the Tailteann Cup and are on an experimental basis.
Should these options fail to receive the required 60% support level to come into effect, Congress delegates will be asked if they support the Super 8 format, which ran in 2018 and '19, or the previous qualifier system.
It's likely the previous qualifier system will ensue.
For the past 18 months the players' group has held a series of focus groups, workshops, educational resources, player surveys to seek a mandate from its members.
This mandate has led to the GPA comprehensively opting for Plan B, firstly looking for all counties to be given the chance to play for the Sam Maguire Cup.
In looking for Proposal B to get the green light the GPA says that an improved game to training ratio, have a defined and governed off-season and ensure strong promotion for the second tier series is top of its agenda.