Antrim's Maeve Kelly believes that the Saffrons can follow Down's lead by being competitive at senior level following their All-Ireland Intermediate Camogie Championship final win over Kilkenny.
That 2-21 to 2-13 success at Croke Park earlier this month, which owed a lot to Kelly's 1-05 tally, means that there will be two Ulster representatives in the top tier after Down's relegation play-off success against Westmeath.
The Mourne County were there this season after defeating Antrim in the 2020 Intermediate final, the first time a side from the province had played senior camogie since Derry in 2016.
"The celebrations are still ongoing at the moment," said Kelly, who picked up the PwC GPA Women's Player of the Month award for September.
"This is what you really dreamed of since you were a wee girl. Most of us just always wanted to be the best players that we can be.
"And now the fact that we've got to the top league and we're going to be playing against and challenging the best teams and the top camogie players in Ireland is just incredible. It's an amazing feeling.
"We have to go back to our clubs now but as soon as that's all over we'll get geared up to get back at county and give it a good shot."
The Ballycastle sharp-shooter said that last year's All-Ireland final loss to Down proved a real wake-up call and demonstrated their deficiencies, particularly when it came to strength and conditioning.
"I watched it back, and you can see how much stronger they are," Kelly said.
"That will probably be (the case) when we play Down, because Down have obviously had that step up to Division 1. We were sort of comparing ourselves to them as we're going to be a Division 1 team.
"Last year, us compared to them, there was not even any similarity - they were so much stronger. We have improved but we still do have a big gap to close, in terms of meeting Division 1 standard, but I think everyone's up for the challenge. Hopefully we'll give a good run at it next year."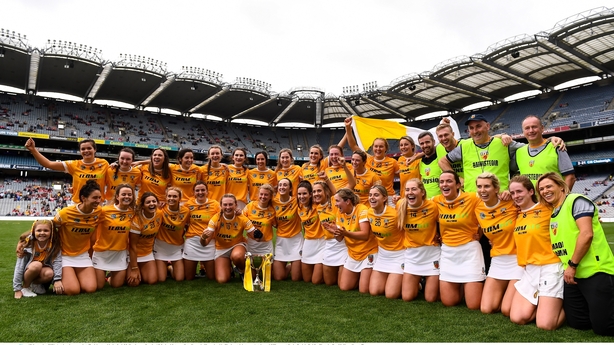 All season, the Antrim players have been preaching about the coaching set-up that was in place for the 2021 season and Kelly was singing their praises once again.
Paul 'Humpy' McKillen, Jim 'Jingo' McKernan and Elaine Dowds have been overseeing operations while the latter's sister, Lucia, has been helping the side close the physical gap on the top teams in the country.
"'Humpy' was an All-Star himself and he's from my club," said the Ballycastle player.
"We started training over Zoom with Elaine Dowds. She took us for school camogie, so she was training us in Cross & Passion College since we were first year up.
"We have personal relationships with her since we were youngsters really so that really helped.
"She would also be into the fitness side of things, so she took in her sister, Lucia Dowds, and as soon as we got out of Zoom we started strength and conditioning in a gym.
"I think that has been the main thing for us with our success this year, we all really went into the strength side of things and worked on our fitness whereas in the past it was just a sort of stick session twice or three times a week.
"So 'Humpy' and 'Jingo' did two stick sessions during the week and then we also did an S&C session on a Monday night.
"Dowdsy (Elaine) got in a psychologist and he took us on a Friday night, so we're trying to train ourselves mentally as well as physically.
"That also really helped dealing with stress. It was the first time for a lot of us playing in Croke Park so his mental imagery really helped us prepare.
"Even to get rid of nerves or putting mistakes on a scale of 10 to try and refocus during a match.
"In the Galway match (semi-final), we were sort of distracted and let Galway back into the game so we went back and did another session with him. Work-rate was a word we would call to ourselves on the pitch to refocus ourselves and just go for the next ball.
"You could see, on the final day all that worked and it came together. The training was amazing and you couldn't fault the backroom team at all."
For inspiration, Kelly and the Antrim players will be looking at what the Meath ladies footballers did this year when they claimed the All-Ireland Senior title less than a year after lifting the Intermediate crown.
"It is a big step up, and we know that, but even just the fact that Meath did it this year, gives us hope that it is doable," she said. "That will be inspiring us next year."
Antrim score the first goal of the intermediate final as they lead against Kilkenny. Maeve Kelly with a precise finish.

Live now on @rte2 and @rteplayer. #rtegaa #sundaygame pic.twitter.com/87MA2vkQb3

— The Sunday Game (@TheSundayGame) September 12, 2021