Vikki Wall admits she might join the growing number of Irish Aussie Rules players some day but says that for the moment she's satisfied with life in Meath.
"It's definitely something I have an interest in but I'm in Ireland for the while anyway," one of the stars of the Royals' unlikely All-Ireland triumph tells RTÉ Sport.
"I did the (AFLW) combine in 2019. I went over for just four days. I've had a few conversations over the last year or so, but it's still up in the air.
"It's an interesting one to watch, and see the girls doing so well over there.
"It's something I wouldn't rule out in the future, but at the moment I'm happy, I'm going back to do my masters in DCU, starting this week. I'll be here for this year, and committing to Meath this year, and really hoping to do well again next year."
Looking back on that momentous final upset against a five-in-a-row-chasing Dublin outfit, Wall says the belief in the newly promoted intermediate champions – who had previously lost the 2018 and '19 finals - grew throughout the summer as they got to grips with the standard required from a senior side.
Their first league outing ended in a six-point defeat to Kerry on 23 May but just a month later they handed the same opposition a 10-point beating in the Division 2 final.
"Within the camp, we definitely had a belief that we could do it," she says of the All-Ireland decider.
"We had a call at the start of the year with our psychologist Kelley Fay. We would have set out a few things and the minimum standard for us was to stay in senior.
"Once we got over playing that first senior team of the year (Kerry), we thought 'We can come together and definitely cause a bit of a stir in the senior ranks'.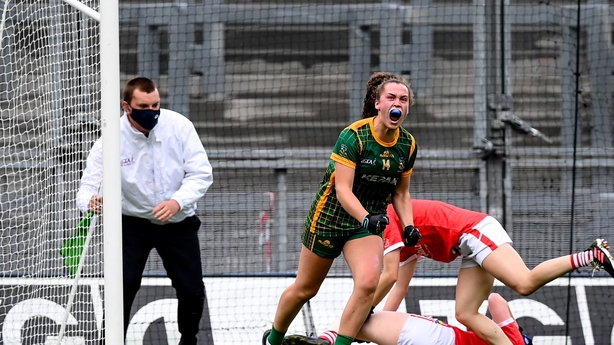 "Then we were in breakout rooms and the mention of an All-Ireland was probably there a few times. But once we got over (quarter-final opponents) Armagh and knew the system that we were playing was able for those bigger teams, I think that's maybe when the switch flicked.
"When I think back to the 2019 All-Ireland when we were losing, in the last five minutes I was thinking, 'Oh God, we've lost this. It's gone.' But against Cork (in the semi-final) I actually wasn't thinking a huge amount, it was literally just let's get the next ball and stuff like that."
On the big day, an early lobbed goal from Wall's Dunboyne and county forward colleague Emma Duggan helped Meath build a cushion against the Dubs – "she said she meant it so we'll stick with that storyline for the moment anyway!" – but was she worried when the holders closed the gap to two points late on?
"We acknowledged during the week that Dublin would get a purple patch," she says. "A team as good as them is always going to have a patch of 10-15 minutes that they are dominant.
"For us, our main focus was to keep their scoring down during that purple patch and we focused on not letting in any goals. That was huge for us, Dublin had scored a lot of goals.
"It wasn't until after the game that I realised we had been leading for the entire game. For us it was about keeping them at bay for as long as possible.
"We proved ourselves against a lot of senior teams this year. I think we have definitely solidified that now."