As far as pre-match routines go, sweeping up glass and debris from a 600lb IRA bomb in Donacloney hours before an Ulster Championship quarter-final derby with Armagh was not exactly what James McCartan had in mind.
That day in June is perhaps a microcosm of Down's 1991 story. Sport and the Troubles. Some 96 deaths related to the conflict in the north were recorded that year and through all that bloodshed an All-Ireland triumph provided an escape, a good news story on a bulletin list dominated by tragedy.
Thirty years ago today Down beat Meath, the team that supposedly couldn't be beaten, at Croke Park and Paddy O'Rourke became the fourth man from the county to lift the Sam Maguire Cup after Kevin Mussen (1960), Paddy Doherty (1961) and Joe Lennon (1968).
Few All-Ireland successes have had as big of an impact not only in a sporting context, but also in a socio-political one too.
Pete McGrath's side were the dam busters for Ulster football and from absolutely nowhere the province would soon become one to be feared. Donegal in 1992, Derry in 1993, Down again in 1994 and then, oh so very nearly, Tyrone in 1995. All those successes and that near miss had their roots in what Down did three decades ago.
---
RTÉ Archives: Down Win 1994 All Ireland Football Final
---
Paul Rouse, a professor in sport and popular culture at UCD, said that the sporting achievement of the win should not be underestimated.
"The truth of it is that for the guts of two decades, Ulster teams were routinely beaten when they came down to Croke Park for All-Ireland semi-finals.
"Sometimes they put up a good show, sometimes they fought bravely, but a lot of the time they were dismissed very easily. Drawing an Ulster team in an All-Ireland semi-final was nothing to fear and to say anything else would be wrong.
"What happened in '91 transformed that and what's interesting about it is that you didn't really get the sense that it was about to change. There were good players being produced and good players playing Sigerson football as well as good club teams, but there was a sense that there was a Leinster-Munster stranglehold on the All-Ireland because Connacht were also struggling.
"It's stunning when you think about it, but for the first 100 playings of the All-Ireland Championship, the only team from north of the border to win the All-Ireland was Down. There were exceptions who pushed like Antrim in the '40s, Armagh at the end of the '70s and Derry in the '50s, but it was just occasional glimmers of hope.
"Apart from Down in the '60s and their three titles, there was no sense of a sustained assault on the championship or coming year after year to Croke Park and turning teams over."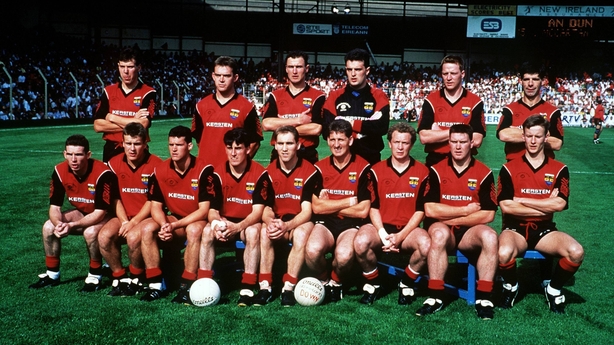 That was about to change though and from 1991 to 1995, Dublin (three times), Cork (twice), Kerry, Meath, Mayo and Galway would lose to the various Ulster champions.
For context, in the 22 years between Down's 1968 Sam Maguire triumph and Donegal's 1990 All-Ireland semi-final loss to Meath, Ulster sides had won just two games on the All-Ireland stage – Armagh's semi-final defeat of Roscommon in 1977 and Tyrone's dismissal of Galway in 1986. Both counties would suffer heavy defeats in the final to Dublin and Kerry respectively.
"Down set off something and it'll be interesting to see if Tyrone's win now produces something similar," Rouse continued. "From that Down dam busting team in 1991 you had Donegal, Derry and Down coming back again.
"It's a very striking thing that there was pent-up potential there and once the demonstration was given by one team, it was followed by others. We must remember that it almost ran into 1995 when Tyrone were very close and were arguably a poor refereeing decision away (Peter Canavan being adjudged to have touched the ball on the ground for Seán McLaughlin's equaliser) from earning at least a replay.
"In sporting terms it was so pioneering that it suggested to other counties that they could do it too, and I think that demonstrates the impact that it had."
The achievement was all the greater when you consider just how dangerous the situation north of the border was at the time.
The Brooke-Mayhew Talks had begun just a few weeks before the meeting of Down and Armagh in the Marshes but they eventually broke down and the route to peace remained years away. Ceasefires would come and go, but it would not be until 1998 and the signing of the Good Friday Agreement that people started to believe that the Troubles were genuinely coming to an end.
For Down boss Pete McGrath, the extra baggage that came with preparing a GAA team during the Troubles may have appeared immense and intruding on reflection, but he said that the reality was much different.
"In 1991 the players were adults and they had been living through the environment in the north with the Troubles and the different atrocities and tragedies going on. I'm not saying you become immune to it, but it becomes just the fabric of life.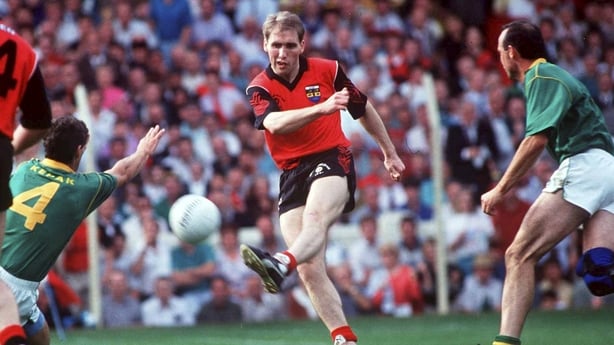 "Probably for GAA players generally, and obviously for a county team heading to an All-Ireland final, training and being part of that group and something that is much bigger than yourself, to an extent it is a haven from what's going on around you.
"People talk about the difficulties GAA teams had in the north and yes, there was harassment going to training and you were hitting army roadblocks, but that was factored in as just being the way life was at that moment.
"Footballers are generally durable and can adapt to what's going on around them. We did that, as other teams did also."
That's a concept that may have been hard for those outside the six counties to grasp. For Rouse though, the situation still made Down's success all the more extraordinary.
"This was a long and dirty war. Okay there were peace talks, but it still seemed that the violence was not at an end.
"It was a bloody year, it may not have been one of the worst but still the guts of 100 people died, that's a lot of people to die in a war on an island.
"The militarisation every time you went over the border was very evident. It was a hard border, there were military points everywhere. There were soldiers on the street, all those things you associate with a war zone. It wasn't just military either, there were customs checks too all along the border.
"It just added a different context that a team came down and won the All-Ireland through that."
How they got to that point remains a mystery for those in attendance at the Marshes – now known as Páirc Esler - on 9 June as Down edged Armagh on a day when sheets of constant rain jostled with dire football in the most miserable stakes.
The season may have ended with McGrath's famous "we beat the team that couldn't be beaten" quote after getting the better of Meath in the final, but another one-liner, attributed in the local press to a fan leaving the ground, also stood the test of time as he stated that "the pick of those two teams wouldn't win an All-Ireland."
Very few would have argued, and goalkeeper Neil Collins knew that very few would have fancied Down for Ulster honours let alone an All-Ireland title. However, he felt that it was the semi-final and replay win over Derry that was the starter gun for their wonderful campaign.
Collins was at a golfing day in Bundoran last week with fellow '91 winners Mickey Linden, Liam Austin and Ross Carr. It was the latter who landed a 54-yard free with the last kick of the game to force a second outing against the Oakleaf county.
"That free gets longer and longer every time he tells me about it. At one stage he was behind me and I was on the goal-line," said Collins.
"The Armagh match was just a typical local derby in Ulster, It was just two sides who knew each other inside out and back to front. On the day we got a penalty that Mickey hammered in and we got over the line.
"The two Derry games were the making of us and Ross showed nerves of steel to land that free, it was a mighty kick.
"The best football we played all year was the second half of the Donegal Ulster final. That Donegal team delivered an All-Ireland the next year so they were a very good side."
That Anglo Celt success set up an All-Ireland semi-final meeting with Kerry. This was a one-sided rivalry, but not in the way the Munster kingpins were used to as Down had won all four championship meetings beforehand. McGrath said that there was little doubt in the changing room that the run would be extended.
And he was right as Peter Withnell announced himself on the national stage with a 2-01 tally and Down set up a final meeting with Meath with seven points to spare.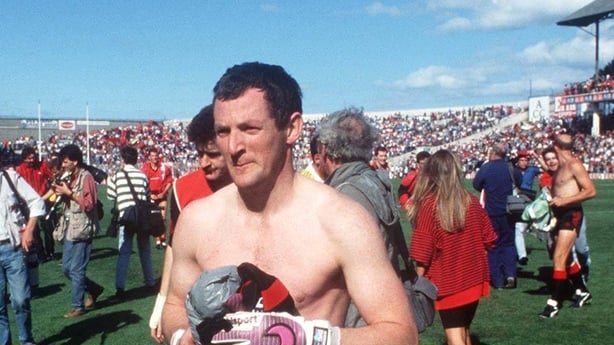 That was where the journey was supposed to end though given what had transpired in Leinster.
Four games with Dublin, two bouts of extra-time and, fittingly, a dramatic conclusion as Kevin Foley's late goal and a point from David Beggy earned a famous win for Sean Boylan's side.
A replay was needed in the quarter-final against Wicklow before Offaly and Laois were dismissed. Roscommon were edged out in the All-Ireland semi-final by the minimum. Given that journey, the destination of the Sam Maguire seemed almost preordained. Down would have other ideas though.
One of those in attendance at Croke Park for the final was Burren player John 'Shorty' Treanor, the man many consider to be the best club player to ever operate in the Mourne County.
He was doing it at county level too and scored 11 points in McGrath's first Ulster campaign in 1990, but a falling out between the two meant that he wouldn't play another championship game for Down until 1996.
To make matters more awkward, his father, the late Barney Treanor, was one of McGrath's selectors and for 'Shorty' his father would have been very much of the opinion that you lie in the bed you make.
Three decades on, when people still have a glint in their eye when describing what 'Shorty' could do on a football pitch, the man himself has more than made his peace with how events transpired and he fully celebrated the side's 1-16 to 1-14 win.
The scoreline suggests a back and forth encounter but, incredibly, Down raced 11 points clear – Barry Breen with their goal – before Meath nearly pulled off what would have been the greatest comeback in an All-Ireland final.
"We got to the 1990 National League final against Meath and we ran them close," Collins continued. "They were clinical whereas we weren't and we gave away a soft penalty.
"We'd belief in ourselves coming out of that game. We had been in Division One for a few years so it wasn't as if we were a bad team.
"Someone said to me the week before the final, 'sure you don't expect to win the final, just go down and enjoy the day'. We had no inhibitions though. There was an edge there, absolutely, but we had no hang-ups over Meath.
"When you take our three up front in Mickey Linden, James McCartan and Greg McCartan, they were as good as anything in Ireland. You're backing that up then with Ross and Peter and Gary Mason. Up front we were very strong and we were solid in midfield and defence so we knew if we could get enough ball up to the forwards we'd be fine.
"For 20 minutes we played some cracking football to go 11 points up."
A potential procession soon turned in a contest though and the full-time celebrations were painted with plenty of relief to go along with the copious amounts of elation.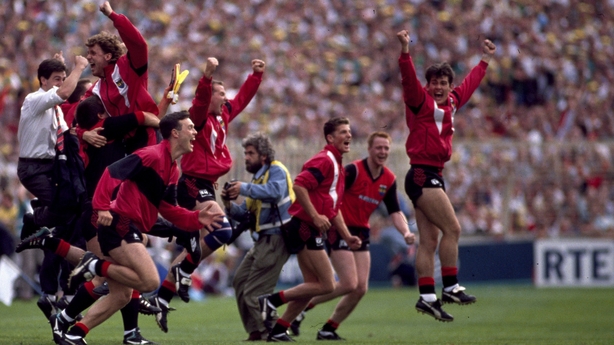 Different players took in the moment in their own way, but Collins instantly turned to salute the swarm of red and black that had invaded Hill 16.
"There's a photograph, and it's my favourite from my football career, and it's us parading in front of the Hill before the game and it's just a sea of red and black.
"It was just unbelievable to be able to turn around to a massed Hill full of Down people going ballistic. What a memory, it was just a wall of noise."
The 30 years since Down's triumph have brought with it lots of change. While it still carries an air of fragility, Northern Ireland remains at peace. In 1972, the death rate from the Troubles stood at almost 31 per 100,000 but it has plummeted over the last 20-odd years.
In a sporting context a lot has changed too. Down's 1991 win meant that the north had four All-Ireland wins all from one county. Tyrone's victory over Mayo on Saturday has matched that tally while Derry and Armagh have also joined the roll of honour. Down, of course, moved to five following their '94 triumph, but they haven't added as much as a provincial title since.
For McGrath though, today's anniversary probably won't be dominated too much by thoughts of the Troubles or thoughts of any great moment in the post-match celebrations, but rather about those who have passed since that glorious September day in 1991.
"We have lost a lot since then," he said.
"Eamonn (Burns) and Ambrose (Rogers). Ambrose was injured for a lot of the campaign but believe me, his influence was great because he was encouraging people, he was motivating people.
"The fact that he came on in the semi-final and final was fitting for a man who had given such service.
"Eamonn, God rest him, was one of the quieter members of the squad but when Eamonn Burns spoke you listened because Eamonn was a man of substance.
"It's fitting that his finest performance that year was in the final when he scored two marvellous points from midfield.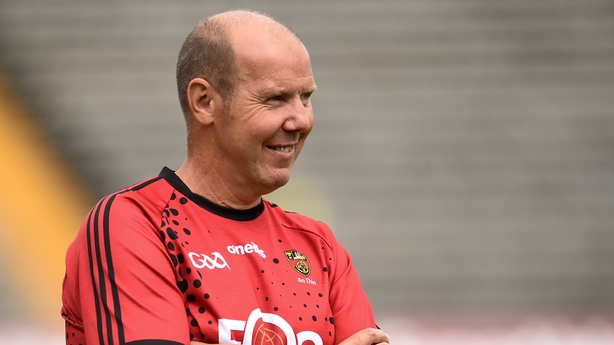 "We've lost other people as well. God rest John Murphy who was my assistant, Barney Trainor who was a selector with us and Danny Murphy who was Down chairman at the time.
"We've lost other members of the support staff too like Tommy McGivern who was a driver and Terry Lawlor, a great man who coordinated so much for us.
"When you look back you think of the people who played such an important role and have moved on.
"It saddens me, especially as some moved on before their time. The passage of time, as we all know, brings loss.
"Those men were there to help make something special happen and as time goes by you maybe start to appreciate the achievement more. Weren't we lucky to live through such halcyon days for Down football?"
Those days maybe didn't seem so bright for James McCartan as he went without sleep for 30 hours before the clash with Armagh. Shut eye before the big game was the last thing on his mind as he boarded up doors and helped his family take neighbours into their bar and lounge after they were displaced by that IRA bomb in Donacloney.
However, through all the chaos a group of men would provide a summer escape that saw Down crowned kings of Ireland once again.