From the moment the pairing for the 2021 All-Ireland SFC final was determined, the only consensus to be found in terms of analysis was that there was little or nothing between Tyrone and Mayo on paper.
It may have been a cynical view but, personally, it was difficult to escape two preconceptions:
1. Mayo will find a way to shoot themselves in the foot.
2. Tyrone are built for a battle and will find a way to impose their will on the game.
It's easy on reflection to make the narrative fit those clichés but the harsh reality for Mayo is that both became themes woven into the fabric of the game.
Failure To Kick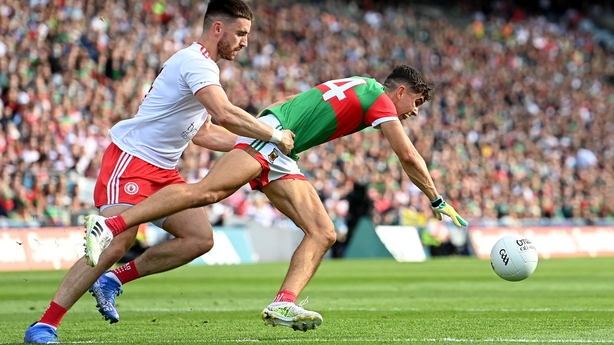 The Connacht champions played a lot of the football and led the running in large parts of the game - most notably early in both halves - but failed consistently to make their endeavours count on the scoreboard. Tyrone, by contrast, were ruthlessly efficient with possession and scoring opportunities.
Mayo brought much of their struggles upon themselves. As expected, Tyrone made life very difficult for ball carriers in the middle third but Mayo still got the ball consistently into the scoring zone. The problem was that the transition speed was so slow that the natural advantages they had with their front three were largely wasted.
Most strikingly, there was very little evidence of team play in the Mayo forward line. An attack with a collective understanding of how to create time and space for each other would not take the unnecessary touches on the ball Mayo do.
Kevin McLoughlin was certainly not on his own but he was the chief culprit of the 'one more touch because I'm in space' approach.
Further ahead, Tommy Conroy, Ryan O'Donoghue and Aidan O'Shea's movement offered a constant target for early delivery that was largely ignored. All three inside forwards were troubling their markers in offering Mayo the kicking option but their middle third didn't see it until they had carried the ball to within touching distance and Frank Burns was in control of the space there had been.
The balls Mayo did kick inside were mostly 30-yard passes measured in front of their teammates' third or fourth run and after Tyrone's cover was in place.
The failure to look for the 40 or 50-yard pass earlier inside handed Tyrone the security blanket of extra-time throughout and allowed Frank Burns to support a full-back line that were struggling to contain their direct opponents in one-on-one scenarios.
This was the fundamental mistake that Kerry made in their semi-final with the Ulster champions and it appears that Mayo didn't understand the advantage they were handing Tyrone by delaying the movement of the ball.
Mayo Flaws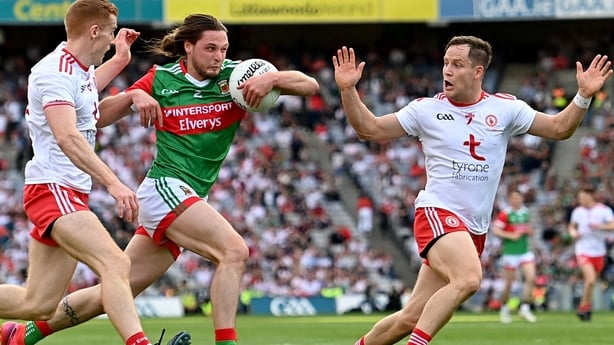 The major mistake James Horan made in advance of the game was in matching Padraig O'Hora against the pace and sharpness of Darren McCurry. The Edendork man scored three and contributed to another two of Tyrone's ten points in the first half, as well as butchering a great goal chance but the Mayo management didn't respond.
That match-up looked a mistake from the outset but not rectifying it over the course of the first 40 minutes cost Mayo unnecessary scores. O'Hora was much more comfortable in an arm wrestle with Mattie Donnelly in the second half and withdrawing him after he found his form and with the Cathal McShane on the prowl didn't make much sense.
However, the biggest Mayo weakness throughout is difficult to apportion blame for. Was their complete lack of composure in the final third a product of a coaching deficit or environmental? The pressure of Croke Park on All-Ireland final day can be debilitating and experience - good or bad - doesn't always help.
The deficit in cohesion and interplay up front for Mayo was alarming and given that so many starters and subs were implicated, it does point to a lack of direction collectively. Of course Tyrone left their mark on all of that with the physicality they brought and the lack of time hey allowed on the ball.
Tyrone Stress
What Tyrone have done better than anyone this year is to stress and manipulate opponents to find and exploit weakness. They quickly recognised McCurry's advantage early in the game and fed him at every opportunity. They also identified the potential for scores off longer kick outs as the game wore on.
The second goal is the flagship example but Niall Morgan was looking for that centre-forward landing zone all day and, again, Mayo never responded to seal it off. Of all of their sources for scores, Tyrone's productivity (number of scores per 10 possessions) from long kick-outs was their most impactful at 5.0.
Tyrone played to their strengths beautifully. They broke from back to front with great pace but, crucially, found the right man in the right space for the shot. Decisively, Tyrone had a range of players comfortable in kicking points from 40 yards - something Mayo demonstrated they were not able to do.
The McShane goal was another example of adapting to meet the moment. Conor Meyler, who broke tackles and made hard yards in attack throughout, had the presence of mind to recognise the threat McShane posed in a one-on-one on the edge of the square and floated a perfect ball over the top to exploit the big man's height advantage.
Those qualities of improvisation and versatility married with a claustrophobic pressure on every Mayo possession ultimately set Tyrone apart in the game. They were a team who were going to find a way to get this job done and that is an achievement underpinned by a great collective character.
All Stars Should Reflect Game's Flexibility
Although it is little more than window dressing, discussion intensifies now around who might be worthy of consideration for a PWC GAA/GPA All-Star award.
It has become increasingly absurd to continue setting names against what are now defunct traditional positions.
For example, the concept of corner-forward or corner-back is long gone and there has not been a position on the pitch for years that merits the prefix of either 'left' or 'right'. Those tasked with selecting these awards should have the flexibility to acknowledging players for the roles they actually play.
The goalkeeper role has changed dramatically but it is the one position that holds with convention. Defensively, most teams are operating with two or three dedicated markers to deal with opponents' final third threats and the specialist cover player merits highlighting in its own right.
Similarly, forward lines are now shaped around one or two inside forwards and another one or two link men between the middle third and those finishers. Any discussion around a team of the year should look comprehensively at players who have excelled in those roles and reward them accordingly.
Notions of midfielders, half-forwards and half-backs are obsolete. Middle third players now deliver a version of all three of those traditional roles irrespective of numbers on backs or where they stand for the throw in. Again, an All Star team should have the flexibility to incorporate players who have excelled in those roles without having to conform to an outdated set of numbers and role descriptions.
The game has changed dramatically over the last decade and it is bizarre that individual recognition continues to be allocated based on a structure that teams themselves no longer use.