When Cork's goal saw Galway slip three points adrift with 12 minutes to go at Croke Park, one could understand if heads dropped in the Tribeswomen's camp especially when they had led for a decent chunk of proceedings.
But clearly they had gallons of inner resolve as they fought back to win the All-Ireland Senior Camogie final by the same three-point margin which they had found themselves suddenly trailing just minutes before.
One head that definitely didn't drop was Galway goalkeeper Sarah Healy who had been adamant all along that their side would put the final hurt of 2020 behind them and win a second All-Ireland title in three years.
Indeed when Cork's Katrina Mackey put the sliotar past her for the 48th minute goal, Healy was unbowed and felt sure that Galway would claw back the arrears inch by inch.
"I knew coming up that we were going to win. I just had that feeling. I was like, 'We are going to win today,'" she said in the post-match press conference.
"So when they got the goal, I knew it and we went down and got a score, got another one and I was like, 'We're okay, we're going to come back and we're going to win it' and we did thank God."
The positive reaction to adversity was a point echoed by her captain Sarah Dervan, who had been stationed in front of Healy at full-back for the duration of a tense finale.
"You can only control how you react and years gone by we've reacted in the wrong way and this year we said no matter what Cork throw at us, we're going to react the way we want to," said Dervan who added that the penalty conceded to Kilkenny last year at an albeit later juncture to the Cork goal was almost "like a replica of today" in representing sudden adversity. This time though, Dervan and co found a way back.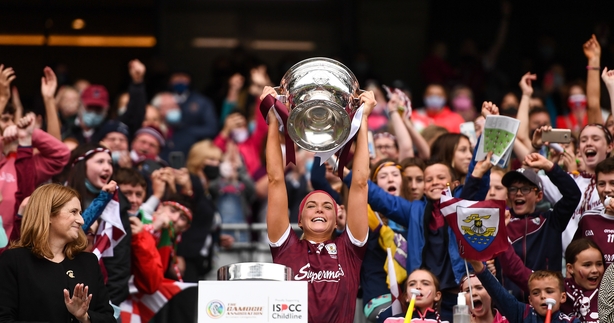 "We drove on, got the next point and kind of put a bit of belief back in us and we dug really deep and every single one of them girls they fought with their hearts and so delighted to be on the right side of it."
Healy, who described the achievement as "definitely the highlight of my year", feels Galway have the talent levels to push on and try to add more silverware to what has already proved to be the most successful generation of camogie players in the county's history in reaching three successive All-Ireland finals and winning two of them.
She said: "We believe in our camp that we are a great team, we think of ourselves like that, so from the loss of last year, we knew we were good enough to come back and we knew we're a good team and that the work that we do that we can win two, we can win three (All-Irelands) and we've just got to believe that and push on and we have the players to do that. So it would be a shame if we didn't (win today) but we did."
Unlike last year, Galway were able to celebrate securing the O'Duffy Cup with a crowd of supporters at Croke Park, with Dervan contrasting the "silence" of 2020 with the "fantastic" nature of the vocal backing from the stands.
And for Healy it wasn't just about the support during the game itself but the special moments that followed with those closest to the players.
"I could barely hear anyone talking to me, they needed to be shouting in my ear and then last December it was eerie, it was dark, it was cold and we lost so it was ten times worse. But to have family back - I mean winning an All-Ireland is special but then 20 minutes afterwards is just something else."