Tyrone are All-Ireland champions for a fourth time after a brilliant performance against a Mayo outfit that once again felt final heartbreak. Here is how we saw the action at Croke Park.
Niall Morgan 8
Had a nervy start as his first kick-out failed to go beyond the 20-metre line but had a good influence from there on in the opening half. Landed two good scores and his anticipation to intercept a ball nearly led to a Darren McCurry goal. His advanced position nearly saw him caught out with Aidan O'Shea's 27th minute goal chance but got away with it. Quieter second half but relieved to see Ryan O'Donoghue's penalty rebound off the post. Landed a point in the final moments to put the seal on a famous day for the Red Hands.
Michael McKernan 7
First half was spent trying to turn Tommy Conroy back but was on the ball constantly after the break with his searing pace allowing him to punch gaps through the Mayo midfield cover. Like all those in white and red, his handling was excellent.
Ronan McNamee 7
What is with Tyrone players and blocks? Superb anticipation to deny Aidan O'Shea a shot at goal in the second quarter, although the Mayo player didn't exactly disguise his intentions. Had found the Breaffy man a bit of a handful for 40 minutes, but O'Shea's involvement diminished as the contest continued. A good contest between the two.
Padraig Hampsey 8
The Red Hand captain had an excellent first half with his point with the outside of his foot a real thing of beauty. Regularly trekked up the right flank and was very secure in possession, setting the tempo for attacks while he was at it. He remained a massive influence after the break too as he became the third Tyrone man to lift the Sam Maguire after Peter Canavan and Brian Dooher.
Frank Burns 6.5
Tyrone's most relieved man as he gave away a second-half penalty, but his indiscretion wasn't punished. Lifted the ball clean off the ground and the infraction was always going to be spotted by the umpires. Apart from that, and the concession of an early free, played the link man very well and swept effectively at times too. Booked early in the second half for a high challenge on Ryan O'Donoghue.
Peter Harte 8.5
Started with an early wide, but it was a rare mistake in what was a really mature performance from the Errigal Ciaran man. The highlight of his day was a brilliant mark in the 64th minute. That put the Ulster side four ahead and, in reality, probably killed off the contest against an energy-sapped Mayo. Was still hustling right to the finish and he read the play brilliantly to make a late interception when the Connacht outfit were chasing a Hail Mary finish.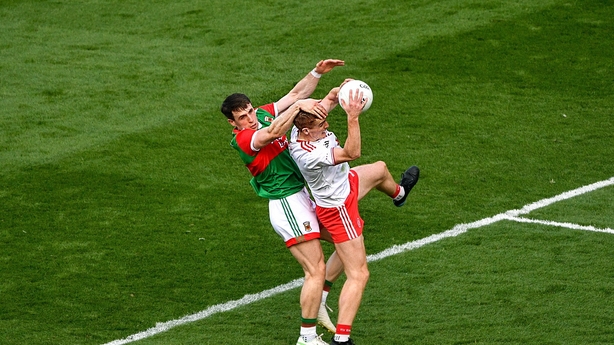 Kieran McGeary 7.5
Six years after captaining Tyrone to an U21 All-Ireland, McGeary has a Celtic Cross to add to the collection. Was involved in a big incident at the end of the first half as his tackle was right on the line. A free-kick rather than a penalty was given and it just about looked the right call from Joe McQuillan. Sublime score with his left in the first half and delivered his usual performance by covering every blade of grass at Croke Park.
Brian Kennedy 8
Shades of 2003 when Kevin 'Hub' Hughes stood out with a Man of the Match performance in the final against Armagh when playing with a galaxy of stars. Kennedy wasn't the best player at Croke Park, and an early yellow card saw him taken off with 20-odd minutes to go, but like in '03, one of the county's lesser known talents stood up when it mattered. Set the platform in the opening quarter as Tyrone got the upper hand in the middle of the park and was excellent under long kick-outs in particular, flicking a few cleverly to men on the wing to kickstart attacks.
Conn Kilpatrick 8
In the lead up to the final, Liam McHale's catch for Mayo against Tyrone in the 1989 All-Ireland semi-final went viral on Twitter. You can be guaranteed that Conn Kilpatrick's incredible fetch to set up Tyrone's second goal will do likewise. Did a great job in disrupting a Mayo midfield that had been in excellent form all season. Tyrone's central pairing had been identified as a weakness this season, that analysis may need to be revised.
Conor Meyler 8
Another big performance from the Omagh man and he is very much in the Footballer of the Year discussion. He is a manager's dream and it's a rare occasion that he wastes a ball. His conditioning was clear to see, especially in the final 20 minutes as many players saw their gauges drop into the red zone, while he also played the ball in for Cathal McShane's goal. Excellent once again.
Michael O'Neill 6
Not surprising to see him substituted early in the second half because this final pretty much passed by the Ardboe man. It wasn't for a want of trying and he was moving constantly in order to try and get involved but sometimes you can't force it. Did put good pressure on Mayo players when they were in possession though.
Niall Sludden 8.5
One of Tyrone's top performers at Croke Park even if he saw his influence wane a bit in the second half. Big moments in that opening period included two fine points and the crucial goal-line block when Conor Loftus looked certain to give Mayo the opening goal of the game. Sludden was a mainstay for Mickey Harte in recent seasons but he didn't start any of Tyrone's five National League games under the new management. The Dromore man got back in for the key business though and boy did he deliver.
Darren McCurry 8.5
The 'Dazzler' is a cult hero in Tyrone and after collecting the RTÉ Man of the Match award expect his brand to grow. Had been one of the country's outstanding forwards all season and followed it up with a cracking 1-04 including the match-clinching goal. Did miss a great goal chance in the first half as he went for placement over power, but credit must go to Mayo's Rob Hennelly for a fine save.
Mattie Donnelly 6
This wasn't one of Mattie Donnelly's better days but the Trillick man is unlikely to care one iota. One very good moment as he eyeballed Stephen Coen and worked the room to raise a white flag. Other than that he found his involvement light. Was the first Tyrone player hooked, which was a big call for such an experienced player, but his team-mates got the job done and now he has his reward for his determined rehabilitation that allowed him to return from a potentially career-ending hamstring injury last year.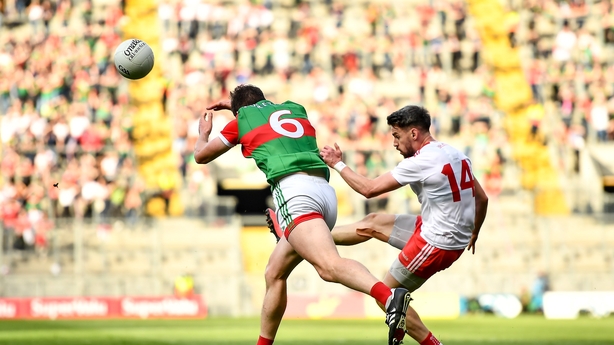 Conor McKenna 6
Another player who can now justify his life decisions having called time on a promising AFL career with Essendon to chase the All-Ireland dream with his county. It was a strange campaign for the player. On many occasions it seemed like he was almost trying too hard and he struggled to get into a rhythm – yet he still produced major moments. In the semi-final win over Kerry those were his two goals and against Mayo it was his no look fist-pass to allow Darren McCurry to slap home. It was a great moment of vision and awareness, and the pass had to be delivered with lightning speed as a Mayo hand was arriving to deflect the ball away.
SUBS
Cathal McShane 7
McShane was actually quite untidy when he entered the play early in the second half. Kicked a bad wide, fumbled a few balls and didn't look his sharpest. Yet, he was the man who ultimately sent Tyrone on their way as he punched home for the opening goal. Made a series of runs before Conor Meyler delivered the ball in, a lesson for any player on why those second, third or even fourth runs can make the difference.
Darragh Canavan 6.5
Tyrone have their first father-son All-Ireland winners after Darragh joined his father Peter as a Celtic Cross owner. An injury down in Kerry in the Allianz League threatened to derail his season but has made a great impact from the bench recently. Good decision making late on when he fisted over despite a goal chance opening up.
Ben McDonnell 6.5
Threw his weight around in the middle as Tyrone tried to close out the deal. Battled hard in his 15-odd minutes on the pitch.
Paul Donaghy N/A
Not on long enough to be rated.
Tiernan McCann N/A
Not on long enough to be rated.
MAYO
Rob Hennelly 7
Mostly good from Rob Hennelly with a few blemishes. Made a top-class save from Darren McCurry in the first half when he somehow shifted his balance to the right to get a toe to the ball and also landed a great free. Some question marks over his role in Tyrone's first goal though and perhaps he could have been a bit more commanding. Instead he was caught in no man's land as Cathal McShane fisted past him.
Pádraig O'Hora 5.5
A massive reception from the Mayo fans as he departed in the 53rd minute but this was a difficult evening's work for the defender. Struggled badly early on when following Darren McCurry and somehow avoided a black card for a cynical pull down at the end of the first half. Tracked Mattie Donnelly at other stages but overall was far from his best bar one great turnover and break forward after turning over Donnelly in the 43rd minute.
Lee Keegan 7.5
Yet more All-Ireland final agony for the Mayo legend but fought to the bitter end. Picked up a yellow card for a rash foul in the second half, but continually tried to drive at the Ulster side even if some of those around him weren't on the save wavelength. Got forward for a point and tried to make something happen late on, but nothing doing.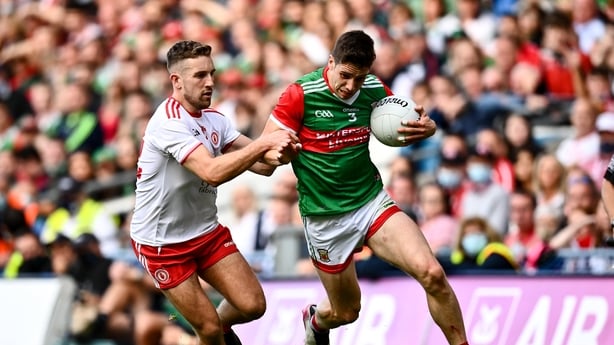 Michael Plunkett 5.5
No surprise to see James Horan replace him at the interval. Sloppy in possession at times and also gave away a free that allowed Niall Morgan to open Tyrone's account.
Paddy Durcan 7
Excellent in the semi-final against Dublin and started this game with bundles of energy. Was one of Mayo's better players in the first half and kicked a fine score into the Hill after his team-mates were dilly-dallying. Like Keegan, kept up the good fight even when Tyrone were starting to look in control but it wasn't to be.
Stephen Coen 7
It will probably go a bit unnoticed but Coen had a good outing at Croke Park. Was a caught flat-footed for a Mattie Donnelly score but was nice and aggressive in the tackle and even got forward for a fine point. His turnover in the first half nearly led to a three-pointer.
Oisín Mullin 6
Mullin's return from injury was a great fillip for Mayo and he made some of his trademark bursts forward, in the second half anyway, but was caught out badly for Cathal McShane's goal. The Tyrone man's movement perplexed him and given the situation at the time, it was a big score to concede.
Matthew Ruane 5.5
A red card at the death was a sad end given how well Ruane has played all season, but he can have no complaints. Frustration got the better of him as their expected upper hand in midfield failed to materialise after a trojan effort from Kennedy and Kilpatrick. Had struggled to really make a dent prior to his dismissal.
Conor Loftus 5.5
A bit of a nightmare game for the Crossmolina man as he wasted a series of opportunities. The key one was the goal chance in the first half when he really should have rattled the net but instead saw Niall Sludden clear his effort away when Niall Morgan had been taken out of the equation. Wasted a number of good scoring opportunities outside of that and also coughed up possession on a couple of occasions by running into traffic.
Diarmuid O'Connor 6.5
As always, O'Connor ran himself into the ground and tried to make things happen from deep, but he just wasn't able to influence the game in the way that was needed. Perhaps he could have been pushed further forward to give Mayo more punch up the pitch, but that was more a tactical call rather than anything the player did himself.
Aidan O'Shea 7
Aidan O'Shea's starting place appeared under threat after a dreadful semi-final performance against Dublin, but he was handed a starting shirt and he did a lot of good things here. Unfortunately for the player, sometimes the good would be followed by the bad. In the first half he worked hard to get himself into a good shooting position, but he pulled his effort. At the start of the second half he brilliantly won the throw-up – as he had done in the first – but his delivery inside was awful. The entire watching audience could see that his goal attempt in the first half was going to be blocked down when a dummy was needed, but he did win his fair share of ball in front of Ronan McNamee.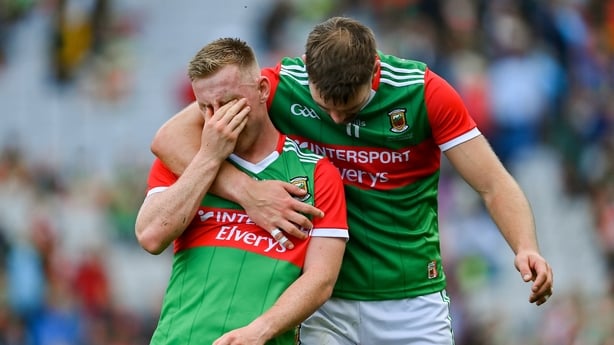 Bryan Walsh 5.5
Did well to last nearly an hour on a difficult day for the player. A lazy early foul on Darren McCurry gave Tyrone an easy score while he also kicked a bad wide shortly before he was replaced. The big moment of his game was when he was through on goal in the first half and a moment of hesitation allowed Niall Morgan to close him down. Conor Loftus should have spared his blushes, but he was also denied.
Kevin McLoughlin 6
A better second half after a poor first when he took too much out of the ball and was closed down in corners. Kicked over a nice score when presented with only an inch of space, but overall a quiet evening for a man who has been such a golden player for this Mayo team. Has now made 154 appearances for his county and Mayo fans will now have to wait to see if he's prepared to go to the well again.
Tommy Conroy 7
Looked on for a big one after landing an opening score after 13 seconds and generally he did cause the Tyrone defence some issues. Did land another point in the closing stages but will be thinking back on his goal chance just after the break. He did so well to create the opportunity but pulled the ball wide when he could have taken the ball on an extra few yards.
Ryan O'Donoghue 7.5
Sport is cruel and that is proven once again as people will talk about Ryan O'Donoghue's missed penalty. If it had been converted and Mayo had prevailed, he would have been in the Man of the Match discussion. Scored eight points, including seven frees, and stepped up in the absence of Cillian O'Connor. The youngster should be extremely proud of his efforts this season.
A penalty for Mayo but Ryan O'Donoghue has missed the chance to put his side in front #RTEGAA #MAYOvTYRONE

?? Watch Live - https://t.co/IdpkJmuz4B

?? Live updates - https://t.co/8TNdjy2oh7 pic.twitter.com/C3LwpWGR7k

— The Sunday Game (@TheSundayGame) September 11, 2021
SUBS
Enda Hession 6
Looked like he would inject some pace with an early second-half dash, but not overly involved after that.
Jordan Flynn 6
A poor shot at goal late on summed up Mayo's day.
Darren Coen 6
Like Flynn, took the wrong option in front of goal when a bit of composure was needed.
Aidan Orme N/A
Not on long enough to be rated.
James Carr N/A
Not on long enough to be rated.