"If you wanted to break up with your girlfriend Brian Dooher would be the man for it and if you wanted to win her back you'd go to Feargal Logan."
Ruairi Mullan said that he was reading an interview with Aaron Kernan where the Armagh man said that Dooher could start a fight and Logan would break it up when his own mind wandered to how that could expand to matters of love.
The 2015 Tyrone U21 All-Ireland winner got to know both men very well as the Red Hand county defeated Tipperary in a tempestuous final at Parnell Park six years ago.
A good-cop, bad-cop routine worked wonders for a squad captained by now Player of the Year contender Kieran McGeary, and for the Cookstown defender, seeing them manage on the biggest stage in Gaelic football was a matter of when, not if.
"It's the only way they were heading, they were always going to go to the top," said Mullan.
Back in 2015, Logan was the manager of the U21 team, with Dooher acting as his right-hand man. That's the way it was supposed to be at senior level too, but the first curveball of their reign arrived on the very night of their ratification last November as they were instead revealed as a joint-manager ticket instead of the expected one-two combo.
The drama hasn't really stopped since. From an embarrassing six-goal National League hammering in Killarney, vaccination rows and an extra-time semi-final upset against Kerry, the first year of the post-Mickey Harte era could end on an incredible high if they defeat Mayo at Croke Park on Saturday.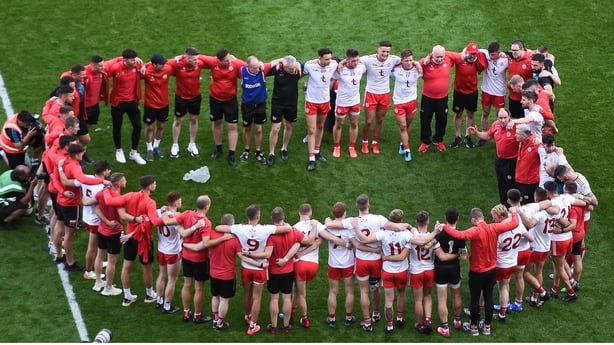 In many ways, that All-Ireland U21 title was the audition and Logan needed to perform to his best as his first year in charge in 2014 had ended with Tyrone dumped out easily by Cavan in the quarter-final on a 1-11 to 0-06 scoreline. Tyrone sides at underage level don't lose too often these days and when they do, it's very rarely that emphatic.
Underage football usually presents the cleanest of new starts though given the large turnover levels and Mullan spoke passionately about the impact Logan had on him the following season.
"His player welfare alone was second to none," he said. "Anything the boys needed he sorted. In the lead-up to games he'd phone you and say 'do you need anything sorted? If you need off work I'll sort that for you' and X, Y and Z.
"His insight into other teams was phenomenal. He had three or four boys working behind the scenes that not only did we not meet, but we didn't even know they existed. He always had plenty of contacts.
"Most importantly he is such a great fella and I think that's what Tyrone will be bouncing off. They know the man in charge is a decent man.
"He treated number one to number 30 exactly the same and I think that's why we were so successful. The boys coming off the bench felt as important, if not more important, than the boys who started. I know that's a cliché, but that's the way he made the thing run."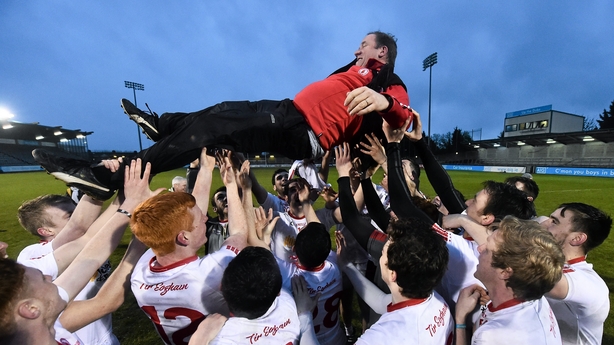 Logan's U21 teams of 2014 and '15 form the basis of the side that will take to the field for Saturday's clash.
From the team that started in the heavy loss to Cavan seven years ago, Kieran McGeary, Conor McKenna, Frank Burns, Darren McCurry, Conor Meyler and Mark Bradley all featured in last month's All-Ireland semi-final win over Kerry. Rory Brennan would have almost certainly would have too only he was unavailable.
A number of those were involved in the 2015 success while Padraig Hampsey and Cathal McShane also emerged from that victorious squad. Many others have dipped in an out of the panel in the intervening years.
Mullan said that Logan's priority was split evenly between winning at underage and ensuring that players were given the best chance possible to reach the senior squad.
"He wanted to bring the lads through, he didn't look at the U21 side and say 'right, we have four clinkers here.' He wanted to open the net out as much as possible.
"He would have been meeting Mickey Harte up when we were training at Garvaghey and he would have been lending him different players for training sessions or whatever. He saw that as a way to get them noticed by senior management.
"He wanted to get as many players as possible onto Mickey's radar. His heart lay in the objective of progressing everyone, not just the three or four top players."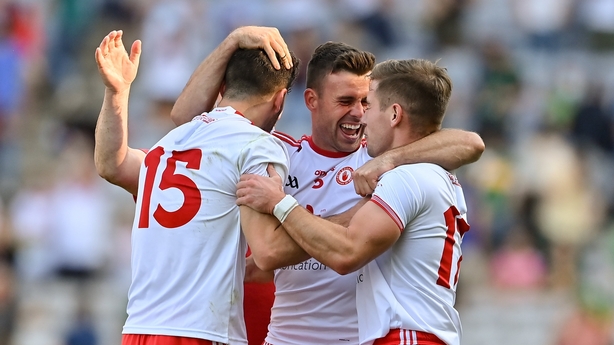 "We set out at the start of the year to hopefully win the All-Ireland. We kept it to ourselves. That was always the aim and the boys delivered. Talent can only get you so far."
The words of Brian Dooher after the Red Hands defeated Tipperary in that U21 final in 2015. If they can bring Sam to the streets of Omagh, Dungannon and Cookstown for a fourth time next week then you could expect an almost identical proclamation to escape his lips.
The two-time All-Ireland captain has been the yin to Logan's yang – or perhaps the other way around given that the latter is the louder element of the ancient Chinese philosophy.
"Feargal wouldn't have lost the head but he would have put something nice to you with a bit of punch," Mullan continued. "It would have been the wee man, Dooher, who would have gone off the rocker the odd time.
"Brian would be more old school, a get to the point sort of thing. He didn't like wasting too much time on the mediocre. Brian was always going hard on the winning and it was a nice mix between the two of them.
"Aaron Kernan's quote put it in black and white about the character of the two men."
Different characters they may be, but the respect Mullan has for both men is equal, and he recalled one example of Dooher's selflessness shining through.
Before the 2015 U21 final, Tyrone were booked in for a warm-up session at Parnell Park but Mullan and teammate Dan McNulty were struggling to make the bus due to work commitments.
Mullan was stressing out about missing what was an important moment when Dooher said he'd skip the bus trip and drive the pair to Dublin later in the evening.
"He said he'd hang back and take us down and different things like that really stood out for me.
"He took me and big Dan down and we had a great couple of hours hearing stories of his time with Tyrone and the training and the big matches. He was giving you an insight in what was needed to be a senior player for Tyrone.
"It opened a side of him that you wouldn't always have seen. He'd be a hard man to read if you didn't know him, across the media and stuff, but behind it all he is really good craic.
"He took a lock of beer with us after we won the final. Not until then though, he didn't let his guard down until the job was done."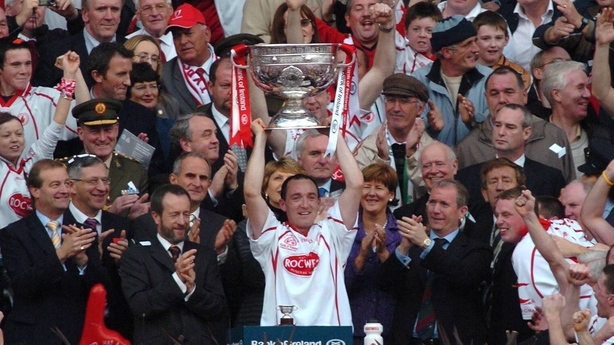 Feargal Logan never won an All-Ireland title as a Tyrone player, but an intervention in 2005 went a long way to allowing his sidekick Brian Dooher to climb the steps of the Hogan Stand and lift the Sam Maguire as Red Hand captain.
The Stewartstown solicitor has had his fingerprints all over a number of the GAA's biggest disciplinary issues over the last 20 years. He has argued vehemently in front of committees for players, clubs and counties to be dealt with as the official rulebook dictates.
One of the most high-profile cases involved Tyrone defender Ryan McMenamin, who had been handed a four-week suspension arising from the nasty 2005 Ulster final replay loss to Armagh.
McMenamin was awarded a yellow card during the game but video evidence was used by the GAA's Central Disciplinary Committee to upgrade his offence. Logan successfully argued to the Disputes Resolution Authority that they had no jurisdiction to do so and while the Dromore man missed a qualifier against Monaghan, he was back in situ for the All-Ireland quarter-final with Dublin.
We need your consent to load this YouTube contentWe use YouTube to manage extra content that can set cookies on your device and collect data about your activity. Please review their details and accept them to load the content.Manage Preferences
There he delivered a wonderful performance and given that the match ended all square, his absence may have been fatal in a game of such fine margins. Mickey Harte's side won the replay, gained revenge against Armagh in the semi-final and defeated Kerry in the final to secure their second All-Ireland title with Dooher having the honour of raising the famous trophy.
While their playing careers overlapped, the outcomes were very different. Logan never got his hands on that Celtic Cross despite playing midfield in the 1995 final against Dublin. Dooher ended up with three in his pocket.
For former Red Hand goalkeeper Finbar McConnell, who played with both, that mix of ecstasy and agony will give the Red Hands a real advantage against Mayo.
"Feargal experiencing the bad times of 1995 can only be a massive thing to have in that changing room," said the Newtownstewart man.
"You have Brian coming with his success but Feargal brings massive experience of the downside of losing, the disappointment. Brian brings the glamour and glory so they're not going to want for anything in terms of preparation."
Like Mullan before him, McConnell paints a picture of two very different characters, but two determined individuals that both demand respect.
"Feargal was always best in class," McConnell said. "He always turned up on time, well presented and gave nothing but 100%.
"He knew nothing else and didn't do it any other way. That was just Feargal, he is an absolute gentleman. He wouldn't be too late in walking into you in the tackle but would arrive to help you dust yourself down.
"The role is cut out for them, the sort of good cop, bad cop scenario, although I'm not sure Feargal would want me saying that because I'm sure he can scowl plenty when he wants to.
"They're a great team, a great combination. They were great fellas to be around because of what they gave. There was no time for time wasters when they were about.
"Feargal might put a point across a bit more politically correct than Brian would. Feargal will explain it and put it a simpler way, Brian will tell you once and you'll understand it because there'll be enough swearing and blinding to make you listen."
McConnell, whose Tyrone career spanned three decades, said that the demeanour of the pair inside the dressing room spoke volumes of their drive to succeed, even if only Dooher managed to reach the promised land in his playing days.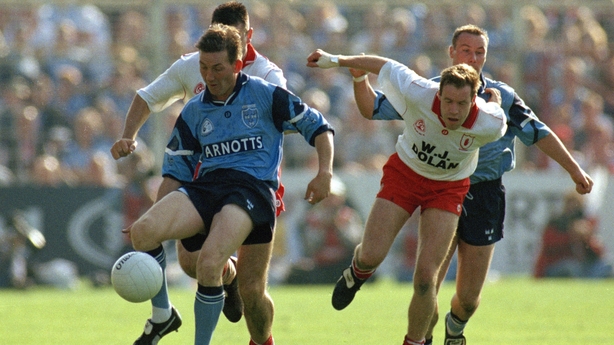 "Brian pushed everything to the limit. He maybe wasn't the most rounded player, but by God he played until every sinew in his body was drained.
"If his best wasn't good enough then it wasn't because of his ability or for trying, it was just because it didn't happen on the day because every day Brian Dooher pulled a jersey on he knew nothing only that max performance.
"There was no such thing as a friendly or a training session with Brian Dooher, everything was 100%.
"Brian spoke when he had to speak. He wasn't one of these yaps who speaks and is forgotten about when they do speak. It was very seldom when Brian spoke but when he did there was a reason. You respected that very heavily because he only spoke when there was a glaring problem. A spade was a spade with Brian.
"Feargal in the changing room, he didn't know anything but 100% either. He presented himself with pure dignity and class and played like that too.
"Feargal would have put his point across when he needed to but he was a very calm head when there was a lot of messing going on.
"You have a lot of big personalities in changing rooms and you have big club rivalries too, so it takes big personalities, and we're blessed with two of them at the minute, to make sure those things are left at the door."
Joint-management tickets are rare in Gaelic football, at county level anyway, but 26 years on from Art McRory and Eugene McKenna managing Tyrone to the 1995 All-Ireland final, Logan and Dooher are hoping to go one step further.
And if they do, that curveball at their unveiling last November will go down as a real stroke of genius.
Follow Saturday's All-Ireland senior football final with our live blog on RTÉ.ie/sport and the RTÉ News app.
Watch Mayo v Tyrone live on RTÉ2 or RTÉ Player from 3.30pm.
Watch highlights of all the weekend's football action on The Saturday Game at 10pm on RTÉ2.
Listen to live and exclusive national radio commentary on RTÉ Radio 1's Saturday Sport.