Ben McDonnell took one for the team right at the death, his black card helping Tyrone to hold out for a narrow win over Kerry in the All-Ireland semi-final.
It was a price worth paying, desperate Kingdom efforts to rescue the game thwarted by Red Hand resilience.
McDonnell, one of a host of second half subs sent in to freshen the challenge, is ready to play his part once again, but feels intensity levels will need to rise further against Mayo in Saturday's decider.
"You see what Mayo is like in Championship football.
"They're one of the most impressive Championship sides that you'll see," he said. "They'll see this as their big opportunity."
Midfielder Ben McDonnell understands the mentality of a Mayo team that will never give up until the prize is theirs.
Year after year, they bounce back from heart-breaking defeats, and here they are again, back in another All-Ireland final just a year after their latest failed attempt to get over a line that for them has proven an insurmountable barrier.
McDonnell has played against and alongside those western warriors who have a stomach for the battle that no other gaelic football team has ever matched.
"They're unbelievable competitors in the way they never give up. We know what the Mayo players are like and how they'll go after this," he said.
"I have played with Paddy Durkan in college football, he played with Jordanstown for a year.
"Seeing him up close, he's a real good operator, he's very impressive. But it's where we want to be, playing against Mayo."
Tyrone's extra-time victory over Kerry was verging on miraculous, given the severity of the Covid-19 cases that swept through the camp in the weeks leading up to the semi-final.
With another fortnight to restore the squad to full health and fitness, the Ulster champions will be primed and ready.
"We'll get the bodies ready and get everybody back and get it right. That's where you want to be, there on All-Ireland final day, and we'll be ready for it."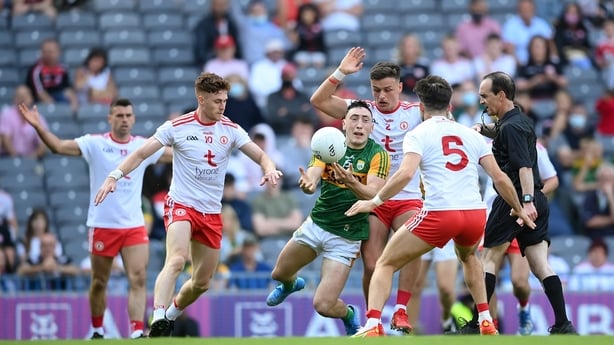 Tyrone came close to being forced to withdraw from the All-Ireland series, and will not forget the understanding shown to them by the GAA and by Kerry in accommodating not one but two postponements of the game.
"We're just grateful that we got the two weeks, and got boys recovered. We had a bad situation there so it was great to get that."
McDonnell was thrown into the eye of the storm that was the chaotic closing stages of normal time, coming on as a sub against Kerry to help steer his side to victory. It was Tyrone's effective replacements that played a huge role in sealing a massive result.
"It was big for me to get on in that game. To play Championship football in Croke Park is a dream, and it was an unbelievable feeling to get that run towards the end.
"Coming off the bench, it's hard to get up to speed, especially against a team like the Kerry boys.
"They're serious athletes, they're like machines. It's hard to get your second wind, and it was tough in that heat."
A first win over one of the so-called 'big three' signalled a breakthrough for this Tyrone team, but they'll have to follow it up with another.
"It was a big scalp for us, because we have been getting a lot of stick over the years for not taking these big scalps on the big day when it matters, the likes of Dublin, Kerry and Mayo.
"It's a big one for us just to mentally get over that line.
"Everyone wrote us off and didn't give us a chance, but just listening to the boys and the management, nothing is a lost cause."
Massive levels of intensity went into that extra-time triumph over the Kingdom, and they'll need more of the same against a Mayo side that operates with a similar high octane approach.
"The work that these boys have put in, and the legs that they have, the likes of Conor Meyler, I'd say his GPS was through the roof.
"I had full faith in those boys, and we had fresh legs coming on, the likes of Liam Rafferty and Darragh Canavan, it was amazing.
"I had full confidence, full faith in them, and when you looked at the Kerry team David Clifford was away off injured, and David Moran off as well.
"Some of their best players were away, so we knew that we could do it."
Follow Sunday's All-Ireland camogie final with our live blog on RTÉ.ie/sport and the RTÉ News app.
Watch Galway v Cork live on RTÉ2 or RTÉ Player from 4pm.
Live coverage of the intermediate final between Antrim and Kilkenny starts at 2pm, while the premier junior final between Wexford and Armagh is live from 11:45.
Watch highlights of all the weekend's action on The Sunday Game at 9.30pm on RTÉ2.
Listen to live and exclusive national radio commentary on RTÉ Radio 1's Sunday Sport.