Meath's Vikki Wall highlighted an unshakable belief within the Meath camp as the side belied their underdog tag to claim a maiden TG4 All-Ireland senior title on Sunday.
In what was a fantastic encounter at Croke Park, the Royals stopped the five-in-a-row chasing Dubs from making their own history, winning in the end by 1-11 to 0-12 to add the senior crown to the intermediate title won last December.
Wall, who was named player of the match in this year's showpiece decider, spoke to RTÉ's Game On about what inspired Meath in the days leading up to the final.
"Our belief was always there, people were saying we had a bit of luck along the way but that drove us on during the week," she said.
"We felt it was a bit of an injustice to us for all the hard work we had put in.
"Everyone who needed to stand up against Dublin at a particular moment did. That's what stood to us. People weren't expecting us to deliver. We knew we could."
And they did in style. A world away from where the Meath side were at not so long ago. 2015 saw a 40-point defeat to Cork in the championship. Wall was just starting out on her inter-county career back then.
"When you reflect on it they were horrendous days. It was week-in, week-out, travelling the country and losing games. Going back down to intermediate was the best thing. That built confidence in the group and brought people back together, people who had dropped off the panel."
The Dunboyne star also highlighted another factor which helped the new champions in 2021.
"We didn't want fitness to be a factor in us not winning the game," she added.
"We talked about the controllables and the uncontrollables and that was something we could control.
"Our fitness is something we've been building on in the last few years."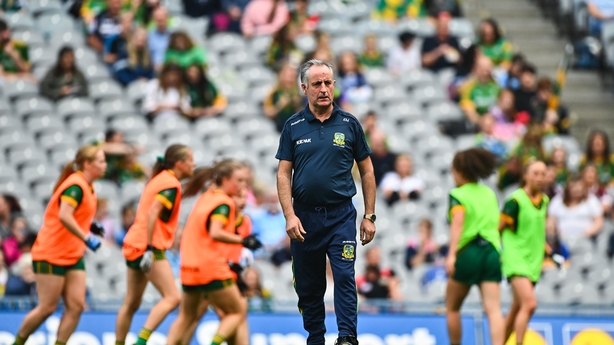 Paying tribute to manager Eamonn Murray, Wall commented: "To all of us he is like a second dad.
"He is the buzz of the camp, the best craic. If you are having a terrible day when you go to training there is no better man to put a smile on your face, have the craic and rip it into you. He's an unbelievable human being. Football was an escape for him with Emer, his daughter, going through cancer in the last year. It was a really tough time for the family.
"The recognition he's now getting is really deserved. He's been involved in Meath football for the last 20 years."