Sarah Dervan acknowledges there are pluses and minuses to growing older in camogie.
On Sunday, all things going well, she will play in her eighth All-Ireland final when Galway take on Cork at Croke Park.
She was involved in 2008 "as a child", as she herself jokes, but would have started finals in 2010, 2013, 2015, 2019 and last year, while she also came on as a sub in 2011.
And while most players will speak of taking that sort of experience and using it to deliver on the big days, Dervan points out that it's not as straight forward as that.
"I think you get more nervous as years go by," she says.
"When you're young, I suppose you don't put any pressure on yourself, you just go out and you hurl. But then the years go on and you get older and you become harder on yourself.
"You start looking for areas to improve. It is hard, and I suppose out of all those finals we only won two.
"Look, it's brilliant to get back to an All-Ireland final, especially after last year. I'm very lucky that this is my eighth All-Ireland final, but we won two and lost five."
'We recovered well from the Kilkenny goal'

Paudie Murray was proud of his players after reaching the All-Ireland final

Updates: https://t.co/ooDbVP9oN5 #RTEGAA pic.twitter.com/aDSyTDmUIw

— The Sunday Game (@TheSundayGame) August 29, 2021
The standout years for the Mullagh clubwoman are 2013 and 2019 as the O'Duffy Cup spent those winters in the city of the Tribes, but the defeats column has more entries than the victories one.
Indeed Cork manager Paudie Murray was quick to point to Galway's final record, wasting no time in starting the mind games after the Rebels' own semi-final win over Kilkenny.
"This place [Croke Park] has been really good for this team, we lose very few games here," Murray told RTÉ Sport.
He continued, "probably not so much with Galway - they've lost two finals here [in the last 12 month]."
Dervan won't need reminding that they lost last year's All-Ireland final to Kilkenny, before losing the Littlewoods Ireland Camogie League Division 1 final to the same opposition in June.
So it might be a welcome break to be heading for a big game without having to face the black and amber?
"Cork are going to pose just as big a threat," she responds with a smile.
"It's all about looking forward to it, these days don't come around too often, and enjoying every minute of the build-up. When Sunday comes we're going to try and hurl to the best of our ability.
"You have to get to a stage where you have to park these things. The hardest thing was watching the match back afterwards.
"When matches like that are close and they come down to the wire, like last year's All-Ireland, it was the 53rd or 54th minute it came down to, and it was a penalty. You question yourself on every mistake and every ball you hit afterwards.
"It's hard then but you just pick yourself up, you go again, and at least you have the girls around you and we're all in the same boat and you just try and drive on for another year."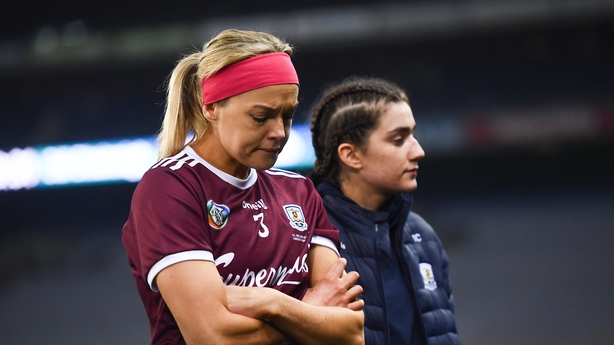 Asked about the motivation to keep going to the well Dervan is quick to point out that there aren't many people who get to play in an All-Ireland final.
"I just absolutely love the sport, I love the game," she adds.
"I get a huge enjoyment out of it and it gives me a purpose, just something that I absolutely love. It doesn't feel like a commitment for me, because I wouldn't have it any other way.
"It's what I want to do and I'll play for as long as I can."
Many members of this Galway squad have already written the most successful chapter into the county's camogie history book.
The Tribeswomen have three All-Irelands, with two of those coming in the last decade.
Their first arrived back in 1996 and when Dervan speaks of her love of the game, it's clear to see where those seeds were sewn.
"Back in 1996 it was a huge day. My own club woman, Imelda Hobbins, was captain that day. I'd never been in Croke Park before so the enjoyment of that; we got a bus up.
"Sure it was mad, a heap of young ones on the bus all the way to Croke Park! I really enjoyed the day together, then getting out to Croke Park and meeting the players. Absolutely it was definitely something in my memory, that I always referred back to, why I want to play camogie.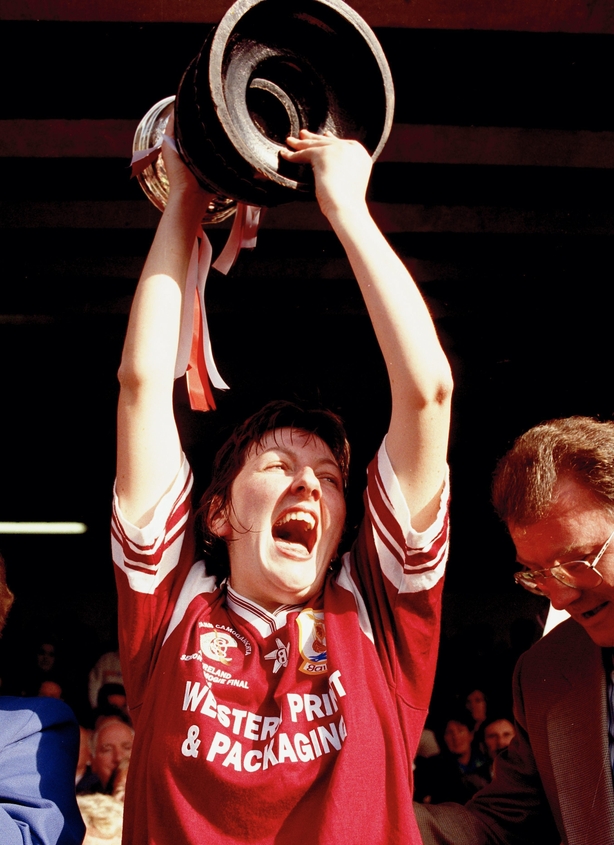 "And it definitely pushed me on, and I'm lucky enough that my family are huge into hurling and camogie, and my brothers gave me no option but to play hurling. But yeah, days like that always stick in my memory and I'd encourage everyone to bring their kids to Croke Park, especially on All-Ireland final days.
"It's where they get to experience that anything is possible when you're that age. If they work hard and practice their skills, that that could be them one day."
And while the team of 1996 inspired the current crop of Galway stars, Dervan is hopeful that they can put last year's disappointment behind and drive on to a second title in three years on Sunday.
"Every year is different, so you can't really look into it too much. Every team is different as the years go by, so you just go out and try and hurl as free as you can, and hopefully on the day it goes well for you.
"It's a new game, it's a new year, and we know what's ahead of us and Cork are a brilliant, brilliant team, so we have to be at our best to be competing."
Follow Sunday's All-Ireland camogie final with our live blog on RTÉ.ie/sport and the RTÉ News app.
Watch Galway v Cork live on RTÉ2 or RTÉ Player from 4pm.
Live coverage of the intermediate final between Antrim and Kilkenny starts at 2pm, while the premier junior final between Wexford and Armagh is live from 11:45.
Watch highlights of all the weekend's action on The Sunday Game at 9.30pm on RTÉ2.
Listen to live and exclusive national radio commentary on RTÉ Radio 1's Sunday Sport.