GAA president Larry McCarthy says a lack of "expertise" was the reason the association decided against increasing the capacity for the upcoming All-Ireland football final.
At the moment 41,150 supporters will be allowed into the stadium to watch the game between Tyrone and Mayo, with no requirement for a vaccine passport for entry.
From 6 September the government is allowing attendances of 75% venue capacity at outdoor events for those who are fully jabbed, and this had given hope to supporters of both counties that just over 61,000 people might be let through the gates on 11 September.
Croke Park yesterday confirmed that there will be an additional 1,150 tickets only for the clash on Saturday week at the Jones' Road venue.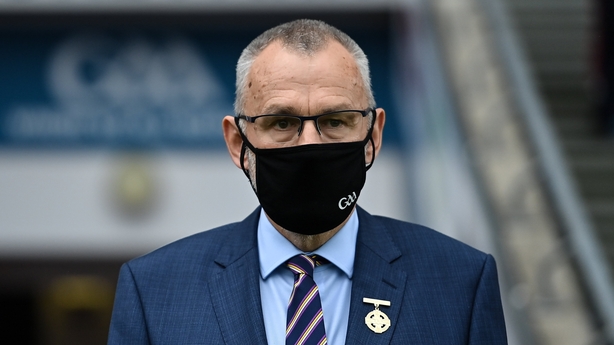 Speaking on RTÉ's Morning Ireland, McCarthy explained the reason why the GAA opted against allowing more to attend the showpiece fixture.
"It was a logistical issue - we have not trialled being able to check vaccine passports or vaccine documentation," he began.
"So it was too onerous to get 60,000 into Croke Park in a condensed time. We didn't think we had the expertise to do it so we decided we would stick with the current amount.
"You're not only checking a vaccine passport but you're checking a photo ID and you're checking a ticket. That could take up to three minutes. If we were super competent at it we might be able to reduce that but the time frame was much too onerous for us to get it done efficiently.
"All tickets have been allocated at this stage, and about 50% had been allocated by the time we got word from the government that there was a possibility of going to 61,000.
"We would have liked to do it, no doubt. But we decided with all caution that we should stay with the current figure."
Pressed on whether having to check vaccine passports for the players and management teams involved might have been a problem McCarthy replied, "no, not really."
It's 70 years since Mayo last lifted the Sam Maguire, while for Tyrone the gap goes back to 2008. Between them, the pair have won just six of the 133 All-Ireland football championships that have been played, so excitement in both counties is naturally high.
McCarthy acknowledged that the finalists were receiving a smaller allocation of tickets than in previous years but added that the GAA is doing their best in an unusual time in its history.
"In 2019 each county participating in the final got 13,500 tickets. This year Mayo and Tyrone are getting 11,450. They're getting much more stand tickets this time because we're not using the terraces.
"The cuts have come for the non-participating counties."
Elsewhere the LGFA have confirmed that ticket sales are heading for 30,000 ahead of Sunday's All-Ireland football finals day at Croke Park.
The capacity for the game is set at 40,000.
Dublin are set to face Meath in the decider in a first all-Leinster senior All-Ireland final in any of Gaelic games' codes since the 2000 hurling final.
Before that, Wexford will play Westmeath in the intermediate final in another all-Leinster clash while Antrim and Wicklow are set to meet in the junior final.