Meath captain Shauna Ennis has her hands full this week.
On Sunday there's the small matter of an All-Ireland senior football against five-in-a-row-chasing Dublin.
First though, it's time for school. Ennis is a teacher in Kilcloon NS and was speaking to the media on her lunch break, as excited children acclimatised to the playground again on their return from the summer holidays.
"The kids are so into it," Ennis laughed.
"The whole place is decked out in green and gold bunting now so it's really nice. It was my first morning with the kids today and loads of them were telling me, 'we have tickets to the match and we're all going to see you!'.
"It is definitely a nice distraction as well. It keep me on my toes. They're busy bees now. Initially we thought the break [leading in to the final] would maybe feel long but the time has absolutely flown."
It's been some journey for the Royal County over the last few years. Beaten All-Ireland intermediate finalists in 2018 and '19, they got over the line last year before kicking on to win the Division 2 league title in June.
They are a coming side, but nobody predicted they'd make the All-Ireland senior final this year - not least because they looked absolutely dead and buried in the closing stages of the semi-final against Cork.
Meath trailed by 2-08 to 0-07 with less than five minutes to go before a brace of goals in the final minute forced extra-time, with Eamonn Murray's team kicking on to see out a remarkable win.
A huge decider now looms against a dauntingly good Dublin outfit.
"You can't deny they are obviously a fantastic side and so consistent," Ennis added.
"Their level of consistency is something that we'd love to have ourselves. From our point of view we wont change too much.
"We'll make a few tweaks here and there to suit the way they play but we're focused on our own game and our own style of play. We don't want to alter that too much."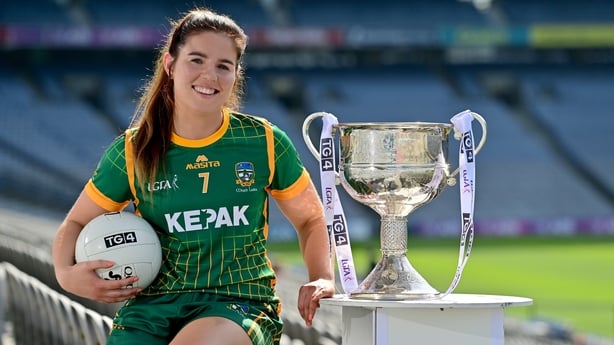 Still, they will go there with nothing to lose and no sense of great fear.
"We wouldn't go up there if we didn't believe that we were contenders," she says.
"We know what it's like to lose in Croke Park on an All-Ireland final day. We really don't want to have that feeling again. We're just looking for a really good performance on the day.
"I was speaking to someone yesterday and they were sort of rhyming off all our achievements over the last 12 months. To be honest we haven't had a minute to stop and take note of them.
"That's probably good that we haven't. Maybe when the season is over we'll get a chance to really appreciate what we've done. We're still looking for that happy ending though. We want to reach the pinnacle, we want to reach the top."
---
Murray hoping underdogs can bite against Dublin
---
Much has been made of Meath's youthful energy but there's a good crop of experienced players laced through the panel as well, most of whom were there when the Royals last played Dublin back in 2016.
They have endured enough bad days to know Sunday's showpiece is one to really savour - with friends, family, fans - and pupils - all raring to attend HQ for the big occasion.
"I think a lot of people think our team is very young but if you look at the age profile we have a nice mix of ages," stressed Ennis.
"The younger girls who have come on the last year or two have really helped us. It's given us a new lease of life.
"We were in Croke Park for the Division 2 final in June and we've been in intermediate finals the last few years. I know a senior final is a huge step up and it's going to be strange because we're going to have a huge crowd, which we haven't had in a couple of years.
"That in itself will be different but I don't think going to Croke Park to play on Sunday is going to faze us too much."
Follow the All-Ireland Ladies Football final between Dublin and Meath (4.15pm, Sunday) via our live blog on rte.ie/sport or listen live on RTÉ Radio 1's Sunday Sport. Highlights on The Sunday Game, RTÉ2 and RTÉ Player from 9.30pm.