After the performance of a generation that their team produced on Saturday, Tyrone people will probably care little about the statistical analysis of what must have been a hugely emotional journey for anyone invested in the game. However, it is rare that we can point to one clear numerical marker that represents the key dynamic of the game.
Tyrone's template for winning this game was clear in the opening quarter. The Ulster champions led by five points to four at the first water break but the most important thing to understand was the source of their scores. All five points came from Kerry turnovers.
Over the course of the game, 65% of Tyrone's scores would come from turnovers they forced out of Kerry. In particular, the Kingdom's hesitancy and aimlessness in the forward line would ultimately be the foundation off which Tyrone built their superb victory.
Even without the stat that represents the number of turnovers transferred directly into scores, the controlled aggression and drive displayed by everyone in white explains the result just as well.
Kerry's Preparation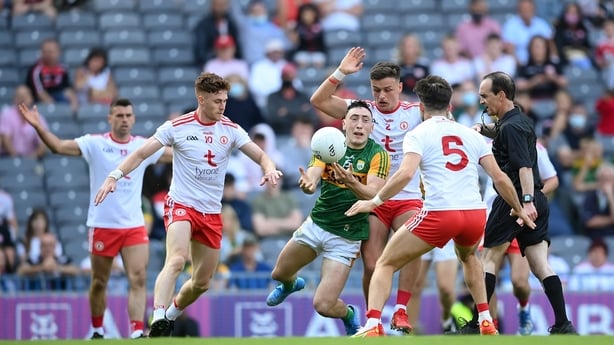 All Tyrone could do in advance of this All-Ireland semi-final was bring the best version of themselves and they held up their end of the bargain. Tyrone's best foot forward was certainly going to include two copper fastened strengths that they would build everything else around.
Firstly, they would make their own defensive third a warzone of covered space and maximum permissible contact to suck as much oxygen as possible out of Kerry's attacking play. Secondly, they would run hard on counter attack and every man would contribute in that regard. There were other facets to their play of course but both of those were fundamental and guaranteed.
It is incredible then that Kerry seemed entirely unprepared for the storm that was coming.
The Kingdom seem shocked at how little time they had on the ball and showed no understanding of having to play around the Tyrone tacklers without taking contact. They also showed little desire to make the 100-yard tracking runs that were needed to take Tyrone's main source of scores away.
It is impossible to create championship intensity in training against the bottom half of any panel but if Kerry played any practice games without double sweepers to get in the way or if the first team played against any less than 18 men then they had no concept of how to get ready.
Short Sighted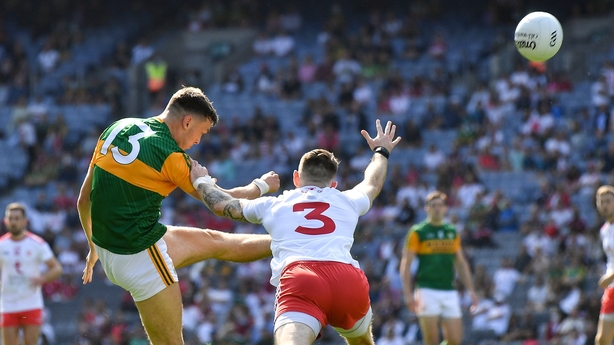 In the sixth minute, Gavin White led the Kerry charge from defence after collecting a short kick-out just outside his own D. White would carry the ball maybe 80 yards and beyond Tyrone's '45 before meeting traffic and offloading. David Clifford collected White's pass and shifted it ten yards wider to Stephen O'Brien in one movement.
O'Brien moves onto the ball 35 yards from goal, steadies and kicks almost in slow motion into Frank Burns' half block. Twenty-five seconds later Mattie Donnelly takes an offensive mark that ties the game up. That passage of play sums up all that was wrong with Kerry's approach to this game and lays out Tyrone's strategy in simple terms.
Tyrone did not want the Munster champions getting fast, early ball into their forward line so they made sure short was Kerry's simplest kick out option. They chose that easy out all through and Tyrone went about setting up their defensive structure in the background. Kerry kicked two long kick-outs across the span of the game and scored a point from them – a 50% return. They retained every single kick-out they took but the 23 short kick-outs created only four points – a 17% percent return.
Safe Possession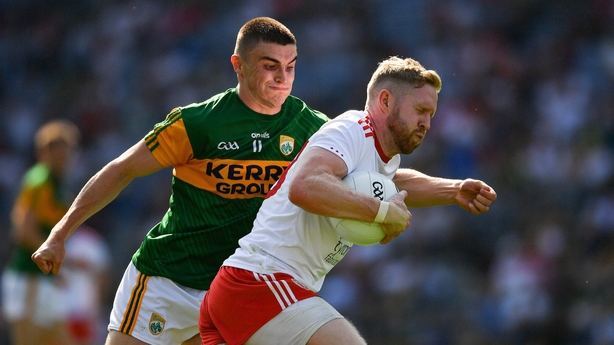 As quick as Gavin White is – or any of their defenders are – while he carries the ball from back to front, Tyrone were transitioning from their kick-out match ups to close the space behind and free Frank Burns up to cover. This is one of the simplest and cleanest strategies to create cover and take away space for opposition forwards to operate in. Kerry gave Tyrone ample time throughout to get that done.
Kerry persisted with carrying the ball out of defence and through the middle third for the duration and so the template of slow ball and limited space for Clifford, Geaney and O'Shea largely remained for the whole game.
When you reflect on the full game, it is puzzling that Kerry were manipulated into not looking to their longer kick-out options. They ignored the aerial advantage they have and – most importantly – the dangerous attacking platform it could give them to instead accept "safe" possession.
Poisoned Chalice
Tyrone's organisation, skill and their ravenous intent was too much for Kerry, says Kevin McStay #rtegaa #thesundaygame pic.twitter.com/XzfQiIECyl

— The Sunday Game (@TheSundayGame) August 29, 2021
Tactically, all did not necessarily have to be lost because Kerry drank so deeply from the poisoned chalice of short restarts. They still had the capacity to vary how they go about creating opportunities and opening up the Tyrone defence. They could still have kicked the ball from the back to generate momentum and complicate how Tyrone got set up, but rarely did.
Instead, the list of green jerseys eager to get their pound of flesh carrying the ball through the middle third grew and the attack entry remained the same. Largely, Kerry's front three received a short pass in front as they raced away from goal under pressure and the best they could do with that possession was recycle it.
The lack of space meant there was none of the lateral movement we have come to expect and none of the pin point kick pass accuracy we know they are capable of. Frank Burns produced possibly his finest performance in that cover role to ensure every thing Kerry did was pressurised.
No Plan B
A major factor in the outcome of this contest was the preparation and performance of the Kerry attack. Once the early ball was taken from their arsenal there really appeared to be no plan around how to manufacture scoring opportunities off slow ball.
Kerry butcher great goal opportunity and get blown for a square ball. Will it cost them?
Watch highlights on @rte2 from 9.30pm tomorrow#rtegaa #kervtyr
📱 Live updates - https://t.co/bxTbTaSPxr
📺 Watch Live - https://t.co/b0RdAkKFVt pic.twitter.com/CyCT6DRrIt

— The Sunday Game (@TheSundayGame) August 28, 2021
The plan for those scenarios seemed to be just to hold the ball and wait for someone to create something in all that traffic. There was no width to stretch Tyrone's cover or provide pockets of space that might allow a one v one scenario.
Therefore, Kerry's plan B was simply to hope that David Clifford or Sean O'Shea could conjure something up to buy a shooting opportunity. Clifford didn't shirk that challenge but when he ran out of legs, so too did Kerry's ideas.
Constantly the Munster champions held the ball a fraction too long in attack. That split second or extra steps costs the next recipient decision making and execution time and as phases of play develop, the Tyrone walls were closing closer and closer to Kerry's ball carriers.
Creative Deficit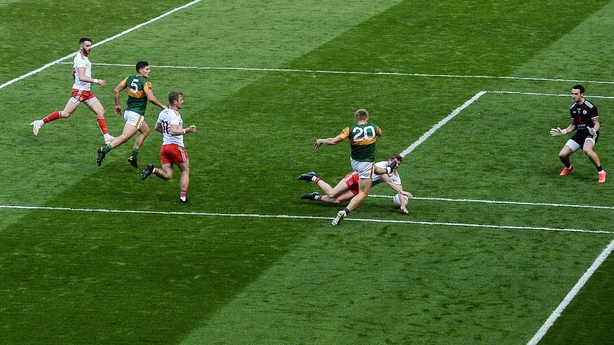 As a priority in each attack, Tyrone made sure that both Cliffords, O'Shea and Geaney were wrapped up tight with cover in front. That meant that the playmaking fell to Gavin White, who carried ball forward constantly, Stephen O'Brien and Dara Moynihan. All three were given space on the ball outside the scoring zone but frequently wasted it.
The trick Peter Keane missed here was to withdraw Sean O'Shea to a deeper role where he could use the space in the middle third to engineer room from Padraig Hampsey's clutches. That would also have put the final creative pass in the hands of the Kenmare man, which could have unlocked the vice like grip Tyrone had on the scoring zone.
O'Shea has been most effective for Kerry as a play-maker and moving him closer to goal earlier in the championship seemed like an unnecessary luxury. O'Shea's vision and range of passing was never needed more by Kerry than Saturday evening when he was largely restricted in trying to find shooting space under double tackling off poor service.
Self Destruction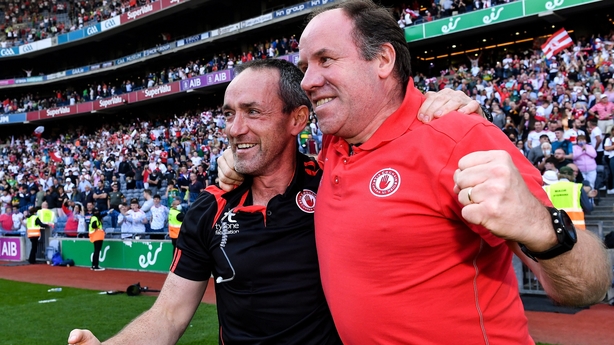 Ultimately, the strait jacket Tyrone wrapped O'Shea and both Cliffords in around the scoring zone was the decisive factor in the game. Burns' influence was significant in ensuring early ball wasn't getting to any of the major threats but the marking and tracking jobs produced by Meyler, Hampsey and McNamee were at times herculean.
The value of players who can produce the focused intensity required to minimise an attack with the quality of Kerry is immeasurable. Feargal Logan and Brian Dooher set out the perfect gameplan to give their players a fighting chance in this contest but the players had to find the decision-making, physical capacity and resilience to execute it.
The irony of the trap Tyrone had set for Kerry was that everyone knew what it would look like – including Kerry – but it could only be sprung if the Munster champions were willing to be complicit in their own capture. Kerry may have committed footballing 'hara kiri' in Croke Park but Tyrone produced every ounce of what they were capable of to create one of the great underdog performances.