Tyrone joint-managers Feargal Logan and Brian Dooher insisted it was a "minor miracle" their players produced the semi-final performance that they did and passionately defended the handling of their Covid-19 outbreak.
And Dooher, in particular, was exercised by the thrust of some of the questioning, vehemently rejecting any suggestion that Tyrone had sought to "pull a fast one" in advance of the game.
Arriving first in the press conference, Logan, the more talkative of the duo, insisted he'd endured a month of worry - and this hadn't abated at any stage of the match.
"I worried during the game. I worried we would run out of gas in the second half. I worried about extra-time. I've worried the whole week, I've worried the whole month.
"Listen, it's a minor miracle that those guys were fit to do what they did. If there is any impression that it wasn't men down low with Covid, blightness, then it's wrong.
"But, you can't coach character and resilience. In fairness to these guys, and everything that's gone before, they've built up a bank of fitness.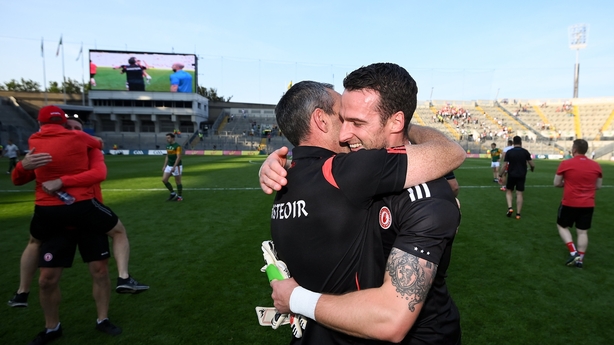 "These guys are serious operators. It would shock me, coming in from an era where we just weren't as physically tuned. I've worried for a month, I'm going to try and take a day out of worry maybe."
Dooher admitted he was almost baffled by the energy and resilience that was shown by a number of the players.
"We didn't know what way boys would go in the second half. We weren't sure would they stick it out. Some boys actually surprised us today. What they've been through, it doesn't add up...

"It's a credit to our coaches, Collie, Joey and Peter, who have the boys in good shape. And our medical team for getting the boys re-integrated gradually.
"They haven't been over-trained. We didn't until the start of the season. The team has been built up as it went along. They have something inside them there that you can't coach. They have this real resilience. This 'never say die' attitude. We're just glad they have it. You can do whatever you want on the field, but if you don't have that."
"We didn't know what way boys would go in the second half. We weren't sure would they stick it out. Some boys actually surprised us today. What they've been through, it doesn't add up..."
Tyrone find themselves in an All-Ireland final two weeks after they went so far as to risk ejection from the championship, issuing a statement saying they were unable to play the re-fixed semi-final six days later than planned. It had to be 13 days after or they couldn't play.
The following day, Kerry issued a statement saying they were willing to accommodate a second re-scheduling of the game, which may have been decisive in convincing Croke Park to accede to the request.
While some in the footballing community are now chortling about Tyrone's daring act of brinkmanship, Logan insists that things had gotten so bad within the camp, that they were genuinely prepared to face up to possible expulsion from the championship, if that was to happen.
"The week before the Ulster final, was a very, very choppy week. And then there was a night, maybe two, since then Ulster final, where you were thinking, 'is it worth trying to battle through this?'
"They said that we wouldn't, they said that we couldn't. I tell you what, we did"

Tyrone Man of the Match Kieran McGeary reacts to the All-Ireland semi-final win over Kerry @RTE2 @RTEplayer

Match report: https://t.co/DLhxxzmjfR #RTEGAA #KERvTYR pic.twitter.com/KqgdPLqYBc

— The Sunday Game (@TheSundayGame) August 28, 2021
"You're coming up to training, and everything was on its knees. The numbers were decimated.
"Then you're looking at your physios, your doctors, it's a big operation now, county football. And you're sort of thinking, is this fair to everybody? To keep bludgeoning through this?
"And then we had to take our position, which we were prepared to stand on, which was 'We'll leave it go. If we have to leave it go, we'll leave it go.'
"And, as I say, the fairness of the association, the community spirit, the backdrop of ill-health, and the fact that Kerry were decent to us kept us on our feet.
"And sometimes these things happen, I don't know. But that was quite a performance today on the back of all that."
Was there any hint of sheepishness at finding themselves in this position after the tumult of recent weeks? Logan says they did all they could, adding they abided by all the pandemic related training restrictions.
"What I can say is this. If we had trained during the lockdown period collectively, or if we had played fast and loose with the regulations and with the Covid situation, I would say listen... But I have to say, we did our utmost.
"The numbers where we live are significant. Of course you feel sheepish, of course you feel vulnerable, of course you feel weak in moments when ill-health strikes, whether in your own house or your own community.
"So of course we come here deeply respectful of everybody that kept us on the road.
"And we don't make that point lightly."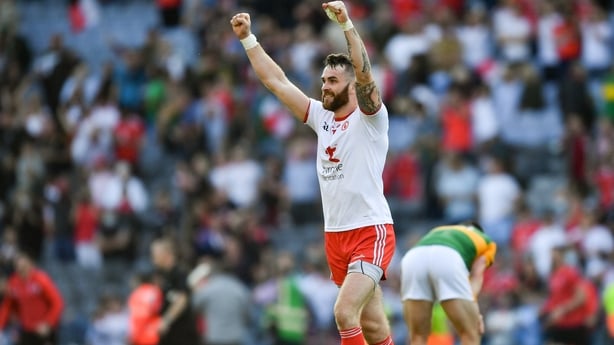 The question of vaccination was brought up, in the wake of Logan describing the issue as a "conundrum" in an interview with the Belfast Telegraph last week.
Logan began to answer, promising to "get to that some day with people who want to get to it" before Dooher interjected, the latter sensing that a narrative had hardened against Tyrone since the Covid outbreak.
"Can I say something to you? If this is coming out to attack us here, which it seems to be heading that direction, I'm not here to... We took a decision based on medical advice.
"We weren't fit to field. We were told that. I have a duty of care to them players next door to me.
"Was I going to put them out and something happened to them?
"I said 'no, I'm not'. I said I'll take the hit.
"And we were getting pilloried by our players for doing this. They weren't happy that I pulled their championship on them.
"I don't want to get into this now. But there's been a kind of a slant put on that we've tried to pull a fast one here. It was a factual thing based on the evidence.
"I don't want to get into this here but if that's the way this is going - which it seems to be listening to it - then I'm in the wrong place."