The four weeks since Tyrone followed Kerry into the All-Ireland semi-final may have been dominated by the spectre of Covid-19 but lost in the, at times, emotional crossfire has been the strategic battle that has been brewing on the pitch.
Kerry are a new footballing dynasty in the making but have two huge physical and psychological obstacles to overcome to take those next steps. Tyrone have the experience and pedigree to ask serious questions of the Munster champions but Kerry have built a gameplan that now emphasises all of their attacking quality and protects their vulnerabilities.
Tyrone will require the performance of a generation to generate enough interference to derail what looks like a Kerry march towards a final showdown with Mayo.
Kerry Loom Large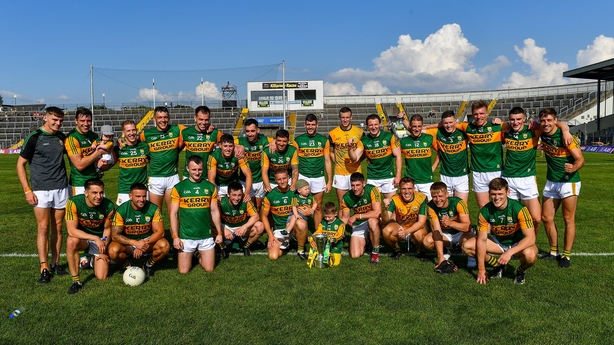 The spectre of Kerry has loomed large over this summer for everyone – even through denial for some. Anyone with title ambitions was going to have to be good enough to beat the Kingdom at some stage – even if the expectation was that it would end in a final showdown with the defending champions.
Given the nature of their self-harm in Páirc Uí Chaoimh last winter, it has become easy to doubt them and just keep pointing at Kerry's next challenge as the year progressed. Each league performance was placed in context ahead of the real looming threat of a Cork rematch come championship time, given they'd failed that test last year.
Once Clare were ruthlessly dispatched in the opening round of the provincial championship, then the Rebel showdown would tell us exactly where this Kerry team were at. There can be no doubts now that Kerry have the mental toughness to underpin their undoubted technical ability. Those who have been searching the rubble of opposition performances for hidden vulnerabilities can put the laptop down.
This Kerry team are now as good as the potential of their individual parts and have consistently demonstrated their creativity and power in possession. More importantly, their performances this season have been notable for a hunger to make every play in every game count and to scrap for every ball.
The passiveness of last year's surrender of the title ambitions must feature prominently in their individual preparation for each game since. That motivation keeps the prospect of complacency as far as possible from their door on any given day.
Preparation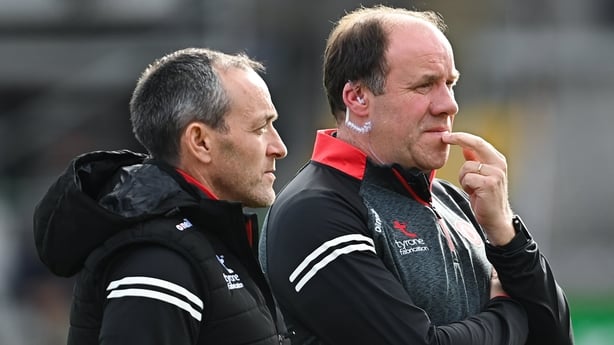 Tyrone's Covid journey has added a number of additional layers to the battle ahead – layers that can all affect the dynamic of the game. The most obvious question is what effect these issues have had physically on their preparation. We won't ever fully know the answer to that but by all informed accounts they've now had ten days of high-intensity preparation with virtually a full group.
Tapering to peak is a complicated cocktail of physical and mental stimuli but a download week on the end of a high-intensity season followed by a kick-start week might not be the worst physical lead in you could imagine.
Feargal Logan and Brian Dooher will be no strangers to a siege mentality and the carefully crafted campaign that achieved the fortnight delay will be used to galvanise the Tyrone squad. Certainly, there have been plenty of doubters chipping away at their motivations. Emotion is no solution to the type of task the Ulster champions will be facing but it is a fair weapon to use to gather momentum.
The other variable in all of this is how Peter Keane and Kerry have used their time in the five weeks since the Munster final. If they were smart, they will have immediately changed the pace for a couple of sessions once the second postponement was confirmed. A couple of games of basketball or anything with a different stimulus to freshen minds.
Pushing hard in a three-week "camp" to be ready for their biggest challenge of the year is a great focus but when that period of high intensity gets pushed out to four and then five weeks midway through it will start to pull at loose threads.
Beating Kerry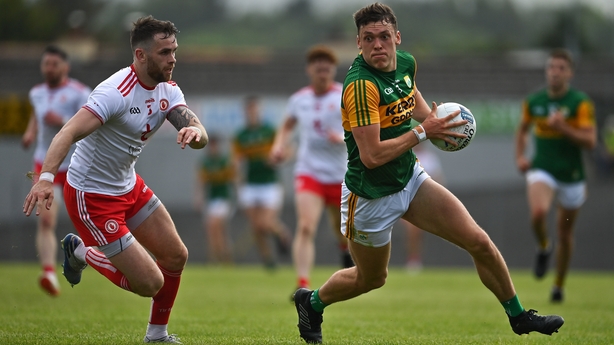 After all of that, Tyrone's task remains the same: Find a defensive and offensive formula that can both curtail Kerry's various threats and exploit the individual weaknesses that lurk in their defence. The first part of that task should have prompted a fairly stark conversation in Garvaghey. Tyrone don't have the man markers to roll the dice with this Kerry attacking unit – few do – so it will require a collective effort to minimise their time and space to create.
Although there may have been initial ambitions with the new management team to play with as little "cover" as possible, they have been very practical through league and championship to adjust to what each game required. Against Donegal there were periods where double sweepers were employed to hold Donegal's power running from the middle but against Monaghan in the Ulster final they largely went man for man and pressed heavily in the middle third.
The latter would be suicidal against Kerry and so we can anticipate a defensive structure which presses outside their 45 in front of Frank Burns protecting the space inside.
"The Munster champions will be prepared for all of Tyrone's threats but have the least natural solutions to early, direct ball"
Tyrone will be rightly ambitious about damaging Kerry at the back. The Ulster champions have an array of counter-attack runners that can hurt anyone. McGeary, Sludden, Harte, and Meyler are difficult to close down in loose play but that is the style Kerry have become accustomed to dealing with.
The 2021 league campaign began with a statement of intent from the new Tyrone management team: two ball winners inside and long diagonal balls regularly landed on top of them. If they have not been too infected by the statistical value of possession, a return to that core vision could offer the biggest headache to Kerry.
In Cathal McShane, Matttie Donnelly and Conor McKenna, Tyrone now have a flexibility in attack to keep any opponent off balance but the key will be variety. The Munster champions will be prepared for all of Tyrone's threats but have the least natural solutions to early, direct ball.
Kick Out Kings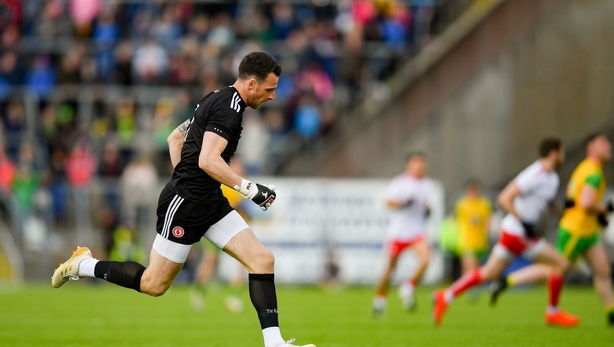 The final intrigue with this match-up is with the restart strategy from both ends. The return of Shane Ryan offers Kerry more stability but in Niall Morgan, Tyrone have a starting with experience and execution.
Pushing Morgan into the half-back line to mind space on Monaghan kick outs is not entirely new but it was a variation on how others have attempted to squeeze opponents. Kerry have themselves one of the most daring kick out presses in the game but the risk is lessened when you have David Moran, Diarmuid O'Connor and Jack Barry strung across the middle ground waiting on aimless kick outs.
Morgan's positioning in these moments is interesting. He is there as a deterrent and that succeeded against Monaghan – as much for the shock factor as anything else. However, if Kerry have looked carefully Niall Morgan isn't actually a deterrent for an inter-county midfielder. If other Tyrone players don't guard that space because the keeper is assigned, Kerry might well consider Morgan a target area and hang a couple above him for David Moran to attack.
The basics of this kick out game are that Kerry have the better targets but Tyrone have the better kicker. It is a finely poised facet of this contest that will be pivotal to the outcome of the game. Tyrone will likely need about 60% of kick outs to have a foothold in the contest.
Kerry's Destiny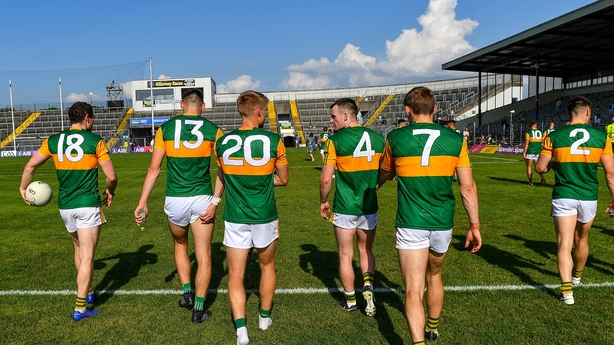 Kerry are ultimately in control of their own destiny. Their gameplan is more polished, they have the better ball winners around the middle and they have a considerably stronger attacking unit. Most importantly, they are now acutely aware of their own weaknesses and fallibility.
Tyrone are carrying the momentum of an incrementally improving season from league through championship and the belief gathered from wins over first division Donegal and Monaghan. They are also a very coherent unit with the fuel of a Covid firestorm now behind them. However, they will need to bring all of that fury to the battle to have a chance of getting into Kerry's decision making and composure.
Kerry have been the best team in the country in 2021 and despite Tyrone's potential as destroyers, will use the space of Croke Park to vent their frustration of the last five weeks.
Follow today's All-Ireland football semi-final with our live blog on RTÉ.ie/sport and the RTÉ News app.
Watch Kerry v Tyrone live on RTÉ2 or RTÉ Player from 2.30pm.
Watch highlights of all the weekend's football and camogie action on The Sunday Game at 9.30pm on RTÉ2.
Listen to live and exclusive national radio commentary on RTÉ Radio 1's Saturday Sport.