Most discussions on the Tyrone-Kerry rivalry, as noted this week, quickly get sidetracked down a noughties rabbit-hole and typically end with warring parties almost coming to blows over who in fact was the team of that decade.
But the history of the rivalry stretches back two decades earlier, when Kerry were in the twilight of their dominance and Tyrone were swashbuckling upstarts, making their first appearance on the game's grandest stage.
It was an era when Ulster appearances in an All-Ireland final were still few and far between. Indeed, it was only really a viable proposition in every third year when they met the Connacht champions in the All-Ireland semi-final, and even then, northern teams were usually edged out.
Armagh had pipped Roscommon in the '77 semi-final and subsequently took a pasting from Dublin in the final, Jimmy Keaveney running up a record score. Tyrone's '86 final followed a very different pattern.
"Tyrone were the first Ulster team in almost two decades who were leading an All-Ireland final and looked like they could win it," says historian Donal McAnallen, still only eight years of age when the 1986 All-Ireland final rolled around.
"It was the first time an Ulster side had reached the final since 1968, apart from Armagh in '77 (against Dublin) and Armagh had completely collapsed in that game, they were never in the running to win it. Tyrone were leading by seven points early in the second half."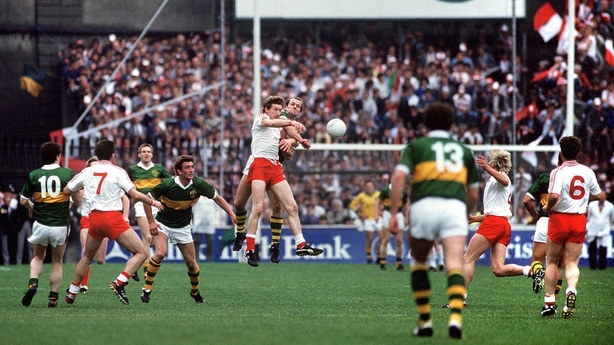 Three minutes into the second half, Tyrone led 1-07 to 0-04. The champions hadn't scored since the 17th minute. Art McRory's side made a whirlwind opening to the second period, Damian O'Hagan slipping a pass to Paudge Quinn who coolly slotted to the net.
Moments later, Eugene MacKenna was buried at the bottom of a scrum of Kerry defenders - plus Charlie Neligan plainly going off his feet in the ruck - and a penalty was awarded.
"What a position!" cried Ger Canning as Kevin McCabe placed the ball on the penalty spot. The moustachioed McCabe proceeded to side-foot the ball over the bar, seemingly deliberately. His decision was perhaps conditioned by the fact that Jack O'Shea missed a penalty in the first half.
Subsequent accounts have had it that Tyrone had pushed it out to a seven-point game "midway through the second half." Their moment of 'maximum advantage' seems to inch closer and closer to the final whistle with each passing year.
In actual fact, by the time the water-break would now kick in, around 52 minutes, Kerry already had two goals on the board and were back in front. The final 10 minutes of the game were something of an anti-climax. with Kerry around 6-7 points clear and playing out the clock. They won by eight in the end.
They were well used to the drill and the celebrations were fairly muted afterwards. All-Ireland titles, it felt like, were something that Kerry needed to win at that point, rather than being a trigger for any great scenes of delirium. Had they known it would be the last for 11 years, they might have been minded to celebrate with more gusto, though that disclosure might have dampened the mood.
For Tyrone, while the game slipped away from them in the end, the competitiveness of the contest had chipped away at the fatalism which surrounded Ulster teams. Their horizons were broadened.
"It was a very exciting time," recalls McAnallen of the aftermath. "There was a real sense that Tyrone could and should have won it.
"Okay, Kerry might have been on the decline then. But coming away from it, there was a realisation that they really could do it. They weren't destined to always lose in Croke Park. Their fate really was in their own hands.
"There were more disappointments than successes for quite a few years after that. But the expectation levels were raised thereafter."
Tyrone's status as a football powerhouse might be taken for granted by younger followers but a perusal of the Ulster roll of honour indicates their pre-eminence is a modern phenomenon.
Cavan still sit miles in front of anyone else and will do so for several decades yet - almost entirely a legacy of the pre-television era.
In the 30s and 40s, Cavan won 17 of 20 Ulster championships played, a staggering era of dominance, and not even a barren half-century, save for the 1997 and 2020 Anglo-Celt successes, has seen them come close to slipping in the pecking order.
Monaghan, meanwhile, lay second in the standings - until Tyrone caught up with them this year - usually winning the province in the rare years when Cavan were caught. In the first half of the 20th century, Antrim sat third in the roll of honour, although the vast majority of their titles pre-dated partition.
Tyrone didn't win Ulster for the first time until 1956, Derry in '58 and then Down only in '59. The obvious assumption is that the realities of partition were a significant inhibiting factor.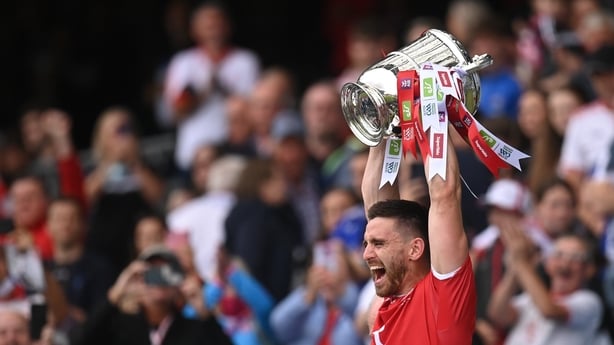 McAnallen paints a slightly more complicated picture.
"Cavan and Monaghan were the powerhouses before partition - along with Antrim. In the 20s and 30s, there were different climates (either side of the border).
"Cavan opened Breffni Park in '23, one of the very first county grounds. There was a tradition that south Ulster counties were better places for holding games for the purposes of getting gate receipts. Also, pubs and eateries were more open on Sundays in the south. And whenever you've certain venues like Cavan and Clones that were dominating hosting rotas, more funds flowed in.
"Also, Cavan and Monaghan were able to avail of Garda players, army players or custom officials, who transferred counties, so these counties would occasionally have got the benefit of these players, many of them star players.
"Over time, the mental block did probably become a thing. Armagh did lose seven Ulster finals between 1927 and 1939, and some of them very close. So, it wasn't that they were all (six counties) cut adrift.
"But whatever advantages were going (for the south Ulster counties), some of them pre-dated partition, but they were certainly accentuated by partition. North of the border, there was so much turmoil in the 1920s and this led to a lot of people emigrating or going south.
"Once that culture was copper-fastened that Cavan and Monaghan were dominant in football, that begot itself for some time.
"That begins to change a lot from the 1940s, for different reasons, not least the Education Act (1947). Definitely, schools and underage teams are the best clues of what's going to happen later, generally speaking."
Tyrone's obvious potential as a football county had revealed itself by the 70s, when they dominated the minor ranks in Ulster, producing the crop who would ultimately contest the '86 final.
In '84, they had won what was only their fourth Ulster title, Frank McGuigan - who subsequently missed the '86 final after breaking his leg in a car crash - kicking 0-11 from play. They fell short against Dublin in the semi-final, in a game preceded by some crowd disturbances on the Hill.
Since then, Ulster titles have arrived on a semi-routine basis. All other Ulster counties have endured, or ended, double-digit famines. Tyrone have never gone longer than six years without a provincial title. Fair to say, their prominence probably hasn't endeared them to their neighbours.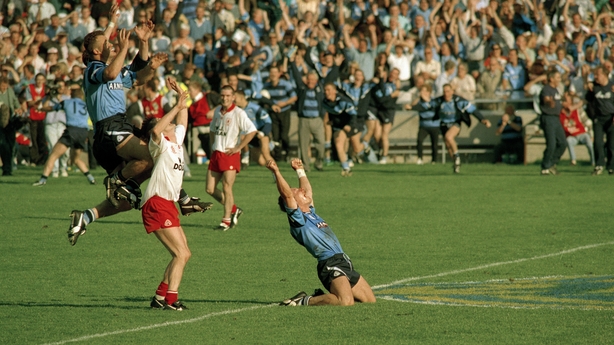 In 1995, they returned to the final, with '86 star MacKenna now teaming up with McRory as joint-managers. They were infamously pipped by a jittery Dublin team, Sean McLoughlin's last-gasp equaliser disallowed for a touch on the ground in the lead-up. By then, of course, the Ulster inferiority complex had well and truly been banished after the wave of success in the early 90s. Tyrone, however, didn't get to share in that bonanza and had to wait a while longer.
What impact had the '86 showdown with Kerry on later generations? For McAnallen - brother of 2003 All-Ireland winner Cormac - its inspirational effect outweighed any sense of an opportunity missed.
"The grievances of 1995 and '96 probably left more scars than the defeat in '86.
"In my case, I had just turned eight (in 86). And a lot of the players who were on the minor teams of 97-98 and then the U21s and seniors by 2003, would have been six or seven. It's a very impressionable age. You were just coming to appreciate the whole concept of a county team and the excitement.
"The fact that it was a huge breakthrough did rub off on youngsters who wouldn't have appreciated that full context."
Follow Saturday's All-Ireland football semi-final with our live blog on RTÉ.ie/sport and the RTÉ News app.
Watch Kerry v Tyrone live on RTÉ2 or RTÉ Player from 2.30pm.
Watch highlights of all the weekend's football and camogie action on The Sunday Game at 9.30pm on RTÉ2.
Listen to live and exclusive national radio commentary on RTÉ Radio 1's Saturday Sport.